"Becoming an entrepreneur stemmed from my parents' struggle to obtain a successful life here in the States. My parents' divorce put a stamp on who I was going to be as a woman. As a child, I watched my mom struggle as she raised my two sisters and me. She eventually sent us to Colombia for two years. I remember thinking I'm not going to be like that. I wanted to work hard to take care of myself and not be taken care of.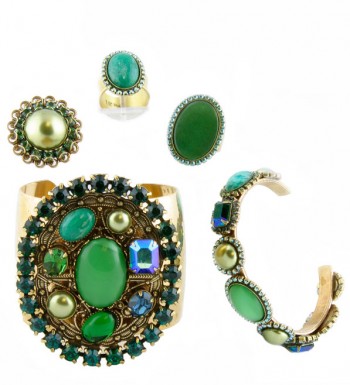 My grandmother and my mother were creative types; my mother painted and my abuela made jewelry. As a teenager, I traveled extensively, exploring Europe and Israel. So, at 18 years old, when most young people were heading off to college, I traipsed the world. The vintage shops had collections of vintage jewelry, and I fell in love with the crystals and colors. And it was in England where I bought my first vintage pieces. Once I came back to the States, a friend of mine encouraged me to sell costume jewelry in the San Francisco flea markets.
As I started to sell other people's jewelry, I started to teach myself about metal, brass, and sewing with crystal. It was an opportunity I had to pursue, which led me to sign up at a city college and learn about jewelry and how to cast and solder jewelry.
My first piece took me 25 hours! I told myself, "It's beautiful, but I'm not going to be able to sell it." I started putting together a game plan of how to make this a business. Launching Liz Palacios Designs into a full-service business took about four years, from selling at street fairs to Nordstrom. The luxury department store was our first entry into the market, which led us to cement our image as a reputable USA design company.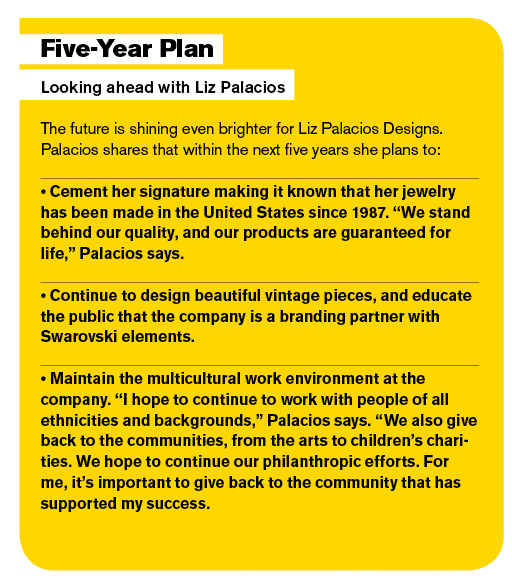 Now, I continue to be hands-on in the designing process in our offices in San Francisco. Our prime focus is quality and American-made. I make jewelry that you can pass down from generation to generation, which is why I use a fine mixture of semiprecious stones, fresh water pearls, and Swarovski elements. We design five collections a year, and within each there are three separate collections, consisting of rings, bracelets, earrings, and necklaces.
As a designer, you have to create for the seasons. Even though my jewelry is a vintage feel, they have a trendy edge that can be timeless such as chunky or dainty bracelets, long and short necklaces. My Spring and Summer collections feature lots of bright and soft colors. Our Basics collection can complement a teenager and an older woman, while the Rock Candy collection stemmed from my own bead collection. And our Classic Cross collection is a staple in our company.
As I continue to make jewelry, I never want to compromise quality. Business may get harder due to the economy, but I stand behind my products. I encourage all other young women who desire to become entrepreneurs to be true to yourself, believe in your product, and make it unique. When I was just starting out in this industry, I was seeing great workmanship with vintage jewelry that didn't exist anymore. I wanted to resurrect those gems in a new way. And, I believe, I'm creating jewelry that leaves a timeless impression."