Pedro David Espinoza's career is hard to summarize. He's a CEO, a TED speaker, an entrepreneur, and an author, among other things. He also believes in empowering women to be entrepreneurs, so much so that he started Pan Peru. The nonprofit that works to build computer labs, libraries, greenhouses, and reforestation programs for woman entrepreneurs. He started the venture in 2019, when he helped one Latina start her own business. Since then, the nonprofit has helped over sixty-five entrepreneurs start their own revenue-generating companies. He shares that success and more with NextGen Collective.
What do you do today?
As the CEO of Pan Peru, I'm in charge of leading the company to fundraise more capital (so far we have received funding from Bristol Myers Squibb, Western Digital and Western Union), and to lead the thirteen-person board of directors to build our roadmap to build thirty libraries and plant 30,000 trees by 2025. Pan Peru empowers women to become entrepreneurs by building computer labs, libraries, greenhouses, and reforestation programs. In addition to Pan Peru, I'm a tech venture investor, published author, TED Speaker, LinkedIn influencer, and board member.
What is your greatest career accomplishment to date?
Helping build Pan Peru's first library in Pampas Grande, which enabled me to see firsthand how you can empower young girls in STEM careers by giving them access to the internet. This young girl started dreaming of becoming an engineer to build bridges, to connect her village with the capital of the state. I shared this story in my TED Talk titled Build The Bridge, I shared my story to three-hundred people in Washington DC. English is not my first language. I had to learn it! My social impact led me to get accepted to the World Economic Forum's (WEF) Global Shapers network. Because of this, I got elected to serve as the vice curator for WEF in Palo Alto. The last two years I've attended the annual meeting of the WEF in Davos, where I spoke on the future of environmental, social, and corporate governance (climate & sustainability) at the house of balance in Davos. I love serving and paying it forward. I'm passionate to give back to my Hispanic community.
What is your greatest personal accomplishment to date?
Taking care of my sixty-six-year-old mother in Peru who has Parkinson's. Last year, mom had two major surgeries (brain ad chest) which lasted nine hours. I've been present in Peru the last two years, taking care of her, walking with her, coordinating the shifts of the nurses and her medical appointments. I've been 50 percent of the time in Peru, traveling to Lima every month from the US.
Family first. You only have one mom and one dad. By me being present in Peru, I've been able to love my parents and care for them in person. I would have to balance my work in the US and traveling to Peru for two weeks every month. It's been hard, but I am grateful and blessed to have the opportunity to love my parents. I've been helping my dad as well with his health and work. I have been super blessed and loved by them. It's my turn to give back.
---
---
How do you tackle problems and overcome challenges?
I truly consider it pure joy when I face challenges. I take problems as opportunities to succeed and grow. I've been facing rejection and challenges all my life. In Peru, in high school my director said "forget about college" because I dropped out of the honors/International Baccalaureate program. He got mad. He told me university wasn't an option for me. However, I took this opportunity to grow and mature, to work harder. I graduated high school with a 3.9 grade point average, and got accepted to Berkeley with merit-based scholarships.
Berkeley introduced me to Silicon Valley, where I took a Stanford engineering course in 2014, that's how my first tech startup, SmileyGo, was born. I got the CEO of Jefferies (Frank Baxter) to invest in my fintech startup, I got the mayor of San Jose (Ron Gonzales) to join my board of directors, my company got into Berkeley SkyDeck accelerator, and we also got funding from 1517 Fund (Peter Thiel's venture capital fund). I grew as an entrepreneur, founder, and leader. For instance, I got rejected to become a US Citizen in 2016. I tried once again and became an American Citizen in 2017, when I was 23. I fail forward and rejoice in it. Vamos!
What do you do today to impact your community?
I founded Pan Peru to empower women entrepreneurs. In 2019, my venture started helping one Latina start her own business. Today, over sixty-five female entrepreneurs have their own LLCs and are generating revenues. I founded this 501c3 nonprofit to raise grants from companies such as Salesforce, VMware, Western Digital and others to build more computer labs for Latinas . . . giving them the opportunity to dream to become tech makers, entrepreneurs, and business owners. The proceeds of my books go directly to Pan Peru. To date, the women have sold over 3000 handmade alpaca products: sweaters, beanies, hats, gloves, and scarves.
For many years, I have been working with ERGs (Latino/Hispanic) in order to help them promote and retain top talent. For instance, I have worked with Cisco's Emerging Talent (ETC) to help them promote young Latin/Hispanic talent to senior leadership. I have worked with ERGs from companies such as Salesforce, Oracle, T-Mobile, Microsoft, VMware, Dell, Cisco, Adobe, and others to empower them to sponsor the next generation of Hispanic leaders in tech.
I also serve on the board of directors of the Silicon Valley Technology Academy (SVTA) in San Jose. SVTA provides STEM education to the underserved community of East Palo Alto, East San Jose, and other communities where Hispanics predominantly live. I helped SVTA fundraise capital to enable middle school and high school students to explore skills in STEM.
I have given over three-hundred keynote and workshop presentations to Latino and Hispanic Employee Resource Groups of Fortune 500 Companies (like Visa, MasterCard, Chase, JP Morgan, Anheuser Busch, Stanley Black Decker, Anaplan) in order to inspire the Latino employees to dream bigger, get promoted, become a c-suite members and board directors. I am a servant leader in the Hispanic community through his public speaking, writing, and angel investments. I not only help Hispanic founders in tech by providing email introductions to other investors, but also invest as an angel investor. Since 2017, I have been an early angel investor in startups founded by Latinos such as KiwiBot (Kiwi Campus) founded by Colombians and other ventures.
Describe yourself in five words.
Proactive, joyful, disciplined, tenacious, and energetic.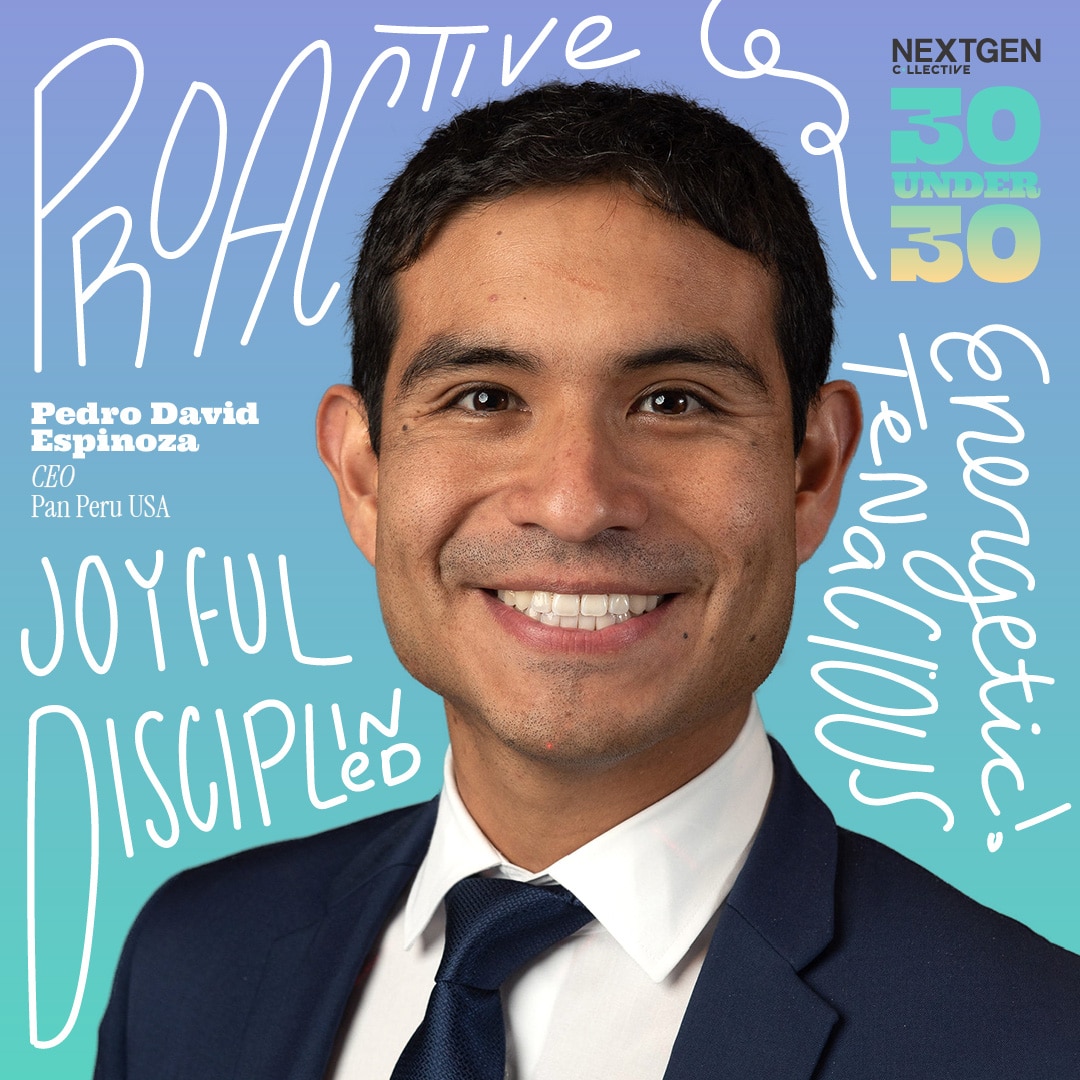 What are your future goals?
1. Start my venture capital fund to invest in early-stage AI startups. I've been actively investing in tech startups since 2017 as an angel investor.
2. Join public boards of directors. I'm currently serving in 3 private board of directors here in the US and 4 private boards of directors in Peru. I would love to serve in public boards of Fortune 500 companies in my career.
3. Launch my podcast show to interview tech CEOs and AI entrepreneurs on the future. I am the co-author of Differences That Make a Difference: How Companies Succeed by Focusing on Innovation through Inclusion. I co-wrote it with Jorge Titinger (former CEO of Silicon Graphics International). We had one-hundred writing contributors, one-hundred tech CEOs such as Eric Schmidt, Reed Hastings, and Dan Schulman to share the best practices of diversity. My book talks about what works and what doesn't work when it comes to sponsoring and mentoring Latinos in technology. Pat Gelsinger, Intel CEO, wrote the foreword.
In 2023, my next book will be published (The Real ROI: Return on Inclusion) for which I interviewed Michael Dell, John Hennessy, and James C. Morgan.
What is your favorite form of self-care?
I truly enjoy prayer, sports, meditation and sleeping nine hours. I enjoy going to bed early, before 11:00 p.m. I was raised in Peru with cold showers. I love cold waters. The Peruvian way! Also, my parents raised me with no sweets, no soda, no alcohol, and no TV. Very disciplined! I loved it! Fun for me was playing sports with my friends, playing the piano, playing the guitar. Going back to self-care, prayer, and meditation help me stay grounded. Knowing that I am not the micro-manager of my life. I live a life for a higher purpose!
What do you like to do for fun when you're not working?
I play tennis every week, doubles and singles. I also play soccer with my friends and family every week. I enjoy swimming. I truly enjoyed swimming with my mom as a kid. I play tennis with my dad and sisters. I also love learning languages and have been learning Chinese with a teacher. I learned to golf at Stanford, it's a hard sport! I love it. I ran two 10K races this year with my girlfriend! I also enjoy cooking Peruvian food, Peru recently got ranked the best food in the world in 2023 according to World's 50 Best Restaurants.
What does making NextGen Collective's 30 Under 30 list mean to you?
It fills me with joy and gratitude! Means the world to me! I am grateful to my parents who raised me with principles of discipline, hard work ethic, and leadership. I came to the US at the age of eighteen, with zero network, with no friends, and my parents still live in Peru. My sister Dianna lives in Peru. My classmates at Stanford and Berkeley were like "my dad works at Cisco my mom at VMware." I was like "I'm pretty sure my parents have no idea what VMware stands for." But hey, that fueled my motivation to work, to network, and build my company from scratch.
I love challenges! At the end of my freshman year, I applied to internships, got rejected by all of them. I had no referrals. I had no one vouch for me. That led me to take an entrepreneurship class at Stanford and start my own company, create my own job, be my own boss. I raised capital, hired people, created a board. I got into Google for Entrepreneurs, Manos Accelerator. I got to participate in Univision's Spanish Version of Shark Tank in Los Angeles in 2016. Making it to the list makes me cry of joy, makes me smile, I want to encourage the next generation that si se puede, yes you can, with hard work ethic, with the right access to capital, access to network yes you can.
What is your personal theme song?
"Hoy" by Gian Marco, a Peruvian singer.
What is your Latino background?
Born and raised in Peru. Lima is my hometown and also the hometown of the best restaurant in the world: Central.
---

Editor's note: This Q&A has been edited for clarity.