With a down economy and piracy looming large over the entertainment industry in Europe, Antonio Menéndez, Paramount Pictures' Spanish marketing director, looks to a mobile future where great content wins. The home media market has decreased by approximately 15-20 percent annually for the past five years, and the market is half the size it was in 2007. These statistics precipitate the need for a dynamic marketing strategy. Menéndez discusses his plans to guide Paramount through digital media with HE.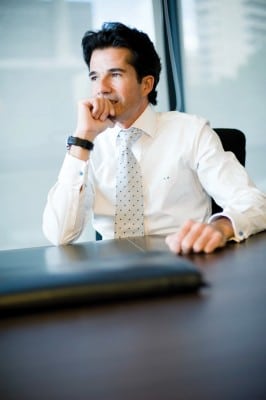 How did you get your start in the film industry?
My first job after university was with Paramount, actually. I'm from Madrid, Spain,  and I got my business degree at Universidad Autónoma de Madrid. I saw a job post at my university, and I called Paramount. I had an interview, did well, and jump-started my career without having any previous orientation toward entertainment or marketing.
How have you seen Paramount evolve with the rise of social media?
In 1999, I took a marketing opportunity with L'Oreal in the United States and later attended the University of California, Berkeley, obtaining my MBA. I also worked for Paramount and PepsiCo in the states. Six years ago, though, I came back to Paramount in Madrid. I believe that destiny has definitely taken me to the right place. I have continued academically in Spain as well. Two years ago I finished an advanced management program for directors at the University of Navarra's IESE Business School.
Paramount has proven the ability to improve its social media strategies with every release and we continue to increase our social media outreach every single day. Facebook, Twitter, and YouTube are essential in reaching our consumer base, and our media plans are almost entirely focused on digital marketing. Today it's almost unheard of to release a movie and create a media plan without spending at least 50 percent of the marketing budget on digital media.
How do you use digital media to connect with consumers?
Digital media is definitely one of the key pillars we have to engage audiences, which is why we are focusing on mobile content accessible from tablets and smartphones to drive that engagement.
What does Paramount's global marketing strategy look like moving forward?
We take a consumer-oriented, very direct approach with the products we create.
We are probably one of the most film-focused companies in the industry. Technology drives our business and we have to adapt because at the end of the day, we sell content. The content needs to be enjoyed on mobile devices, so the closer to the consumer we are, the better. We have to understand all the ways in which our consumer enjoys movies and what they're really demanding.
Talk about how that strategy played out in the partnership between Paramount and McDonald's.
McDonald's is a great platform because they offered a DVD promotion in partnership with Paramount. We selected eight movies with McDonald's and created the biggest promotion ever in the Spanish home entertainment industry. One of the TV spots featured a family going into a McDonald's restaurant. Their seven-year-old wanted some fries and treated it like Mission Impossible. It was very well-received and entertaining from an audience's point of view. We were aggressive in the target of that promotion, and we surpassed our goal.
Describe the Spanish film industry. What are viewers looking for, and what are the trends driving the market?
Like so many others, the film industry in Spain is suffering a deep crisis. There are two main factors: The first is the economic crisis that is affecting Europe. The other large problem is piracy. In Spain, we have one of the worst macroeconomic situations in the European Union with 27 percent unemployment. Spain is also the number one country in committing piracy (illegal downloading, not fake copies). Ninety-six percent of movies watched at home in Spain come from an illegal source; only four percent are purchased. It's true that people are demanding content that they can enjoy on their tablets and smartphones—that's the positive part—but most of the content they are demanding is coming from an illegal source. We're trying to find a way to change that.
That's astounding. How are films specifically impacted by the economy?
If we're talking about cinemas, last year the market decreased 15 percent. The new value-added taxes were raised from 8 percent to 21 percent, so exhibitors had to raise ticket prices, and this has negatively impacted that industry. Money in-hand is down, and the measures that the government is taking are not helping consumption.
In what way is your job rewarding?
At the end of the day, our proposal is to sell two hours of dreams for €15. We are selling something exciting; a movie.
What are the most popular movie theaters in Madrid?
Any of those located on Gran Via, the main street in Madrid. It's similar to Broadway in New York—old with a lot of history. The biggest theater, though, in the suburbs of Madrid, is called Kinépolis. It has the biggest screen in Europe and is great to enjoy incredible special effects and movies in 3-D.
Do you have a favorite movie quote?
It has to be, "I'm gonna make him an offer he can't refuse," from The Godfather.
What are your top three Paramount pictures?
They would have to be The Godfather, the Indiana Jones collection, and Forrest Gump.