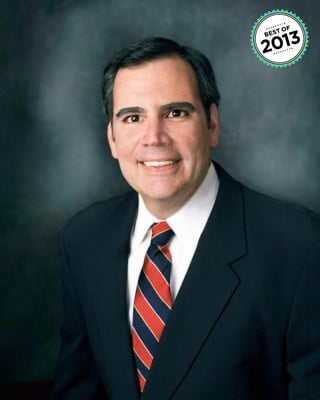 Steering the growth of a portfolio of 50 luxury hotel properties in the United States, Canada, and Mexico, Michael (Mike) Garcia, chief financial officer and senior vice president of acquisitions and development for Omni Hotels & Resorts, fills his days with finance, acquisitions—and fun.
"I actually enjoy my drive to work each day because I love what I do," Garcia says. "I am very passionate about Omni and, in turn, about growing the organization and giving the team the tools they need to do their jobs well."
But Garcia wasn't always focused on the hospitality trade. He started out pursuing a career in dentistry; however, it only took one chemistry class to realize it was not the profession for him. As Garcia began considering a new profession, he discovered a passion for accounting. "The coursework came easy to me, and I found myself not only enjoying it, but wanting to learn more," Garcia says.
Recruited right out of school by KPMG, Garcia worked as an audit manager during his six-year tenure with the firm, and one of his largest clients was La Quinta Inns, Inc. "The La Quinta team was expanding, and they asked me to join them," he says. "I liked the people—they were just a really outstanding team—so I made the jump into the hospitality field."
Garcia started out as assistant controller for La Quinta, but his progress with the company plateaued and, as he began to look for other opportunities, he discovered Omni. "At the time, Omni was a new company, with only 15 owned properties, but I looked at the position as a challenge and a way to expand my knowledge in the hospitality field," Garcia says. "The leadership team—many who remain my colleagues today—also was committed to helping me grow, so I decided to take the chance."
He started with Omni in 1996 as controller, and since that time, has steadily progressed to his current role, leading the company toward tremendous growth. "When I started with Omni, the company revenue was around $120 million with a corporate team of around 15. In 2012, we will gross over $1.3 billion with a corporate team of more than 150 people," he says.
As Garcia grew within Omni, he took on more responsibilities including payroll, risk management, and acquisitions and development. "I enjoy being able to oversee the company's growth; however, I have found that you have to explore hundreds of deals to arrive at the right one," he says. "But I have been fortunate to surround myself with exceptional people who make my work much easier."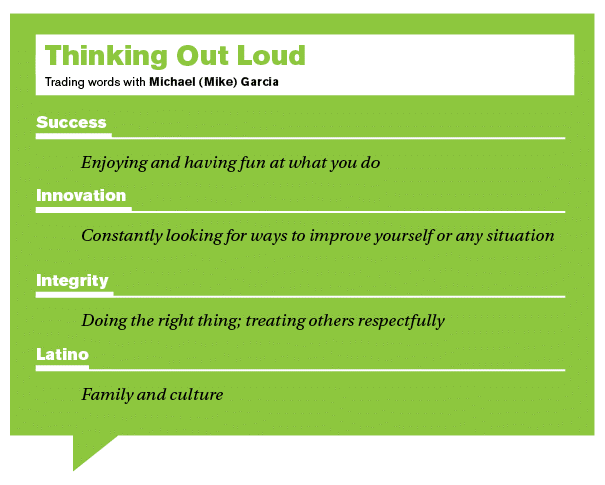 Growing up one of five children living within walking distance of aunts, uncles, and cousins, Garcia acknowledges his parents for instilling his core values, including a strong love of family—a value which fuels his personal drive.
"I always want to do more and be more because I want to be able to provide for my family and give them new experiences," he says. "Likewise, I feel the most satisfaction at work when I am growing the company because growth creates new opportunities for my work family."
"I know it may sound trite, but I have fun with the people I work with—we are very tight-knit," Garcia continues. "Because I come from a big, tight-knit family, having a close work family is important to me."
Garcia says his advice to up-and-coming Latino professionals is simple: work hard, have a good attitude, and be flexible. "You have to be willing to put everything you have into your profession to make it work and be adaptable to changes along the way," he says. "Also, attitude goes much further than aptitude and affects far more people around you."
Looking ahead, Garcia says he looks forward to maximizing Omni's momentum. "The company is in a really strong place right now," he says. "We are building and reinvesting out of cash flow, and are very fortunate to have the resources we do. The only 'problem' we have is not being able to grow as fast as we'd like."
To download the "Best of 2013″ edition on your iPad, visit our iTunes app here.