By now, it's a well-documented phenomenon: the US Hispanic population is set to triple in number by 2050 (USA TODAY reports). Caucasians will be in the minority. The Hispanic demographic will have grown from 17 to 29 percent, Pew Research Center projects.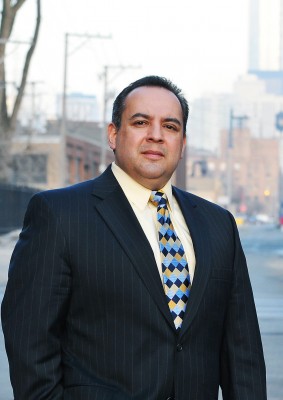 Robert Marin, a veteran financial advisor and field director with Northwestern Mutual, is setting up his practice to serve this growing and important population. As the makeup of the United States and its financial services industry change in tandem, the challenges that clients and advisors face are also evolving. Marin has two main objectives in the wake of such change: help Latinos plan for the future and encourage young professionals to enter the financial services sector.
Marin, who serves clients of all ethnicities and age ranges, says Hispanics are generally underserved and misinformed when it comes to financial planning. As Latinos grow in number, equipping them for the future is increasingly important. "We're going to be a third of the population," says Marin. "We're going to have more political representation, more buying power, and a stronger voice. We need to make sure our financial position is secure." Today, he's preparing his fellow Latinos by helping them manage risk, accumulate wealth, afford college, plan for retirement, and preserve assets.
As he helps clients, Marin is preparing his agency to capitalize on the ensuing population shift. For the past 13 years, he has focused on obtaining four new clients each month. Although he works with each one across multiple areas, Marin's overall philosophy is simple—he takes a holistic approach. Because all financial areas are connected, clients with multiple revenue streams will be better equipped to move confidently through each stage of life.
While he still works as a field director, Marin is changing how he spends his time. "I'm preparing our culture for what's about to happen," he says. "We need to get a lot more people into this industry to serve one another in the coming years." Marin is increasing his network through groups such as the Illinois Hispanic Chamber of Commerce and mentoring young professionals in- and outside of Northwestern Mutual.
Unlike years past, Marin is now building retirement distribution strategies based on smaller time frames. While many advisors continue to look at a 20-year period, he prefers to work in 7-10 year increments to help clients generate necessary income for different stages of life without dipping into an investment portfolio. He is moving into a role where he keeps in touch with clients routinely with their planning and progress, instead of simply providing one-time advice.
Today, clients are most concerned about debt management, college affordability, access to capital, and retirement age. Marin stresses holistic planning and offers one piece of advice: "Start young," he says. "But if you didn't, it's never too late to start."
Northwestern Mutual
is the marketing name for The Northwestern Mutual Life Insurance Company, Milwaukee, WI (NM) (life and disability insurance, annuities) and its subsidiaries. Robert Marin is an Insurance Agent of NM. Registered Representative and Investment Adviser Representative of Northwestern Mutual Investment Services, LLC (securities), a subsidiary of NM, broker-dealer, registered investment adviser,member FINRA (
www.finra.org
) and SIPC(
www.sipc.org
).