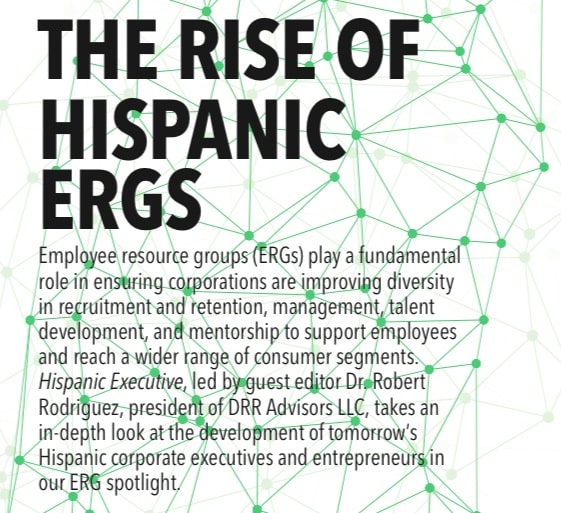 ADP
ERG Name: Adelante!
Group Size: More than 800 members in the continental United States and Puerto Rico
Founded: March 2011
About: Adelante is in its third year of existence, expanding its presence by fostering the careers, community involvement, cultural events, and commerce of its members. For example, Adelante developed and piloted a mentoring program in 2012 and hosted numerous web-based "Lunch 'n' Learn" sessions for all ADP associates in 2013. Adelante has five regional chapters and a national board.
ALLSTATE
ERG Name: Professional Latino Allstate Network
Group Size: More than 500 members
Founded: 1980s
About: Professional Latino Allstate Network is sponsored by executive leaders at Allstate, such as the president and COO, Maribel Gerstner, vice president chief diversity and organization effectiveness officer, Michael Escobar, senior vice president of centralized services, Mark McGillivray, and vice president of new business and underwriting, John Rugel.
ALPFA
ERG Name: Association of Latino Professionals in Finance and Accounting
Group Size: More than 15,000 members; 41 professional and 122 student chapters nationwide
Founded: 1972
About: Although ALPFA is not an ERG, as it is not under the umbrella of any corporation, it is branded as a professional development organization. It was the first national Latino professional association in the United States. Membership is open to anyone who shares its values, vision, and mission. The ALPFA institute delivers advisory services on strategic road maps and business plans for ERGs, as well as establishes an effective ERG governance infrastructure for companies that have them, improving the levels of engagement and effectiveness for ERGs.
AMERICAN AIRLINES
ERG Name: Hispanic-Latino Employee Resource Group (HLERG)
Group Size: 366 active members
Founded: 1997
About: HLERG has three US-based chapters in Dallas/Fort-Worth, Los Angeles, and Chicago. Members are also engaged internationally from Mexico, Nicaragua, and Colombia. All ERGs at American Airlines (AA) are self-funded and arrange fund-raisers ranging from food-centric events to offering Portuguese classes or yoga in the workplace. ERG members are given travel certificates by AA to partner with external organizations.
BROWN FORMAN CORP.
ERG Name: Creating Our Path (COPA)
Group Size: Approximately 150 members
Founded: 2009
About: Brown Forman is one of the largest American-owned spirits and wine companies. Under the office of diversity, COPA has a national participation level but is heavily concentrated at the headquarters in Louisville, Kentucky.
CAMPBELL SOUP COMPANY
ERG Name: Hispanic Network de Campbell
Group Size: More than 150 members
Founded: 2005
About: There are eight ERG networks at Campbell open to every employee. The networks work together to execute multicultural and multigenerational events and initiatives. Each ERG network is sponsored by a member of the leadership team.
CATERPILLAR
ERG Name: Caterpillar Latino Connection
Group Size: More than 800 members
Founded: September 2005
About: Participation is international, national and regional. Five percent of members are leaders, and 20–30 percent participate in business, social, and community events and initiatives. The group is currently open to salaried and management employees and will be possibly open to production employees in the near future.
DELOITTE
ERG Name: Hispanic/Latino(a) Employee Network and Allies Business Resource Group (HNet)
Group Size: 1,200 members
Founded: 2011
About: Local chapters have existed for many years, but a national-level organization was established to coordinate the activities of HNet across the United States. HNet chapters host 100 events annually, attended by more than 5,000 Deloitte and community professionals. Events include panel discussions with executives, resúmé workshops for students, and community events celebrating diversity and Hispanic heritage. HNet's budget is also used to serve local Hispanic/Latino nonprofits such as ALPFA.
ERNST & YOUNG
ERG Name: Latino Professional Network (LPN)
Group Size: More than 2,000 members
Founded: 2007
About: Comprised of various Ernst & Young (EY) local diversity networks united under one name, the LPN network engages more than 90 percent of EY's Latino employees in some fashion. LPN's mission is to make EY the employer of choice among campus and experienced Latino talent and will empower that talent to take on leadership roles within the firm and within the broader community. Moreover, LPN strives to equip EY's people with the resources, relationships, and connections necessary to deliver exceptional client service on high-performing teams with a focus on winning in the market.
HILLSHIRE BRANDS
ERG Name: The Forum
Group Size: 130 associates
Founded: 2006
About: The Forum is a diversity-driven ERG open to associates across the country, with its main focus in the Chicago and Downers Grove, Illinois locations. Ten percent of members identified themselves as Latino.
KPMG
ERG Name: Hispanic/Latino Network
Group Size: More than 1,000 members
Founded: 2005
About: KPMG, one of the largest professional services networks worldwide, sponsors seven ERGs that engage 40 percent of the firm's partners and employees. The Hispanic/Latino Network has grown to 15 local chapters with members in nearly every KPMG office across the United States. Group imperatives include attracting, engaging and retaining talent, fostering professional growth by offering career-enriching opportunities, and supporting market development through relationship-building opportunities. Each year KPMG sponsors the attendance of more than 75 professionals at the annual ALPFA convention.
KRAFT FOODS
ERG Name: Organization of Latino Americans
Founded: 2014
About: Kraft's original Latino ERG was founded 20 years ago. When Kraft Foods split in October of 2012, a group of passionate Latino leaders came together to renew the vision to evolve into a dynamic, inclusive, and business-focused Latino ERG. As of February 2012, there were 15 leaders across business units in the United States, with the number of active members growing on a daily basis.
MGM RESORTS INTERNATIONAL
ERG Name: The Hispanic/Latino Employee Network Group
Group Size: 35 members
Founded: 2013
About: The Hispanic/Latino Employee Network group was one of 10 ERGs founded last year by MGM Resorts International's diversity and inclusion department. The department has a dedicated budget for 10 ERG groups and offers funding for developmental opportunities. Part of the budget is dedicated to allow one or two participants from each ERG to attend a national ERG training conference this year.
SHELL
ERG Name: Shell Hispanic Employee Network
Group Size: More than 1,050 members
Founded: 1998
About: Shell Hispanic Employee Network is Houston-based with satellite chapters in Port Arthur, and Louisiana, Texas. The group provides personal and professional growth opportunities and experiences advised by an Executive Advisory Board, which consists of four Shell Senior leaders.
SIEMENS CORPORATION
ERG Name: Amig@s
Group Size: 1,200 members
Founded: 1999
About: Amig@s, a group integrated by sector Hispanic ERGs across the organization, was set under the guidance of the Siemens diversity council. The group has national participation with 12 local ERG chapters.
STATE STREET
ERG Name: The Latin American Professionals Group
Group Size: 362 members
Founded: 2001
About: The group was founded by Hector Lopez Camancho, Dexie Garcia, and Jose Garcia. The Latin American Professionals Group of State Street, a US-based financial services holding company, has participation on a regional level with a generous dedicated budged allocated to the group.
THOMSON REUTERS
ERG Name: Thomson Reuters Latino Employee Network
Group Size: More than 300
Founded: 2006
About: The Latino Employee Network was created to foster cultural as well as professional growth within Thomson Reuters for both the Hispanic and general community. The ERG is dedicated to increasing the representation of Hispanics within the organization, raising an understanding of diverse cultures, and eliminating stereotypes through education.
UPS
ERG Name: Crecer Latino Business Resource Group
Group Size: More than 300 members
Founded: 2012
About: Crecer organizes community impact events that range from helping to rebuild the homes of residents impacted by Super Storm Sandy, to organizing educational town hall meetings and "Lunch 'n' Learns" with featured guest speakers.
---
TOP FIVE LINKS