"You must do the thing you think you cannot do."
This simple quote from Eleanor Roosevelt on a card from her grandmother was all Noelle Flores needed to get through a tough time in her life. She credits her grandmother for being her biggest supporter and being the one who was the proudest of her accomplishments.
"Every time I got a promotion or a new job, I would run to her and show her my new business cards and feel how proud she was," says Flores, who has spent nearly two decades working in the music and entertainment industry.
Like many Latinas, she credits her grandmother for instilling in her a sense of composure and radiance that has allowed her to show up and shine for any occasion. "She was always so confident and glamorous," Flores recalls. "She set an example for me as I grew up. She was my conspirator whenever I did something wrong and provided me a place to hide out, until she encouraged me to face the music and come clean to my parents about whatever mischief I had been in at that moment."
From a young age, Flores has used her inherited confidence to help advance her career trajectory. This year, the eight-year iHeart Media vet stepped into a new role for the media giant, which was practically tailored for her skill set and personality: senior vice president of industry marketing and partnerships.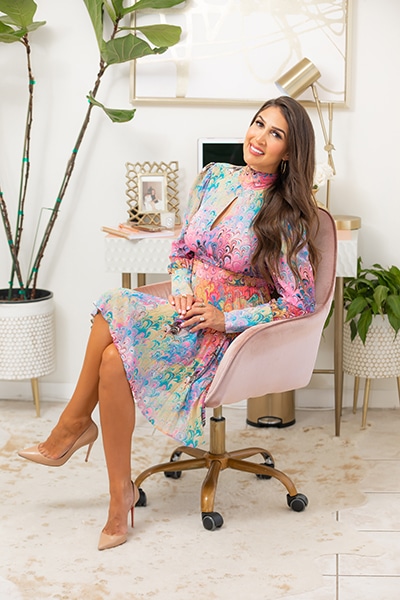 In an industry where relationships are everything—with everyone from CEOs to celebrities—Flores's ability to seamlessly connect with people has given her an edge over her colleagues. Over the years, when it comes to maneuvering on a red carpet, doing business in a celebrity green room, and clicking with musicians and actors to get the job done, Flores remains at the top of her game.
"Growing up, I was always comfortable in a room and interacting with new people and friends of the family. This has helped me in my everyday work experiences. I've always been comfortable in meetings and work environments," Flores says.
It's evident that Flores is not only confident and comfortable, she also knows she deserves to be in a room, even if the industry has typically lacked Latino representation. When it comes to speaking about how her identity as a Latina has shaped her place in the industry, Flores says she never gave it too much thought in her earlier years. She just showed up and made sure she worked hard to get the job done.
"Early in my career I saw few people who looked like me at the table in meetings," she recalls. "But I never let that stop me. I just did the work and kept my eye on the goals of the company."
Now Flores looks back at that young woman who started her career as an NBC intern and realizes that she always had that drive that her culture helped shape. Her willingness to learn and meet new people would catapult her to several positions with various people and companies. Prior to working at iHeart, she worked for the Black Eyed Peas' will.i.am and for a couple of different properties at NBCUniversal, including the E! Network.
In the past decade, goals in media and entertainment companies have shifted and organizations have leaned into understanding and targeting the Latino community, especially Latinas who serve as the decision-makers in households and are climbing the ranks of America's top companies.
Latinas in leadership positions are now looked at as assets that can help a business understand the nuances and behavior patterns of the entire Latinx demographic. They are the tastemakers across all disciplines.
"It feels like the industry caught up to us," Flores says. "I'm still the same person, still the same hard worker, but now it feels like we are respected more and asked about what we think and how we would execute something. We bring to the table our knowledge of the community and cultural nuances mixed in with general market expertise and years of wins reaching all audiences, not just Hispanic."
While this step is in the right direction, for Flores, it's not enough. As a leader, she wants to make a difference for other women of color. She wants to make sure that she is opening doors of opportunity and uplifting others so that she is not one of two or three, but of dozens in a company.
"I love the camaraderie and sisterhood, but I want to be one of many, not one of a few," she says.
Flores's sisterhood with other Latinas extends past iHeart and into all sectors of the media and entertainment industries. She counts WORDAFUL Founder Liz Hernandez as one of her closest confidantes, and it was Hernandez who encouraged Flores to pen a "love letter" to read at her grandmother's funeral to pay tribute to her legacy.
Flores read the letter of gratitude for the woman she considered her best friend at her eulogy. She mentioned the card with the Eleanor Roosevelt quote on the front that she received from her during that tough time. Inside, its contents were simple yet powerful, an everlasting piece of wisdom she carries with her every day for every occasion, professionally and personally, to help her move mountains.
"Baby, you've got this. I believe in you." —Nana