On April 23 at the bright, dazzling Cruz Blanca Brewery in Chicago's West Loop neighborhood, the NextGen Collective—in collaboration with valued partner Eli Lilly and Company—presented a free-flowing panel discussion during which five established and notable Latino and Latina executives offered nuggets of wisdom and advice to a full house of emerging Latinx professionals.
While knocking back pints of craft beers and sipping on classic cocktails, crowd members were also treated to bites of light Mexican fare and a premier opportunity to network with like-minded individuals working towards the same goal of sharpening their business acumen.
The night was, of course, focused on the panel discussion—and for very good reason. The packed room no doubt recognized that it was being offered the rare treat of having seasoned, successful professionals of such terrific pedigree openly imparting their knowledge. Indeed, the evening's theme of mentorship was adhered to throughout, and like any good teacher-student relationship, the teacher came to teach and the students came to attentively soak up every sliver of information available to them. Those teachers included:
Prior to the microphone being handed over to panel moderator and regular NextGen contributor David Salinas, Lilly senior associate of global marketing Alicia Hernandez stepped in to provide some opening remarks about the Indianapolis-based company's motives for partnering with the NextGen Collective:
"At Lilly we believe that a truly successful company, organization, or group of people trying to achieve the same goal begins with its people internally. That's why we're committed to diversity and inclusion," Hernandez explained. "From recruiting and hiring to talent management processes, we see direct benefit when our workforce is not only representative in the marketplace we serve, but also a fully engaged workforce that truly believes in the benefit and the mission that we live by."
As the discussion evolved over the course of its hour—and the five panelists told their own stories of growth and mentorship—Salinas eventually began to inquire about what one word each executive believed best encapsulated his or her own idea of leadership. The discussion closed on that note before moving on to a few questions from the audience. Below is a selection of responses from the panel.
Giovanni Arana
"I like resilience. I measure people sometimes on how they react to a difficult situation. The definition is your capacity or ability to come back from a difficult situation. You're going to fail many times, you're going to make mistakes, you're going to deal with difficult bosses, and you're not going to get the job you wanted. Your capacity to come back and continue with tenacity . . . I think it's critical in today's world."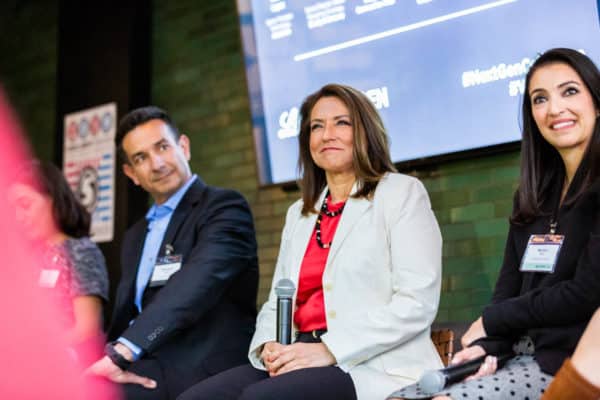 Virginia McGathey
"I think listening is about influence. To be a good leader, you need to have some influence on your group. And to have influence you need to know the people and what influences them. By listening you can understand them further, and you'll be able to lead and offer inspiration. That's kind of the biggest way to galvanize your group or your team or your staff to go further—in a way that they are happy to do it. By listening and understanding them, that gives you a leg up on leading your team."
Rocio Lopez
"A humble leader for me is critical in ensuring that we're just like you. I am no different, right? I'm a human being that sleeps, eats, and dreams. And humility for me is important because we're not superhuman, and I feel like that's a requirement for being what I describe as a servant leader."
Photo Gallery
Photos by Gillian Fry