Natalia Cortez Burdette didn't have the easiest childhood growing up in Brooklyn's Crown Heights neighborhood. But she credits those experiences with laying the foundation for grit and for her eventual journey to becoming senior managing director and senior associate general counsel of Teach for America, a nonprofit organization that champions educational equality.
"I grew up with my single mom in Brooklyn," Cortez says. "Even though I was in one of the nation's poorest school districts, Mom somehow always made sure I had the best resources. School became my thing—the librarian took me under his wing, and I was often known as the teacher's pet."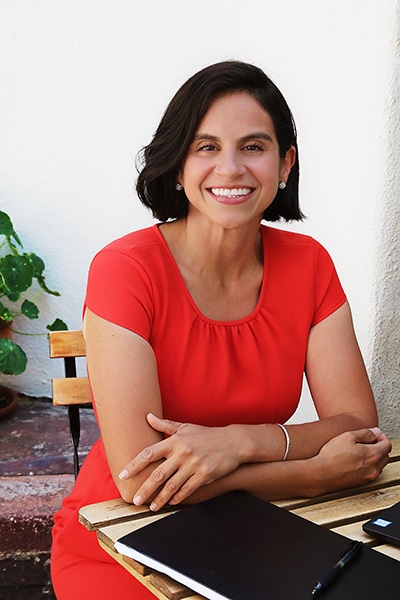 But even though she earned a slew of academic accolades during those years, college provided an unwelcome realization.
"I had tested into an advanced calculus class at Northwestern University and really had trouble keeping up with everyone else," she recalls. "I found the same situation in other advanced courses my first year—my education up to that point wasn't really as solid as I'd thought."
But Cortez invested in a coffee machine, worked even harder, and eventually excelled and even surpassed her peers. She also completed internships with advertising giant Young & Rubicam and with finance giant Goldman Sachs. Those experiences sparked her interest in business, and she later received a job offer from global consulting firm Accenture. But Accenture deferred many offers, including Cortez's, following the events of 9/11.
A friend who knew of Cortez's passion for education suggested she look into opportunities at Teach for America (TFA), and she was hired as an admissions fellow for TFA in the same year. "I saw that I could have a career that would leverage my strengths and be focused on an important mission," she says.
Eighteen months later, Cortez decided to advance her education. She enrolled in law school, obtaining her JD from the University of Michigan and also serving as a summer associate for both Weil Gotshal & Manges and Debevoise & Plimpton. She joined the latter firm full-time as a corporate associate in mergers and acquisitions in 2006.
"I was fortunate," she reflects. "It's the best law firm in New York; I got interesting, high-profile work—unusual for a first- or second-year associate—and established valuable connections." Cortez was on a partnership track, and then realized she wanted to make greater impact. "At Debevoise, I'd carved out a pro bono practice for education clients, but I wanted to make a bigger impact for children like me," she explains.
Fortunately, that timing coincided with an opening at TFA in 2010. While her day-to-day duties focus on operational policies and compliance, employment law, trademark and copyright protections, contracts, and other operational and corporate matters, Cortez also advises internal groups on partnering with schools, financing and funding, program support, and much more.
"Everything I do is mission driven," Cortez says. "I partner with people in order to understand their goals—and then do everything I can to enable their success.
"Although Teach for America addresses educational inequities, it is not merely a pipeline for putting more teachers into classrooms," Cortez emphasizes. "Teaching is a core component, but TFA is actually a leadership development organization. We strive to get the best and brightest into classrooms so they can experience these disparities firsthand and better understand what really needs to be done to reach our ambitious goal."
Afterward, she says, those leaders can continue to serve, whether by staying in the classroom or working as high-profile advocates for educational reforms throughout the US.
"I saw that I could have a career that would leverage my strengths and be focused on an important mission."
Cortez herself has had a substantial impact on the organization. She's led the development of a contract management system to get a handle on over fifty regional sites' contracting. She also supported a major initiative to reexamine TFA's standing antiharassment policy. "We want to evaluate its overall efficacy, concentrate on finding ways to improve it, and then develop the best ways to implement those changes," she says.
And while she's always been involved in TFA's summer institute training programs, the past two years have provided her opportunities to make even more of a difference. "Formerly, we ran our pre-service component on the path to alternative certification in person," she explains. "In 2020, we went completely virtual, and that required a deep dive into everyone's rights and obligations, setting up new systems for everything from partnerships to risk management, handling incidents in real time, and relying on data analysis to pivot and adapt simultaneously."
Cortez also helped the organization adapt to the COVID-19 pandemic. "We tried to prepare for all contingencies. Systemwide, we felt good—but every individual situation requires attention," she says. "Our corps members faced different landscapes throughout the country. How do we empower them to make the best decisions for their safety and well-being? What new policies and procedures do we need to support this? Not to mention public perceptions, and community reactions."
The events of 2020 had further impact on the TFA: the organization instituted a formal antiracism policy. "We've always aspired to be antiracist," Cortez notes, "but it takes a lot more than just wanting it."
As part of that effort, TFA engaged the Racial Equity Institute (REI) for an organization-wide equity audit and training. "I consider myself very aware and knowledgeable about historic events, but during the training, I realized how much more I needed to learn," Cortez says. "It's putting us on the path to a common understanding and language, and that will help us move together faster."
All of these programs and innovations will help Teach for America reach one ambitious goal—to double the number of children who reach key educational milestones by 2030.
"We've developed many cross-functional groups to address that goal," Cortez says. "Currently, a lot of my work is centered on supporting systems focused on improving teacher and student outcomes. We'll need to be innovative, and to enlist the support of communities and their leaders. With change and innovation may come great risk, but my role is to listen, learn, and adapt while ensuring we are mitigating risks to the extent possible and practical."
---
Related Links