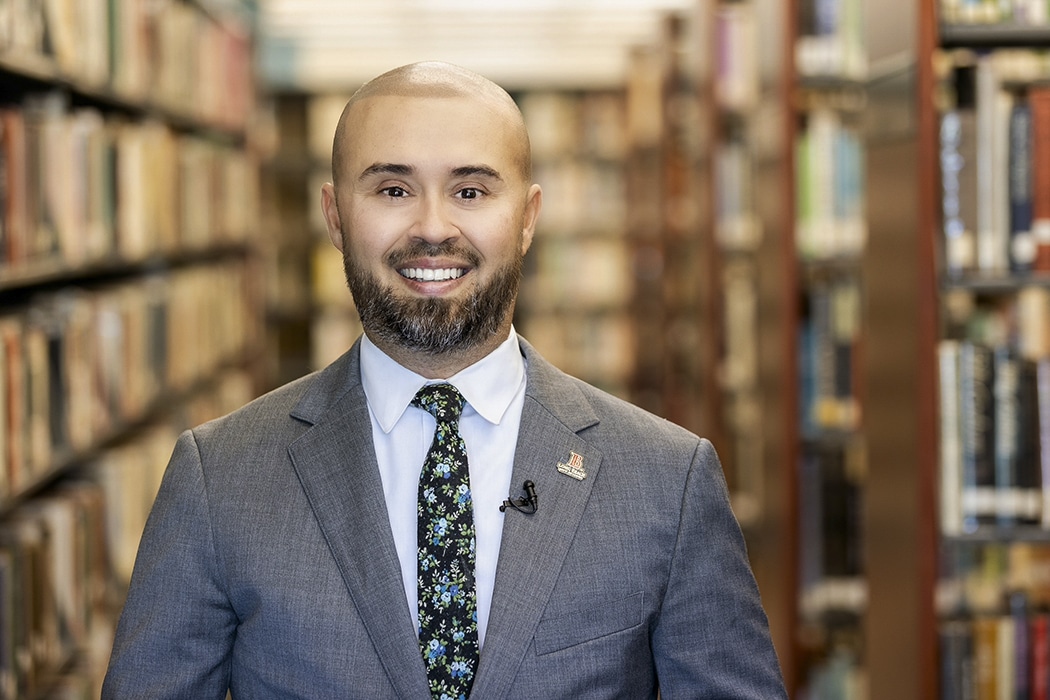 Not long ago, Dr. Mike Muñoz received an email from a student with a registration hold on his account at Long Beach City College (LBCC). The student owed only a small amount of money to the school, but he was already struggling to pay for food that month.
As LBCC's interim superintendent-president, Muñoz knew exactly what resources were available to assist the student. "We cleared his debt for him, and we gave him a $500 emergency aid stipend to help him with his bills," he says. "He wrote me back and said, 'Wow, I never thought that a president would respond to me. You're the realest, Dr. Muñoz.' That was the coolest compliment ever."
Muñoz took a screen shot the student's reply as a reminder of why he does what he does. After facing food and housing insecurity himself as a college student, Muñoz has dedicated his life and career to guiding and empowering younger generations—in particular, students from historically underserved communities—as they pass through the higher education system. Although his data-driven strategies and willingness to engage in hard or uncomfortable conversations may seem very of the moment in 2021, Muñoz has been in this fight all along.
Muñoz began his own educational journey at East Los Angeles College and Fullerton College before transferring to the University of California, Irvine, to complete his BA in psychology and social behavior. He lived in family housing and worked full time to support his daughter as a single father. "My daughter was an infant when her mom left, and since I was estranged from my family at the time, I was really on my own," he says. "But I saw education as an opportunity to get myself out of a difficult situation."
Indeed, Muñoz went on to obtain an MS in counseling as well as an EdD with a focus on educational leadership, both from California State University, Long Beach. After holding a series of roles concentrated on increasing college access rates among low-income and first-generation college students, he spent ten-plus years tackling topics ranging from high school outreach to racial equity at Rio Hondo College.
Muñoz made the jump to LBCC at a pivotal moment. "I stepped in as vice president of student services at a time when the college had been going through some transitions," he says. "We started to have a conversation as a leadership team about what it would look like to be more race-conscious."
In both of his roles at LBCC, Muñoz has sought to bring race and ethnicity to the forefront by driving institutional engagement with Black and Latino students. His innovative approach starts before students ever set foot on campus. "We saw that two of our feeder high schools in Long Beach didn't have the same college participation rates as some of the other high schools," he explains. "When you look at the data, you start to see the intersection of race and ethnicity as well as income."
In collaboration with the high schools' principals, Muñoz implemented compulsory applications to LBCC for all graduating students. Both schools' college participation rates shot up as a result. Furthermore, due to the race-conscious resources and support systems that Muñoz has made available at LBCC, Black and Latino students are experiencing higher levels of academic success, degree completion, and job placement than in the past.
"If we're not paying attention to Latinx students and Black students, it's hard to have a conversation around student success at all," Muñoz emphasizes. "Equity is not about sameness. Equity is about fairness and justice. We are trying to be more just in the way that we serve our students, and we recognize that students from these communities face additional barriers."
The efforts of Muñoz and his team to remove those barriers have not gone unnoticed. In June 2021, LBCC announced its receipt of a $30 million donation from author and philanthropist MacKenzie Scott, in recognition of the institution's commitment to racial equity. "In the earliest stages of my career, I was sometimes seen as a troublemaker," Muñoz says. "Getting this award, even though it's not for me as an individual, makes me glad that I stayed the course and that I didn't give in to those voices telling me not to challenge the status quo."
Muñoz plans to use data to maximize the donation's long-term impact on LBCC's most vulnerable students. As he does so, he will strive to remember what motivates him, to remain self-aware as a leader, and to facilitate change––three practices that he encourages aspiring professionals in higher education to adopt. "Change is a process, not an event. When you're leading for change, you have to be able to walk people through that process," he points out.
At LBCC, the change process around student success extends beyond racial equity. Muñoz has also highlighted the unique needs of other student communities and identity groups—from LGBTQ+ folks to veterans to former foster youth—and introduced new methods to ensure that faculty and staff can meet those needs. Through it all, he has maintained his integrity by making decisions that honor his roots.
"I remember what it was like when I didn't have money for food or books," Muñoz says. "On those days when my bucket is running on empty, I go back and look at the screen shot of that young man telling me, 'You're the realest, Dr. Muñoz.' I'm doing this for him and for other students who are struggling right now and who need a champion."