Evelyn Pérez-Albino has been an advocate pretty much her whole life. She grew up as a first-generation Dominican-American and the only child of a Spanish-speaking single mother, which she says led her to become the official translator for the house as soon as she was old enough to know the language. This sometimes made for some awkward experiences, as Pérez-Albino even had to translate her own parent-teacher conferences.
"It instilled in me that I was a representative," she explains. "I was empowered to speak for others, and I needed to take that responsibility very seriously." Becoming a lawyer, Pérez-Albino says, felt like a natural career transition where she could do what came naturally to her—advocating for and empowering others to raise their voices.
Adaptation and Authenticity
As a young lawyer, Pérez-Albino had to learn to navigate corporate spaces and eventually find the courage to do so authentically. And many of those spaces, she notes, had to figure out how to include her in the workplace in a meaningful way that fostered an environment in which a first-generation Afro-Latina could thrive and still be herself. It was a delicate balance and, as is often experienced by professionals of color, there were often misalignments.
But eventually, Pérez-Albino found herself in an in-house role where she could not only be at the core of what was happening within the company but also leverage the diversity of her experiences and of the wider US culture. Until recently, she worked as the director of employment and labor at JetBlue Airways, where she oversaw a large scope of projects, including cross-functional matters and collaboration with third parties. She describes that role as a "jack-of-all-trades" position that gave her a level of insight and accelerated professional growth that is difficult to achieve in private practice.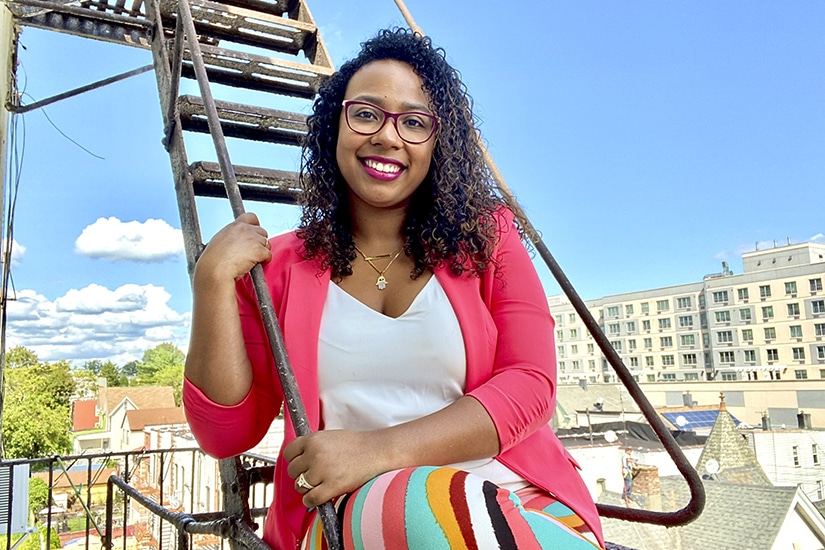 "[My day-to-day] [wa]s about constant change. It's a lot of being comfortable in constant discomfort," she says. As a subject-matter expert in a fast-paced environment, particularly in light of the impact of the past year and the COVID-19 pandemic on the aviation industry, Pérez-Albino had to quickly adapt to leading and problem-solving amidst uncertainty. "It's getting OK with not being OK. It makes you a better problem-solver because you realize you don't have the bandwidth to get 100 percent ideal. It's all gray area."
Throughout her career, Pérez-Albino has consistently gravitated toward work that centers on diversity. It's a topic that hits close to home for her and is always at the top of her mind as she navigates professional environments, informing her perspective on employee relation issues and allowing her to be a more empathetic leader and advisor. "It can be hard to walk in [with] the only brown face," she notes. "There's feelings of imposter syndrome that you deal with. You worry about your ability to ascend if no one that's at the top looks like you."
Pérez-Albino adds she's fortunate to have felt welcomed and included at JetBlue, the most diverse company she'd ever worked for—one that had deliberately put in work on the D&I front and was passionate about making continued progress on that front. She's equally excited to take on her new role as assistant general counsel of L&E at Facebook in July 2021, where she'll be focusing on global diversity.
Empathy and Elevation
For years, Pérez-Albino has volunteered her time for a number of affinity organizations where she's been able to share her insights with others in the hopes that her path and insights can pave a smoother climb for those coming up behind her. Still, Pérez-Albino is constantly looking for more tangible ways to make a difference. It's what led her to found her own company, Ella Elevates, a career strategy firm dedicated to helping professional women of color own their careers and chart a path toward success.
"It's not that these conversations aren't being had," she explains. "It's just that, often, we're not the ones benefitting from them." Ella Elevates offers career strategy and advice while encouraging confidence in high-achieving professionals of color so they can feel empowered in cultivating the same opportunities and thrive in their corporate careers.
Pérez-Albino also puts her passion for mentoring into action through her involvement in the Hispanic National Bar Association (HNBA). The group has enabled her to establish key relationships that have given her greater insight into the legal industry. "It brought us all together," she says of the small but mighty Latinx attorney community in the tri-state area, emphasizing the value of seeing successful professionals who looked like her thriving in their own careers.
Having worked under various employment structures, Pérez-Albino has found empathy and support to be crucial to her success as a team leader. "Empowering your team and championing them gets better output every time. And it makes it easier to develop authentic relationships with people. It incentivizes them to take ownership of their work because they don't feel as if they have to fight for recognition."
It's a philosophy that she applied in her role at JetBlue and consistently applies to her pro bono work, mentorship, and personal life. She credits her family with teaching her the value of support: Pérez-Albino herself is now the mother of a "very energetic" three-year-old, and pushes herself to set a good example for her son and lay the groundwork so things can be easier for him, much like her mother did for her.
Raising her son has also made Pérez-Albino reflect on her upbringing—straddling two different cultures—and the strength that she gained through that experience. "Early on in my career, I thought my background and origins might have been a detriment, but I now value all of my experiences and clearly see how it's that diversity of experience that has allowed me to come this far. I want my son to also have those two worlds: in and outside of home," she says. "It builds resilience and character. If I am authentic and true to who I am, I can be on the fiftieth floor of the World Trade Center and still [be mindful] of what was important to me when I was sitting on the stoop of my tenement building in Washington Heights."