Betty Francisco worked long hours as a senior associate in the business law department at a large firm and sought refuge to work out and de-stress at Sports Club/LA in Boston. In 2006, the sports club was being acquired by Millennium Partners, and club member Betty Francisco was offered the opportunity to be its general counsel. It felt like the right move while big changes were happening in her personal life as well. She and her husband, Paul Francisco, became parents with the birth of their first daughter, Sofia. "[The opportunity] fortuitously fell into my lap, and it was perfect timing," Francisco says considering her new role as a mother. "I love health and fitness and it was important to work in a place that had meaning in terms of helping people live a better life."
Now, Francisco, 44, continues to drive growth at Millennium Partners Sports Club Management, a Boston-based company that brings in $100 million in annual revenue, owning and operating seven clubs in New York, Boston, San Francisco, Miami, Washington, DC, and Chestnut Hill, MA. "For me, the fun part is growing and advancing the business, bringing in new ideas, and having the ability to be a strategic advisor and resource," she says.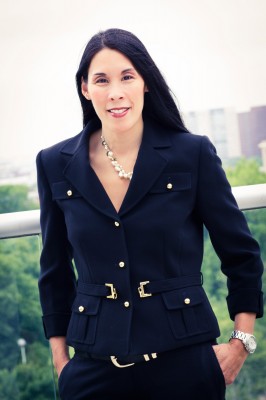 Organization and Ingenuity
When she started as general counsel, Francisco's initial task was "getting the house in order." She drew up legal contracts as well as risk management and insurance programs for the new parent ownership. Francisco evaluated the company's partnerships and renegotiated deals that would create more long-term value and sustainability. For example, the clubs' cafés and restaurants were managed in-house, but she discovered it would be more cost-efficient to have those operations outsourced. "I helped negotiate those arrangements and oversee those partnerships to ensure they operate at the highest levels," she says.
In 2008, Francisco was promoted to executive vice president with oversight of human resources, giving her the opportunity to better align cross-departmental resources. During this time, parallel to the international economic downturn, Francisco's goal was to create internal efficiency for the company. After noticing the increase of workers' compensation claims, Francisco formed a safety committee, which developed a comprehensive safety and accident prevention program for employees. The committee encouraged a more proactive safety culture, which in turn reduced claims by 30 percent in three years. "It's satisfying to promote a culture where employees are rewarded for working safely," she says.
Last year, Chestnut Hill, MA became home to the new "jewel box" sports club. Though smaller in size, the club still features traditional amenities, and its innovation is accented by technology. From marketing materials to the membership sign-up process, everything is digitized to create a seamless experience for members and employees. Francisco is currently working to revamp the club's intranet to improve connection and collaborations between employees.
This past winter, Francisco assisted with the launch of Work Well, a new program that goes to corporate workplaces to promote and engage employee wellness with cutting-edge fitness, nutrition programs, and workshops. "I am so excited for Work Well, because it gives me the chance to use the corporate connections I have developed through the work I do in the community," Francisco says.
Empowering Women
"I've always felt the urge to give back, open doors, and to create opportunities for other women because it was done for me," Francisco says, describing her sense of shared responsibility to mentor a younger generation.
Currently, Francisco serves on the board of directors for YWCA Boston and is working to develop other projects as well. As the former executive vice president of the Boston chapter of The Association of Latino Professionals in Finance and Accounting (ALPFA), the nation's largest nonprofit organization for Latino professionals and students, Francisco teamed up with ALPFA and the Hispanic National Bar Association to launch Latina Circle. Its mission is to create a launching pad for women to connect and network with senior leaders. Latina Circle hosts quarterly breakfasts called Cafecitos, inviting about 50 women, including speakers who are leaders in the community. The events are an excellent instrument for connecting up-and-coming "women to watch" with the mentorship of a network.
For Francisco, creating The Latina Circle has been an invaluable experience for building an additional skill set. "I'm doing fund-raising, marketing, and sales," she explains. "I feel fortunate to be developing valuable skills that I don't necessarily learn as an attorney while also giving back to my community."
Up Close & Personal with Betty Francisco
What is the best part of your job? I love when I hear how we've changed someone's life. It's those transformational stories that make me get up everyday excited to make a difference.
What life lesson guides you? It is extremely important to live life with curiosity because it keeps you motivated.
As a child what did you dream of becoming? An artist. I love to paint. I finished a two-piece canvas in December. My daughters, Sofia, 8, and Gisele, 5, helped, and my husband framed it.
What is your personal goal for the next five years? To rent an art studio and paint on a more regular basis.
What is a memorable family vacation? Going back to my hometown of Añasco, Puerto Rico and seeing my daughters play and swim at the same beach I grew up visiting.