After more than twenty years as an employee of Rochester Institute of Technology (RIT), Milagros Concepcion knows the university inside out. Back when she first arrived on campus as an undergraduate student, however, it was a different story.
A native of Puerto Rico, Concepcion encountered a new world at college. "I came to RIT sight unseen," Concepcion says. "I had never seen the school, I had never visited, and I was the first person in my family to go to college."
Concepcion's earliest job at RIT bears little resemblance to her current one. As a new student not yet confident speaking English, she looked for on-campus employment that wouldn't require a lot of talking. "I ended up getting a job as a student custodian," she says. "From 5:00 a.m. to 10:00 a.m., four days a week, I cleaned the locker rooms in the cafeteria and mopped the floors."
After successfully balancing her studies and her job, Concepcion graduated from the RIT undergraduate economics program. She then spent several years in the financial services industry at Citibank Student Loans, before moving to a for-profit organization. But her heart was elsewhere. "I really wanted to get back to higher education," she explains. "I'm very passionate about higher education, because I wouldn't be where I am today without it. It opened so many doors for me."
With her own experience in mind, Concepcion looked to RIT as an employer of choice. She came back to the university as a gift accountant and went on to hold progressively broader roles, including that of financial analyst in Saunders College of Business, assistant director and director of sponsored programs accounting, assistant, and associate controller. Today, Concepcion serves as associate vice president, controller, and assistant treasurer in the finance and administration organization, which manages one of the largest private universities in the country with over two billion dollars in assets.
"It's been a long and really rewarding journey. RIT is a wonderful place to work, and perhaps what I love the most about it is the students and its mission," Concepcion says. "We get to work directly with a lot of students in the controller's office. They're vibrant, energetic, and full of great ideas."
Concepcion's career has been enhanced by an ability to foster connections across employee and student communities. Nearly eighteen months into her new role, her emphasis on collaboration has allowed her to make significant headway, particularly through a pair of recent projects designed to enhance the student experience and modernize university operations.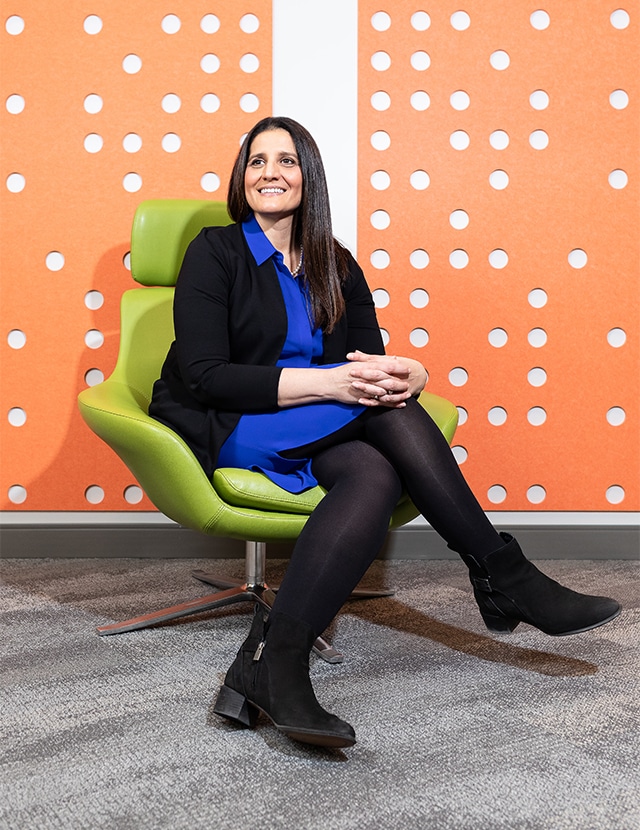 Concepcion tries to channel the students' enthusiasm and hope for the future in her day-to-day controller activities and special initiatives alike. She shares the students' passion for technology, which drives her to challenge and improve existing processes. For instance, in her latest project, she shifted the university's brick-and-mortar bookstore to the digital realm through a partnership with a new virtual bookstore platform.
"Across the country, students are no longer purchasing their books as before, because the cost is so high. They are ordering their books online, or not at all, in an effort to search for a reduced price and a more convenient format and delivery," Concepcion elaborates. "Our goal for this project is to decrease the cost of ownership for all course materials to the lowest amount possible. That's a huge win for our students."
In a second project, Concepcion transitioned the RIT student refund process to a digital disbursement model. "Students rely on financial aid refunds to cover a number of costs, such as books, rent, and food. Surprisingly, prior to this project, only half of our students signed-up for direct deposit. The rest would have to wait for a paper check and those who are unbanked would have to use check cashing services to access their money." The transition to digital disbursements has been incredibly successful.
"Now, all students receive a text message and an email notifying them that they have the ability to receive their refund through a variety of digital options. Our percentage of conversion to digital disbursements has been between 88 and 90 percent," Concepcion says. "Our ultimate goal, and what we are striving for, is that 90 percent of our students will be able to access their funds within thirty minutes of receiving their notification and we are on target to get there."
Concepcion focused on customer cost and convenience in both projects, each of which she views as entrepreneurial in nature and highly impactful in scope. "We've changed the way we do things to deliver great value to our students, while streamlining operations," she emphasizes. "We're all about the students. They are what keep this place going, so any investment to serve our customers is really an investment in the university."
A strong proponent of collaboration within and beyond higher education, Concepcion dedicates herself to forging bonds with her fellow Puerto Ricans, as well. "I stay in touch by learning from and connecting with others in the diaspora," she confirms. "I also support Latinx candidates in the US who are running for office and are committed to advocating for Puerto Rico."
In the wake of Hurricane Maria in 2017, Concepcion led a delivery of relief supplies to her childhood neighborhood and later organized multiple holiday toy drives to spread hope in Puerto Rico's hardest-hit areas. With much of her family still living on the island, she is well aware of the substantial economic and political challenges Puerto Rico faces—an understanding that motivates her to remain engaged.
"It's a hard thing to live between two worlds, one that is so privileged and one that is so impoverished," Concepcion admits. "I'm very proud to be from Puerto Rico, it is my identity and truly who I am. I am dedicated to working alongside Puerto Ricans in the island and the mainland for Puerto Rico to achieve the economic progress that our resilient people have worked for, against many odds, and the brighter opportunity-filled future that we so richly deserve."