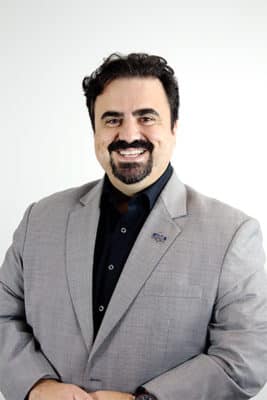 Just a few years ago in 2012, Miguel Beas joined a direct-selling company that markets anti-aging products, such as health and beauty products and nutritional supplements. Although the company was founded in 2009, Latin America was not even on the table for the company. Today, however, the company is currently making its way into Argentina. It's the last country that company has to reach in Latin America—which is currently its second largest market, making up about $300 million in business. It's an impressive six-year journey that wouldn't be possible without Beas.
As the company's president of Latin America, Beas brought with him decades of experience in opening international markets for direct selling and multilevel marketing companies.
"Let's say my two first years at the company were spent trying to create the international platform in Latin America," Beas says. "Now, we are probably the best in offering the international platform for our industry."
The international platform was no overnight success, though, and it might not have not come to fruition without Beas's keen insight into Latin America combined with the company's active spirit.
"Our culture is youthful," Beas says. "So, we decided to be proactive."
In his role, Beas oversees everything from sales to legal to marketing for all countries from Chile to Mexico. Each market—which might range from a larger country such as Brazil to a cluster of smaller countries such as Central America—has a general manager that reports to Beas, and he credits those managers with helping fuel the company's success. In fact, surrounding himself with the right people is one of the leadership skills that Beas has honed over his career.
"Obviously, studying the law helped me a lot, but the most important thing is to find the right people for your team," Beas says. "I always try to work with people who are better than myself. I'm very proud of the team I created in the past six years in Latin America because they are the best of the best."
When looking for team members, Beas looks for people with good communication skills first and foremost. In addition to traditional sales skills, he says that his team members also need to be able to collaborate and work as team.
As far as his own leadership, Beas says that his number one asset is his ability to listen. That way he can pick up on any opportunity, no matter how crazy it
might seem.
"Spend hours with your team, and listen, listen, listen," Beas says. "I've never done anything by myself, but you have to be crazy enough to pay attention every time you have an opportunity."
It's Beas's shrewd ability to pick up opportunities is essential to its success in Latin America, especially Brazil.
Brazil has been host to some of Beas and his team's most ingenious marketing ideas. In 2017, they bought the naming rights to a giant stadium in Rio de Janeiro that played a major role in the 2016 Olympics. Now, that arena hosts everything from UFC events to concerts by artists, such as Demi Levato and Radiohead. But the company has gone even further by picking up on local customs and traditions.
"Right after that, we discovered that the second biggest sport in Brazil is volleyball," Beas says. "So, we decided to go further, and we made an agreement with the biggest volleyball team in Rio to sponsor the team. So, we are always in media and television not only with the arena but with the volleyball team as well."
In addition to sponsoring both men's and women's volleyball teams, Beas and his team found the opportunity to make one of their company's products the official energy of the carnival celebrations in São Paulo and Rio de Janeiro.
With those type of marketing ideas coming from his team, Beas now looks forward to success in Argentina.
"The business opportunity is huge," Beas says.
And the company is entering the market in a big way by hosting an event in Buenos Aires for than eight thousand people. In fact, Beas hopes that Argentina will be in his company's top twenty-five markets by the end of the year.
Although it is his most recent company's first year in the country, it's not Beas's first foray into Argentina.
Beas grew up in Spain and attended the University of Murcia in Murcia, Spain, where he studied law. After college, he began working for his first direct-selling company, Forever Living, and when the company needed someone to help launch the company in Argentina, Beas applied, got the job, and moved Buenos Aires. From there, Forever Living moved him from Argentina to Brazil, Peru, and then Colombia.
Now, Beas has more than twenty years opening markets in Latin America and developing a deep knowledge of local laws and regulations. In fact, he estimated that he has spent 80 percent of his career in Latin American and 20 percent in Europe.
In his current role, Beas spends the majority of his time away from home working for the company. But to him, that's alright because he believes in the company he works for.
"I can tell you I am totally connected to the mission, to the philosophy, and to the owners of the company," he says. "We live the brand, not only me as a person, but my colleagues as well."