Since Michael Garcia stepped into his role as head of human resources at Lewis Energy Group, one of the largest producers of natural gas in the state of Texas, he's helped make the company one of the best places to work in the industry.
He has transformed his department by automating processes while improving talent acquisition, community outreach, and training efforts—and, most importantly, building a great team. He eliminated annual performance reviews and implemented a short continuous performance check-in process that's helped identify succession planning, recognition, developmental, and mentoring opportunities. He also built multiple career progression programs in areas with historically high attrition.
Early on in Garcia's time with the company, industry leaders took notice. In 2014, twenty-eight workforce development boards named Lewis Energy Group the Texas Workforce Solutions employer of the year.
When you ask Garcia how he came to be such an effective and empowering leader, he points to his experiences working and growing with various companies across several industries. "Having the benefit to work with a couple Fortune 500 companies early on in my career and being nominated to be part of an executive MBA development program have added to my knowledge and professionalism," he says.
"However, learning from my career mistakes have really added to the person I am today. I became an HR leader at a very young age, so dealing with company politics and becoming too close to those you manage were lessons learned," he admits. "Bottom line: It's perfectly acceptable and often beneficial for leaders to develop close working relationships with their team members. But if those relationships become too personal and friendly, the leader, the employee, and the company can all end up suffering."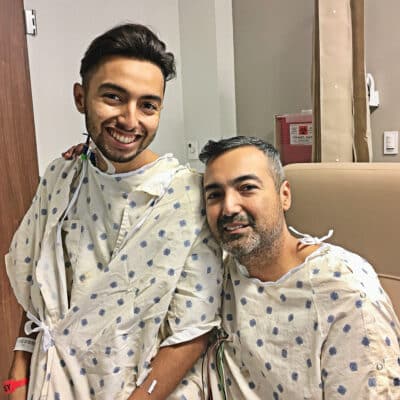 Identifying the proper balance in familiarity and professionalism has been key for Garcia, especially when matters in his personal life began to take more precedence. "My wife's role leading me to faith helped guide me personally and professionally during these matters," he says.
"[My son] was diagnosed with ulcerative colitis at two years old, type one diabetes at thirteen, and primary sclerosing cholangitis [PSC] at seventeen, which would've resulted in death if he wasn't able to get a liver transplant. To date, he's been hospitalized over thirty times," Garcia explains. "But still, he never sought special attention, talked about his illnesses, or let anyone know the challenges he was going through. He just wanted to fit in and be treated like everyone else. He always seemed to be more concerned about the well-being of others around him."
His son's selfless approach to life and his faith was infectious. It not only instilled in Garcia a drive to save his son but also taught him to constantly strive toward being the best father, husband, and leader at work despite the circumstances. It's a journey he's still on.
Before embracing that resilient and positive posture toward those roles, the balance between work and his personal life weighed heavily on him. He grew accustomed throughout the years to spending the night at the hospital with his son, showering, then going straight to work.
But for Garcia, juggling those prioritizes wasn't even the toughest part of that journey. "The hardest and most helpless moments a parent can have in life is not being able to help your child with pain, suffering, or a terminal illness," he says. "All you can do is watch."
When his son was diagnosed with PSC, Garcia had an opportunity to do more. The rare liver disease required a transplant and Garcia hoped he could be a donor, but after an evaluation, he was disqualified.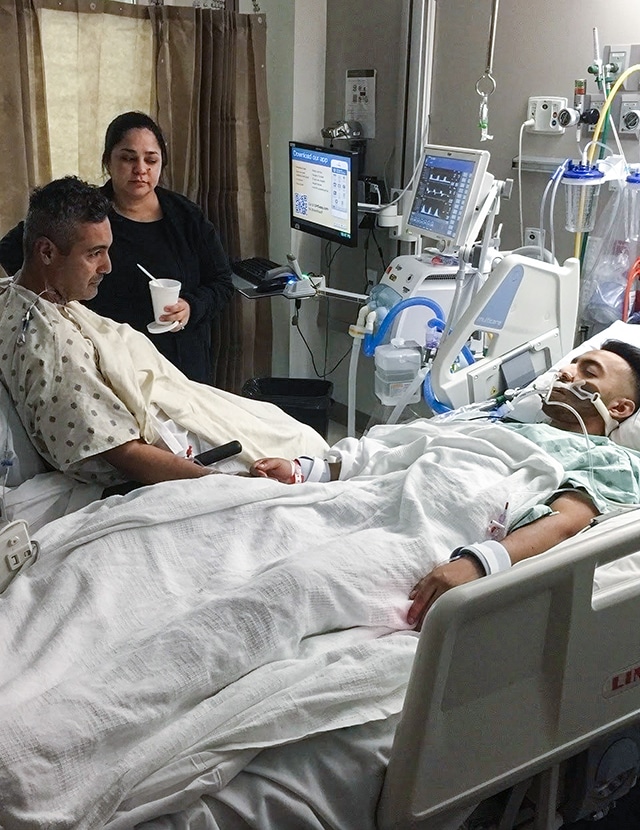 "I was out of shape and mentally exhausted as a parent," he says. "However, this was the one chance I had to finally be able to do something to help my son with his pain and potentially save his life."
Garcia was undeterred; he spent the next four months under an intense exercise regimen that resulted in him losing forty pounds and gaining clearance for surgery. He was able to donate 60 percent of his liver, which has improved his son's quality of life ever since.
Today, Garcia leverages the lesson he learned from that experience to be a more empathetic and disciplined leader, focused on advocating for his family and his team. "I want to be an example not to just my son but [also] my kids and my team, that as a parent or a leader my role is to protect, develop, support, and guide them to become responsible at work and in life despite your circumstances," he says.
---
Home Base
For Michael Garcia, community runs deep—whether it's at home, work, or even on the playing field. "Family is my passion," Garcia says. "It's been instilled in me from a very early age and serves as my purpose in life. I was raised in a traditional Hispanic family that was very close and tight knit. My parents have been married over fifty years and have stayed active in my life, and growing up, I spent just about every weekend with extended family or playing team sports. That taught me the importance of family, team, and competitiveness."
---
Lockton helps clients make their organizations more successful and people's lives better by delivering people solutions that improve employee experiences, provide better total rewards and benefits, and control costs. To learn more about Lockton, visit lockton.com.