Edward Martinez has emerged as one of the key players of the contemporary health-care industry. As senior vice president and chief information officer at Miami Children's Hospital, Martinez oversees the groundbreaking IT initiatives of the top-rated institution, and has directly led to its growth from a $300 million enterprise to one garnering $500 million in revenue. "I look to be a leader or pioneer in anything we do," Martinez says. By fusing his IT expertise with his passion for helping others, Martinez has launched a series of programs that will make health care more accessible for patients across the world.

Healthcare Mobility Initiative
"The Healthcare Mobility Initiative is a key driver for us in the future of health care," Martinez says of his initiative, which aims to bring health care to more people who otherwise may not be able to travel to the Miami hospital. As one of the world's top subspecialty pediatric hospitals, Miami Children's draws patients from across the globe—from Florida to Rome to South America—many of whom can't actually make it back to the hospital for follow-up appointments.
"Our e-mobility initiative promises to tie things like continuum of care, education, registration, follow-up, prescription renewals, and other services through telehealth," he explains. "As the future begins to become more aware of these technologies and how to reduce cost and increase care, we want to be right there at the forefront of that evolution, and we think we are."

Telemedicine Technology
Martinez wouldn't have been able to see his Healthcare Mobility Initiative come to fruition without the use of telemedicine: digital technology that allows patients to interact with physicians remotely. The hospital is currently able to offer telehealth services to remote places—live interactions with Miami's internationally renowned subspecialty physicians and other doctors across the globe. "It's incredible when you're watching a telehealth session between one of our physicians and someone out in Europe, and it's all being done in real time as if the physicians are in the room with the patients on the other side of the world," he says.
Yet despite the success in setting up video conferences through technology partners like Cisco, Martinez hopes to expand the program and utilize digital applications that will make the telehealth sessions accessible to an even larger group of people. "We're driving toward using iPads and iPhones and those mobile devices," he explains. "Tied to our ability to use those applications, we want to provide telehealth sessions our patients can utilize in emergency situations." Instead of having to call their personal physician and set up an appointment, Martinez hopes that patients will soon be able to call a telehealth center, where they can directly interact with the hospital's specialty physicians.
"Soon we hope to be able to bring the future right into patient's homes," Martinez says. "This is just the beginning of a new era in health care."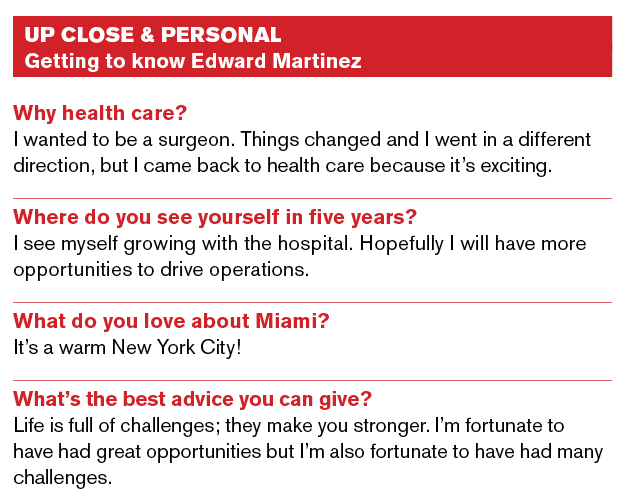 Data Warehousing Projects
Martinez and the Miami Children's Hospital team are also working to bring personalized medicine to their patients. "Today's health care is based on evidence, which often works but when you have 100 patients with different genetic makeups, they don't actually get the best outcome for the particular care they need," he says. "The best example is with cancer; even though you have the same treatment, not everyone has the same outcome."
The hospital is in the midst of a 5-10 year initiative to create a digital database of DNA compositions and their interactions with various medicine. "If you're able to look at the genetic makeup of a patient and compare it to a library of genetic markers based on a treatment plan, you have a better opportunity to select the right type of treatment for that patient," he stresses. Similar initiatives are currently underway at various university hospitals, but this would be the first of its kind in the pediatric field.