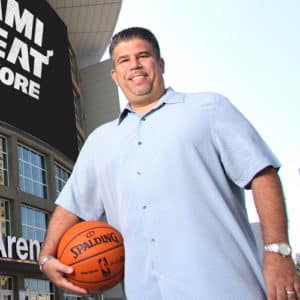 Every time Miami HEAT great and Naismith Memorial Basketball Hall of Fame player Alonzo Mourning stepped up to the free-throw line, he would tap his left wristband to his chin, raise it to his forehead, and then shoot his shot. Michael Jordan famously wore his championship University of North Carolina shorts underneath his Chicago Bulls uniform for every game. Andy Montero, vice president of retail business development for the Miami HEAT, wears the 2006 NBA Championship ring he earned with the team every time the HEAT play.
"That is the number one thing I do," Montero says. For many, routine and superstition are interwoven with sports and sports fandom. "Wearing my ring brings good luck to my team, and it puts me at ease when I come to the office early in the morning knowing that we not only have a challenging day in my retail world but also on the court."
Today, Montero oversees the entire retail business for both the Miami HEAT and AmericanAirlines Arena. As luck would have it, the HEAT is his favorite team. Everything from buying, selecting, marketing, and selling the team's merchandise falls under Montero's purview and that extends to designing and negotiating store leases for brick and mortar stores to leading digital initiatives such as the HEAT's online store.
For Montero, sports are a passion that extends well beyond his professional life, and it is a passion that has been cultivated from early in his life. Montero believes that his love of sports is in his blood, stemming from a maternal grandfather who was a sports reporter in Cuba, where Montero emigrated from to Miami when he was four years old. Montero's fandom manifested early on when he would collect trading cards—a passion that continues to this day.
"Memorabilia takes me back to my childhood days," Montero says. "I'm very passionate about sports and memorabilia. I collect everything from jerseys and game-worn material to my three championship NBA rings that I've earned with the Miami HEAT."
Building a Champs Pedigree
When Montero was in college, he got a part-time job at Champs Sports as a sales associate in 1984. Eventually, his superiors asked Montero if he wanted to be in a two-year management training program. He spent fourteen years with the company, progressing from managing stores to training managers to overseeing a group of local stores. During his tenure, Montero won Champs Sports MVP Manager of the Year award twice.
"I applied at Champs because of sports," Montero says."It was a job but it was actually about sports. It wasn't like selling furniture. It helped me gain business experience and develop customer service skills."
By the time he was ready to leave Champs in 1998, the HEAT were looking to open their new building, the American Airlines Arena. The team wanted to bring the entire retail business in house—an opportunity that greatly intrigued Montero and something not many NBA teams had done.
"At that point, retail operations in the NBA was at a very early stage," he says. "I was bringing experience from a Fortune 500 company and breaking new ground."
A Strong Vertical
Montero joined the HEAT in February 1998, starting out as manager of retail operations for a store the team had just built across the street from the new arena site. As the AmericanAirlines Arena construction was finishing, Montero's store concentrated on helping season ticket holders select their new seats before the December 1999 completion.
During that transition year, Montero approached his boss, Executive Vice President and Chief Marketing Officer Michael McCullough, about bringing retail operations in house. McCullough promoted Montero to director of retail operations where he would oversee the outside store as well as all the business inside the arena.
Eventually, Montero became senior director of retail operations. At this time, he built a 3,000-square-foot team store that sits in the arena mezzanine as soon as one walks into the venue. Through Montero's leadership, the NBA retail team was able to move up from bottom-ranked to middle-ranked in just in his first year. After that, Montero's team built another store in the arena, The Miami HEAT Store By the Bay. From Montero's second (of nineteen) year forward, the HEAT have never dipped below the top five of NBA retailers.
Today, retail has expanded to a store in the Miami International Airport as well as an additional store in Dolphin Mall, Miami-Dade County's largest retail value shopping center.
"We're early adopters here for almost everything in the business," Montero says. "What separates us is that we're a vertical business." That means when one deals with Montero's team, it is throughout the entire selling process. He deals directly with manufacturers and licensees, which allows him to create unique partnership deals that include product fulfillment through marketing efforts.
To date, the HEAT are the only team that has won six NBA Retailer of the Year awards, a recognition that only began being given in 2002. The team has also garnered the Per-Cap award five times, which is awarded to the arena that sells the most dollars per head based on attendance. Montero's team has also twice won the Full Nelson award, which recognizes leadership, dedication, and hustle in customer service.
Not (Just) in His House
When Montero looks back at some of the successful projects and initiatives he's been a part of, creating a store in Miami International Airport is one of them. With more than 39 million passengers passing through the airport, Montero says that just having the Miami HEAT name visible there is invaluable.
"That store gives us tremendous visibility, it makes us top of mind constantly with people inside and outside Miami,"he says.
With the third-highest online following of all North American professional sports teams, Montero points to social media as crucial to its success. His team followed that up with more tech-focused projects like ticketless entry and a mobile wallet.
These, like the retail function itself, are not farmed out to a third-party app developer but are rather proprietary programs built by HEAT designers. The apps, Montero says, help create a better fan experience by collecting and analyzing data from users.
"We're able to retarget folks with the right products at the right time, constantly," he says. "Through effort and dedication, we've created a brand that people recognize worldwide."
But to keep that brand growing, Montero collaborated with Jennifer Alvarez, the team's creative director. Alvarez and her crew created a retail line called Court Culture during the 2015-16 season—a Miami HEAT lifestyle brand designed entirely in-house.
While private label and NBA licensed, Court Culture allows the retail team to create products that are relevant to its market—and quickly. For instance, if a player provides a highlight-reel worthy play or makes a quotable comment on a Friday night game, Montero is able to create a product based on it and go to market for that thing on a Sunday game.

The Américas Team
While specialty uniforms are now expected for the majority of NBA teams, the HEAT were one of the first teams to introduce different uniforms for the playoffs as well as kits to celebrate Latino heritage like El HEAT for Noche Latina. "These help us get a better feel for our fans and our demographics," Montero says.
Growing up bilingual in Miami, an international city with a large Hispanic population living or passing through on vacation, is a boon for Montero. "Not only that, but people come from countries where their tropical climate is similar to ours," he says. That means Montero makes sure to stock products you wouldn't find from a team in the northeast such as beach sandals, bathing suits, and umbrellas. "If we see there's a big need to create these products, we will sell them in the arena—that's the tremendous advantage of knowing the culture and knowing what our fans need."
The Miami HEAT have played games all over the Americas, including preseason games in Puerto Rico and Brazil as well as exhibition games in the Dominican Republic. "We've been all over the Americas trying to become Latin America's basketball team," Montero says.
The goal of these international excursions is not only to build the brand but also to "make sure that they take a piece of Americana—of NBA basketball and the Miami HEAT specifically—back home.
"The Miami HEAT is all about excellence, commitment, and hard work," Montero says. "I align with that business model. And being able to create history for my favorite team, you can't match that."
As Montero has seen his expertise evolve, he has also seen how the Miami HEAT retail business has grown in tandem. "We started with something inside of our building and with the outside retail business at the local mall and airport and it's now become very similar to what I was used to with Champs." Montero's career has seemingly come full circle, yet he—and the HEAT—will continue to grow. 
The Bling Is the Thing
Five keys to success—and getting championship rings—from Andy Montero
Always look for ways to expand. "To continue to grow our business, we didn't just look at expanding inside the arena. We thought about outside options."
Be aggressive when looking for opportunities. "We just created a new platform for our website in the form of Shopify. The platform allows us to be more aggressive, know our customers better, and help put out better products."
Listen to your fanbase. "We're planning to add more brick and mortar stores to our arsenal. Fans are constantly asking us about expanding into different areas in South Florida."
Understand the goals. "We're first assessing what our strengths are to make sure we maintain growth."
Create flexibility. "We offer season ticket member discounts in our stores. Fans can get their discounts at all our retail locations as well as online. Because fans are traveling constantly, they can choose to come to our venue to watch games or come through the store at the Miami International Airport. We've made the shopping experience fan friendly so fans can easily place an order and it will be shipped anywhere in the world."