Carlos Gaytán refers to the time he spent as a contestant on the popular Bravo cooking competition show Top Chef as a "dream." It was one that almost didn't come true. Gaytán, who placed fourth out of 19 participants in the show's 11th season, nearly let the opportunity pass him up due to family obligations. He even declined seven times before his wife and kids gave him the green light.
Months earlier, Gaytán earned widespread attention from the culinary world for becoming the only Mexican chef to receive the coveted Michelin Star rating, an elite designation awarded to eateries worldwide that offer "cuisine prepared to a consistently high standard." Gaytán is the owner and executive chef of Mexique (French for "Mexico"). The cuisine is Mexican-French fusion and the restaurant, located in Chicago's West Town neighborhood, aims to inspire, in his words, "a revolution in Mexican gastronomy."
"Everything changes—everything. Technology, it changes. Even medicine changes… Why not Mexican gastronomy? Why cook traditional food all the time?" he asks rhetorically from a sleek booth inside Mexique. "When we've found so many ingredients—they're not Mexican, per se, but you incorporate those ingredients in our cuisine to start creating something amazing—why not? That's the idea that I have."
The restaurant is a cozy, rustic, French/Mexican sanctuary with soft lighting, buttery scents, and Latin jazz flowing from the speakers that create an intimate vibe. He and his wife designed and developed the space themselves—certain parts by hand—over the past 10 years. Gaytán came to the US in 1991, immediately finding work as a dishwasher before getting the chance to cook at the Sheraton Hotel in Chicago under Jeff Miller, his first American mentor, who took an interest in Gaytán and his talents.
"Four years later, he asked me to move on," Gaytán recalls. "He was like, 'We need to find another place for you.' I said, 'But I'm really happy here.' But he replied, 'You don't understand. You've learned everything I have to teach you already. And you have talent. You have to move on.'"
"At that time I was very sad—I thought, 'Maybe he doesn't like me anymore.' I couldn't understand why then, but now I'm really grateful he was so honest."
Gaytán would move on to the Union League Club of Chicago, where he became a banquet chef. One day, before an important dinner for the French Consulate, a team of French chefs came in expecting to see the club's executive chef, Michael Garbin, leading the kitchen—and saw Gaytán instead. Panicking that "a group of five Mexicans" wouldn't be capable of preparing French food for 600 people, he recalls, they called in more reinforcements.
"That's the only time I got offended, that I remember," Gaytán says. "I told him [locally renowned chef Dominique Tougne], 'You know what, listen. It's OK that you bring as many people that you want, but just stay on this side and watch what we do. You don't think that we're capable … but just watch.' And at the end of the meal, he said he was amazed by the team and by me, what we did, the food that we put out there. He couldn't believe it. … A week later, he called me to offer me a job."
Gaytán accepted the position at Bistro Margot, under the condition that Tougne would commit to teaching him French cuisine. Over the next three years, he studied under Tougne every morning, experimenting with French ingredients and techniques. He then began incorporating them into the style he adopted growing up cooking for friends and family in Guerrero, Mexico.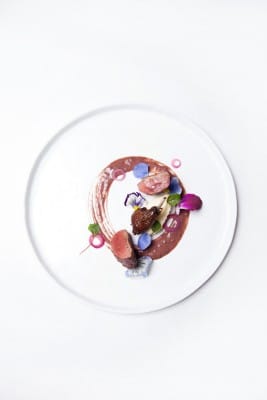 But Gaytán has yet to encounter a challenge as trying as opening and maintaining Mexique, which has brought with it a constant series of unforeseen hurdles. There was the time when the building's electrical deficiencies nearly prevented Mexique from ever opening, and when he had to hand-build a new podium just to meet a trivial code, and, most memorably, when the Michelin announcement came one day after he prayed he wouldn't have to close.
Even after the Michelin Star brought Mexique back from the brink, it also redirected Gaytán's attention elsewhere, which in turn, harmed the establishment's consistency. Gaytán had to start making frequent appearances back home in Mexico. On the occasions that he was able to stop into his own restaurant, he sensed a decline in service. When Michelin removed the star last year, it hardly came as a surprise: "There was a moment that I got the feeling that this is not good, and I knew it was going to happen. And then it happened… It was not the same place that I had built."
"Being the only Mexican chef with a Michelin Star, I spent so much time [traveling to] Mexico," he says, "sometimes just to have dinner and come back. I didn't spend enough time on my restaurant because I spent so much time in Mexico last year."
In response, Gaytán restructured his kitchen, hiring line cooks in place of a sous chef and bringing new ideas to the menu. In a recent interview with Chicago Eater, Michelin Guide director Michael Ellis expressed confidence that Gaytán and Mexique would easily bounce back: "We hope he gets his star back next year because we know he can cook at that level."
Given these new commitments, Gaytán "cannot imagine" opening another restaurant, but if Mexique has taught him anything, it's that the future is unpredictable.
"Even if you see a lot of people [come into your restaurant] … you sacrifice so many things," he says. "I'm going to do my best to stay here as long as possible, but there is great opportunity out there."