Paul Asencio realized one thing when he took the CPA exam: he didn't want to become a CPA. In 1998, when he heard that the New York Mets were in need of a salesman from a friend who had just struck a sponsorship deal with the Major League Baseball team, Asencio did not hesitate to apply. The Brooklyn-raised, Ohio Wesleyan-educated accounting major and college athlete landed the job and has been with the team ever since. Today, he is senior vice president of corporate sales and partnerships.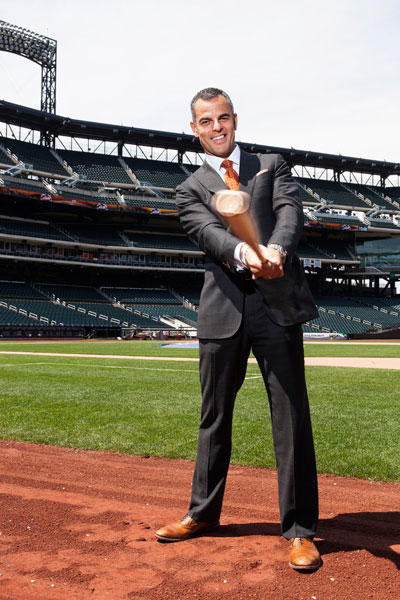 Simply put, Asencio's job is to create partnerships that generate revenue for the club and a return on investment for partners. An increasingly important part of his role involves paying mind to social media and mobility. These have changed the way that teams interact with baseball fans. "Our partners aren't relying on traditional means like signage on the outfield wall anymore. Integrated media assets are what now spark their interest," Asencio says. "They want to be able to interact with fans so fans can touch,  feel, and talk about their product."
The atmosphere has changed at Citi Field and other MLB stadiums. Fans have grown accustomed to watching a live game with smartphones in hand. They take pictures, tag each other, look up facts and statistics, upload information, and send messages, all while watching the game. For Asencio, that changing fan behavior represents a huge opportunity for innovative advertising. His team looks to add to the experience in a natural and organic way. "We call it 'surprise and delight' because if we do modern ad sales correctly, we can actually enhance the fan experience," he explains.
For example, advertisers like Citi and Verizon find direct ways to build fan interaction by partnering with the Mets. Verizon monitors and responds to tweets to invite users to visit the Verizon Studio in center field. Citibank gives rewards and discounts to fans that swipe a Citi card in the ballpark. "Partnership sales in MLB today is all about more exposure in more and unique ways," Asencio says.
"We call it 'surprise and delight' because if we do modern ad sales correctly, we can actually enhance the fan experience"
Another interactive advertising opportunity was put in place this year when the Mets added a strike-out board to the left field facade that tallies strike-out totals and displays the type and speed of each pitch. Most fans enjoy this extra information, and the sign's sponsor benefits from curious fans seeing its brand each time they want to know how fast Jacob DeGrom or Matt Harvey throw.
2015 is shaping up to be an exciting season at Citi Field in Queens. Matt Harvey's return from Tommy John surgery gives the team a true ace in a rotation bolstered by a hard-throwing and young bullpen. First baseman Lucas Duda is the team's newest young hope after his breakout season in 2014, and veterans David Wright and Curtis Granderson, who both underperformed last year, will look to bounce back to All-Star form. The front office has built a combination of raw talent and veteran leaders, and Asencio is hoping to capitalize on what he calls a "perfect storm." At the start of Spring Training, the team's ticket sales were already up  20 percent.
No matter what form advertising takes, Asencio and his team look to be true corporate partners. They've created a signature partnership program to attract top clients like Budweiser, Delta, Verizon, Geico, and Citi. Through the program, each partner selects its "signature" ballpark feature, such as the Verizon Studio, Budweiser's enormous center field sign, or Delta's high-end club behind home plate.
But when Geico asked for TV presence, Asencio showed the full potential of advertising with the Mets. Since the team owns a majority share of New York's SportsNet television network, he's not just selling the Mets—he's selling TV ads, too. Sales teams work with production crews to zoom in on signs or logos to enhance a sponsor's in-stadium promotion, creating a high-value package deal.
In 2014, after polling fans, the Mets redoubled efforts to make Citi Field a popular weekend destination. "Most fans said they would pick Saturday nights to see a game, so our goal is to make every single Saturday night great and sell out each and every time," Asencio says. Promotions, concerts, and fireworks attract fans. And while Saturdays are also popular, the entire weekend matters. Every Friday is a "Free Shirt Friday." On Sunday day games, kids can run the bases, meet Mr. Met, or party on Mets Plaza with a DJ, inflatables, and balloon animals.
Asencio has been with the Mets for 17 years and he still looks forward to every home game. On game days, he arrives at 9:00 a.m. and works a full business day. Around 5:00p.m., he meets guests and escorts them to the field, where they'll meet players and watch batting practice. Then, he'll have dinner at one of the ballpark clubs and make his way to a seat to watch the game.
"I still get a thrill every time I come here and smell the hot dogs and the fresh-cut grass," he says. "It just never gets old."