As Pilar Ramos sits in her office working on global public policy for MasterCard, you can faintly hear Spanish commentators giving the play-by-play of the 2014 World Cup. With a Puerto Rican mother, Honduran father, and a fellow first-generation-American husband, whose parents hail from Germany and Bangladesh, she is torn between whom she should root for. But despite the wide range of countries to choose from, her loyalties lie with her Latin roots.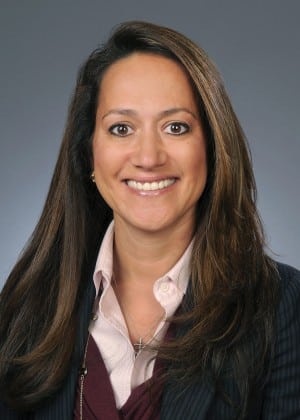 Although Ramos's sports fandom may seem irrelevant, it is a reflection of her embodiment of diversity—in her personal and professional lives. "First, there's my DNA, which is diverse," she says. But just as critical is her childhood in New Orleans, a city that contains an extraordinary mix of cultures. "New Orleans, not surprisingly, is like the music it produces, the food it makes, and the joy of life it inspires," says Ramos. "Think about jazz and gumbo. What makes them so great is the mixture and diversity in each. And what's produced is never produced the same way twice." One has to be agile, flexible, smart, and innovative around a core competency—whether music or food—to do well, says Ramos. "My work is no different."
Her title in her 12th year at MasterCard is global public policy and regulatory counsel. Ramos's role has evolved from regional counsel work for Latin America and the Caribbean to global public policy.
She is now looking across markets in Asia and the Pacific, Latin America, the Middle East, and Africa, monitoring and advising the company on developments that directly and indirectly affect business. Once she understands the market needs, she can translate them to help governments formulate strong policies, achieve their objectives, and demonstrate what the private sector brings to the table. She is able to clearly illustrate how MasterCard can help.
For nearly half a century, MasterCard has been a leader in the payment industry. As a global technology company in that space, MasterCard creates a web of interactions among businesses, consumers, and governments, facilitating the making and receiving of payments in a way that's safe, simple, and smart. One of Ramos's major goals in support of the company's strategy is to drive inclusive growth around the world. "There are 2.5 billion people—about half the planet—who don't have access to a financial account, and 90 percent of them live in a developing country," says Ramos. "Our job is to reduce financial exclusion."
In order to do that job, Ramos relies on two key internal partners: senior management and her own team of public policy professionals. Ramos has been able to build her own team over the last several years, which has improved MasterCard's abilities to locally manage governmental relationships. But as the global landscape has changed, MasterCard's response and engagement has changed, too. An integral part of her work is to connect the dots for her team and for the external stakeholders on how issues can be resolved before government.
Given that cash falls short on safety, efficiency, and transparency, Ramos says that MasterCard's focus today is helping advance what it calls a "world beyond cash." Ramos admits this is a tall order when you consider that most of the world's retail transactions (about 85 percent) are still conducted in cash. What does moving from cash payments to electronic payments do for consumers, businesses, retailers, merchants, and governments?
"Transactions are speedier, far more secure, more convenient, and more democratized," Ramos explains. "People who are limited to just using cash to buy and sell things aren't able to participate in the global economy. They can't buy something that goes beyond their own physical radius," she explains. "Cash, in that sense, is really an overlooked barrier to greater equality, opportunity, and parity." It may not be apparent on the surface, but electronic payments, when done right, can be one of the great equalizers of our time.
Reflecting on years of international experience, Ramos has come to realize that similarities across markets outweigh the differences. When it comes to developing policies, there are commonalities, for example, between Latin American and African markets. For one, both contain huge economies that are still developing. Ramos highlights one lesson learned from her in-laws: "I really didn't know that much about the Indian subcontinent before I met my husband, but the values are the same. They were big on family, food, and music," she says. This is not to say she disregards the cultural differences. "Every place is going to be different and have some sort of uniqueness and richness to its history and culture. The most important thing is to realize that countries, like people, are multidimensional. It's a balancing act."
Ramos has traveled to 44 countries. Her desire to see the world started at a young age, and even when she isn't traveling for work, she enjoys it in her free time. "The ancient Greeks talked about being a citizen of the world. That's a good way to look at what I do. I like seeing the world, participating in it, trying to help shape parts of it, and learning from it. [Traveling] makes you a more credible contributor to the planet we live on."