As T-Mobile's VP of engineering and operations, Martha Ventura does more than build network infrastructure for Southern California. The Mexican-Nicaraguan-American executive is also passionate about building a strong bridge between women and the tech industry, where women make up about 28 percent of the workforce.
When she reflects on the progress that's been made on that front since she began her telecommunications career thirty years ago, she says, "I wish I could tell you that it's night and day."
"I see glimpses of change, but I think as a society we still have a tendency to think there are fields for men versus fields for women," Ventura says. "That's why I'm continuing to have these conversations to encourage young girls to look into fields in STEM. It's important for people to see representation."
Ventura knows from experience that representation matters. It's a lesson that brings her back to high school. Her parents thought she'd make a great teacher, but she never really knew what she wanted to be.
Not until a woman who was a satellite engineer visited her math class to give a talk, that is.
"I thought it was the coolest thing. I went home that day and told my parents that I was going to be an engineer," she says. "I really think back about what trajectory my life would've taken if she never came to my class. I never thought about engineering before that day but once she opened my eyes, I didn't veer from that path afterwards."
Today, Ventura is the one going to classrooms and opening eyes. At work, she's a mentor as part of the Women and Allies Network, an employee resource group at her company. There, she's made great strides in helping others advance in their careers, including one mentee that went from an engineer to a senior manager.
Outside of work, she gives talks to support young women studying engineering at UCLA, her alma mater. That's also where she became involved with the Society of Hispanic Professional Engineers, an organization which aims to empower the Hispanic community through STEM awareness, access, support, and development. Ventura advances that mission by performing outreach to middle and high school students, hoping to inspire the next generation of STEM leaders and innovators.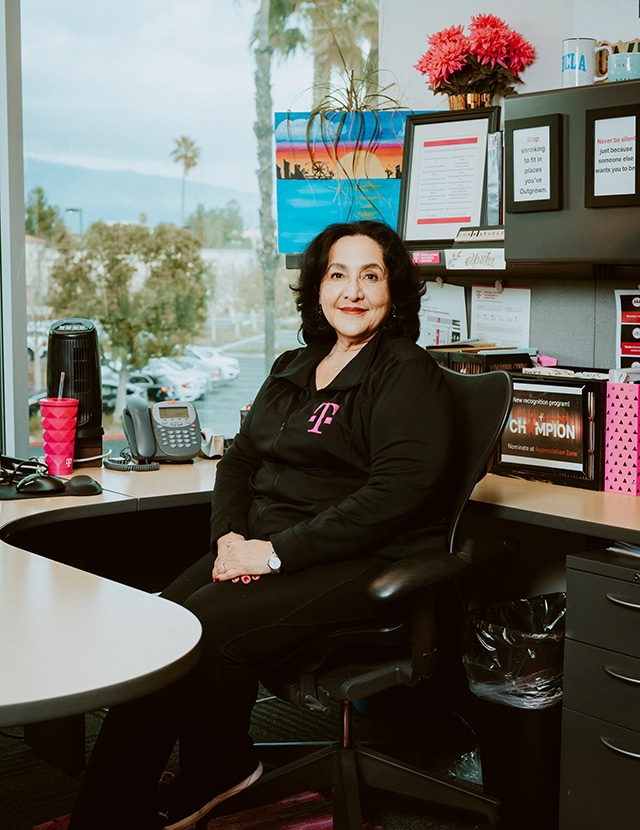 "I think young people and girls need to know that STEM is fun," the VP says. "I love getting a group of girls together and they get really excited about science or math. We've got to figure out how to keep that excitement going so that they stay with those subjects through high school and college."
Ventura's drive to empower and help others started with mentors who were instrumental in her own development. As the child of immigrant parents who didn't have a corporate background, she started her career feeling like she had to figure everything out on her own. But in her first full-time job at Pacific Bell, which was a landline telephone company at the time, she found support from a Latino leader who would go out of his way to help up-and-coming professionals.
As her career progressed, she found that same kind of support through sponsors. They'd advocate for her when she wasn't in the room, recommending her for new roles and responsibilities. Because of her hard work and their support, she didn't have to interview for any of the positions she obtained after making a transition to the wireless side of the telecom industry.
"Every promotion I ended up having was because of the reputation I built, because people knew what I could do and they'd often say 'Hey, I know someone who'd be perfect for that [role],'" she says.
Those experiences ingrained in her what she calls a "transformative leadership" style. To her, that means encouraging her team of three hundred employees to realize their full potential. That means helping them go above and beyond their goals however she can. The not-so-secret ingredient to that process is genuinely caring.
"You can't just be there for them to tick off a box," she says. "They sense when you care and when it's authentic, they're willing to give more of themselves. Then it's more of a relationship instead of a career development conversation mandated by the company."
That's what helps her build culture at T-Mobile, which she admits is a long-term process. It started fifteen years ago, when she came on board. The market she started with was underperforming and she was determined to turn that around. She set the foundation by having a clear, customer-centered vision and finding the right managers to carry it forward. She knew their hard work had paid off when she had conversations with engineers who willingly suggested ideas that embodied her vision.
"To me, that was the turning point," she says. "It wasn't me telling them 'Did you think about the customer?' They were telling me. Now, my area is the top performer in the country."
When she isn't building up young people, her team, and a strong culture at T-Mobile, she's focused on building and supporting all cellular networks in Southern California. Her team is currently in the process of completing a 5G roll out, a project she says is 80 percent complete. According to Ookla, T-Mobile was the fastest mobile network provider in forty-five states and the District of Columbia in the fourth quarter of 2022, as well as in eighty-six of the hundred most populous US cities. For 5G, T-Mobile had the fastest US median 5G download speed. Even as the team completes the roll-out, the company is already eyeing 6G.
As someone who came to the company while it was still using 2G, Ventura is particularly excited about the evolution of technology.
"When I started my career in wireless there was only voice, you couldn't even text," she says. "That wasn't even a thing, and to see now that we have these mobile phones in our hands is amazing. The sky is the limit."
---
---
---
---