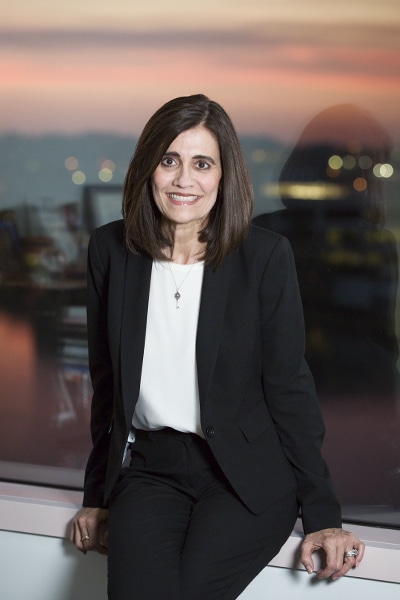 Global logistics are the backbone of DB Schenker. Whether it's via the air, land, or sea, seamless integration in the flow of goods and services is how the company has made its name for more than 140 years. Today, HR operations, based out of DB Schenker's Americas headquarters, are becoming just as seamless—and chief human resources officer Marta Ramirez is making sure of it.
"In 2015, we embarked on the PRIMUS journey, embracing a sustainable transformation process that is focused on specific strategic initiatives in the fields of growth, efficiency, and culture," Ramirez says. "It's exciting to work with these three pillars—efficiency goals, growth goals, and an entire culture shift—knowing that HR is a driving force behind the change."
It hasn't always been this way, though. When Ramirez joined the company in spring 2016, she did so knowing the company was in the midst of a transformation journey—specifically, a journey that focused on top profitability, market leadership, and a winning mentality.
PRIMUS—which is the Latin word for the first—is a response to DB Schenker's intent to grow and strengthen its global relevance. In the Americas region, particularly in the United States, the goal is transformation, and by Ramirez's account, it's working. "We are taking customers further by attracting the right talent," she says. "We are pushing the limits to pursue new productivity drivers, and we live the behaviors of our six values to become a global market leader."
With the goals of efficiency and growth in mind, DB Schenker is getting ready for the future. With the recent launch of NearMe, a digital recruiting platform, candidates can search for hourly jobs and book themselves based on skills and availabilities. Ramirez sees the online portal as a vital tool for attracting blue-collar workers—which make up more than 65 percent of the DB Schenker workforce in the United States—and particularly satisfying for those seeking flexible work schedules. When partnering with renowned customers within contract-logistics operations, a platform like NearMe is more important than ever to address recruiting needs.
The same might be said of Co-Relate, a tool that DB Schenker's HR innovation/digitization team recently introduced as a way to get real-time—near-instant—employee feedback on engagement and during exit interviews. "The tool itself can interpret the text fields written by employees and analyze them in terms of feedback and action plans," Ramirez says. "We're implementing many state-of-the-art tools that can help us better understand how to keep employees engaged and also develop action plans around the feedback they're sharing. It is leading-edge, and we love it."
Yet another new tool in Schenker's HR arsenal is a project called AIR (Attract/Invest/Retain). The result of a partnership between HR and the contract-logistics business unit, the tool is designed to help better understand how to attract and retain employees.
"We're putting together an action plan for quick wins, as well as long-term actions to help us approach the PRIMUS goal of being a preferred employer," Ramirez explains. "Now that we've been able to look at various areas, we can fine-tune all the different programs we have, targeting them toward what the employees are saying and the way that they're looking to leaders for guidance."
There is an incredible amount to learn from a leader like Ramirez. A Cuban immigrant who spoke very little English when she arrived in the United States at age nineteen, Ramirez worked the ramp for American Airlines with fifty-seven men. That job translated to sixteen years of ever-increasing seniority with the company. It was there that she found her way to a career in human relations. Fourteen additional years of HR leadership followed and reinforced her place as a leading force in the industry.
Crediting family-learned traits—such as service, perseverance, and a strong sense of faith—Ramirez has adopted a servant-leadership style that is designed to enrich the lives of those around her. By working directly with her team and joining in their struggles, she finds her ability to serve—and thereby, strengthen—her team. "Yes, I am the leader," Ramirez says. "But my highest priority is that my team understands what needs to be accomplished. I'll be here to support them in unleashing their potential while they become more robust, more impactful in the way they interact with others, and achieve results."
The support Ramirez offers has been especially valuable in helping DB Schenker in its culture transformation. Throughout this transformation, she underscores having managers focus on the employee-relations agenda. "To me, it is key that in every circumstance, we think of our employees as people—not as numbers or subjects," she says. "Our approach is to take the time to listen to the people and give them a chance to make successful contributions every day."
---
"Marta Ramirez models the strategy and tactics required of an inspiring servant-leader. She's a world class executive who has proven that employee engagement at every level is an essential executive skill. It is a pleasure and an honor to work with her." — Brooke Bovo, Principal, Bovo-Tighe LLC