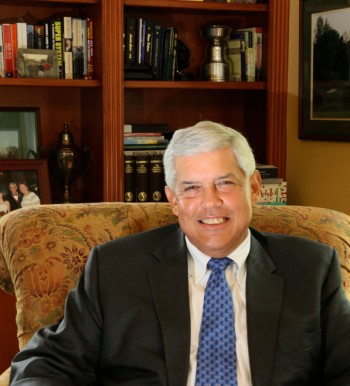 Prior to joining Marriott, Michael Martinez was assistant us attorney and a partner at three different law firms, including Crowell & Moring, where he represented individual government defendants, among others, and won compensation for victims of terrorism. Now, the senior VP and associate general counsel for Marriott International brings his Supreme Court-level legal experience to one of the world's most diverse companies. Martinez talks shop with HE—getting into what its like to go up against the government of Iran, giving insight into the Marriott culture, as well as the challenges facing the hospitality industry.
HE: Before we talk about your current role at Marriott, can you tell us about the $353 million judgment you won against Iran?
The case, Sutherland v. the Islamic Republic of Iran, was filed on behalf of Thomas Sutherland and his family. Sutherland was kidnapped by Hezbollah in 1985 while serving a term as dean of agriculture at the American University of Beirut and held hostage in horrific conditions for six-and-a-half years. Evidence showed that the Iranian government had been providing financial support to Hezbollah and fomenting unrest in Lebanon, including the 1983 bombings of the US embassy and Marine barracks. The Sutherland family collected approximately $58 million. The balance of the judgment was for punitive damages, which the Sutherlands chose to forgo.
How did you get the case?
Another lawyer referred the case to me. He knew that I had represented numerous government officials while an Assistant US Attorney and had argued a case before the US Supreme Court. After the Sutherland case, one of my partners at Crowell & Morning and I got a reputation for representing victims of terrorism and ended up handling about a dozen
more cases.
You also argued two cases before the Supreme Court. Tell us about those.
Kimberlin v. Quinlan involved a federal prisoner's claim that he had been unlawfully segregated and thus not able to tell the media about his alleged sale of marijuana to vice presidential candidate Dan Quayle. It was filed against Bureau of Prisons director J. Michael Quinlan and another person. After oral arguments, the Court, to my disappointment, issued a one-line order remanding it back to Circuit Court.
Ashcroft v. Iqbal was a case brought against multiple US officials over the holding of illegal aliens at the Metropolitan Detention Center in Brooklyn after 9/11. They were held until it was determined they had a right to be in the country. Dennis Hasty was the MDC's warden at the time and my client. We were successful in getting the Supreme Court to issue a landmark decision, which is cited in countless motions to dismiss.
What led to your decision to go in-house?
A friend I'd worked with in the US Attorney's office recommended me for the job at Marriott. I thought it would be challenging and interesting, and Marriott has a reputation for being a great company to work for. I applied, met with the general counsel and several senior executives, and was offered the job. I had worked in government and private practice for many years. This job gave me the third leg of the stool in a well-rounded legal career.
So how do you like working in-house? Is Marriott, in fact, a great company to work for?
Absolutely—on so many scores. In fact, Marriott has been named one of the "world's most ethical companies" by Ethisphere for the past five years. In 2015, the list included companies from 21 countries.
How does Marriott score when it comes to diversity and inclusion?
Marriott is one of the best companies in the world when it comes to diversity. We launched our diversity and inclusion program twenty-five years ago and our women's leadership development program fifteen years ago. We have annual diversity objectives that are monitored throughout the company. Our CEO, Arne Sorenson, has called on Congress to pass comprehensive immigration reform, and we just signed on to a brief calling on the Supreme Court to make gay marriage legal. These issues are not only important for business—they involve basic human rights.
What does the company do to attract and retain Hispanic employees?
In general, there are tremendous opportunities for Hispanics in the hospitality industry—not just in the hotels themselves, but in construction, finance, HR, marketing, and administration.
On program I particularly like is the Sed de Saber* program, launched by Marriott in 2006, which teaches English to Spanish-speaking employees and Spanish to English-speaking employees via a portable device. There has been a 65-percent increase in English proficiency throughout the company since it started, which has enhanced communication between managers, employees, and guests. The result is increased employee confidence and promotability.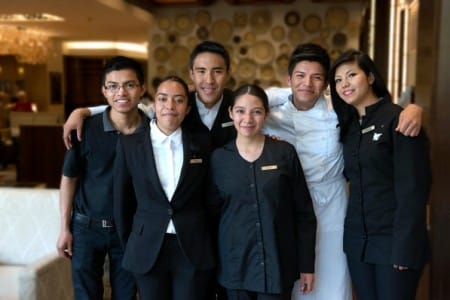 In 2013, Marriott opened a new hotel every day, on average. And in June 2014, the company opened its 4,000th hotel, the Marriott Marquis in Washington, DC. Is the growth rate being maintained in 2015?
Yes. There are various deals in the company's pipeline, especially in China, India, and Brazil. We also have a lot of development underway in the Caribbean and Latin America.
In addition to new development, Marriott also grows via acquisitions. Our portfolio includes 18 brands, the broadest in the lodging industry. We recently purchased the Protea chain for $200 million, which made us the largest hotel company in sub-Saharan Africa and nearly doubled our presence in the Middle East and Africa, and the Delta Hotel chain in Canada. We also expanded our Autograph Collection, via, for example, partnerships with the Cosmopolitan in Las Vegas and the Algonquin in New York.
Is the company placing an increasing emphasis on the luxury end?

Nearly 25 percent of our portfolio is in the luxury and lifestyle category, including the Autograph Collection, the JW Marriott, and, of course, the Ritz-Carlton. But we will continue to offer a broad array of choices.
What do you consider to be the biggest challenges facing the hotel industry?
The burgeoning DIY culture and resulting rise of businesses like Airbnb is one. Another is the growing number of Generation X-ers and millennials. To try to appeal to them, we've created more social spaces and created an app that allows guests to check in and out remotely.
Then there are online travel agencies. When you book online instead of going directly to the company or hotel, you pay the online agency a fee that gets carved out of what the hotel would normally make. That is a challenge for us.
What types of cases do you tend to handle for the company?
Most of our larger cases involve management disputes. These were particularly prevalent during the economic downturn when hotel owners weren't making as much as they had hoped. But whatever type of case we work on, I always tell my team that we should keep our eye on the big picture. Don't just defend a specific case; try to handle it in a way that shapes the law favorably for us. As litigators, we can help structure deals and defend cases in ways that will minimize litigation in the future, not just for Marriott, but also for companies throughout the hospitality industry.