https://hispanicexecutive.com/mariela-ure-universal-studios-hollywood/
Life has certainly changed for Maria Fernandez since she last spoke with Hispanic Executive. In April 2018, she took on a new role as executive vice president and chief operating officer for Sony Music Entertainment's Latin Iberia Regions, expanding her responsibilities to oversight of the company's financial and operational activities as well as human resources, information systems and technology, and new business initiatives. But according to Fernandez, the changes to her title and duties have come hand in hand with a personal transformation. Today, the EVP leverages both her professional expertise and the insights she has gained throughout her personal journey to ensure the continued success of an organization she loves.
A global music conglomerate associated with celebrities like Harry Styles, Maluma, and Rosalia, Sony naturally has big goals for both the artists it represents and the people employed by the company across the world. In her new role, Fernandez has helped Sony realize those goals in new and significant ways.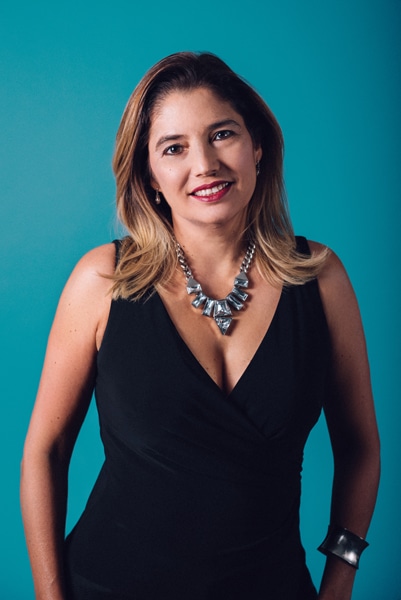 "To me, this is an incredibly unique opportunity because when you oversee the people teams, the processes, the systems, and the money, you can understand what is happening in each and work in a more effective way to achieve the company's goals," she says.
One of Sony's main goals this year, according to Fernandez, is to position the company well for the future. As a part of that goal, Sony has focused on strategic acquisitions and the incorporation of data analytics into the business—both of which, Fernandez emphasizes, enhance the company's ability to compete in a fast-paced environment and improve the Sony experience for artists and employees alike.
"Each strategic acquisition was done to enhance the services provided to our artists," Fernandez explains. "Doing this well will make the company competitive and a good place for artists but also for its employees."
Likewise, "Understanding what is happening in the market is critical, especially when we see how fast the environment can change," Fernandez says. "We have been working on the implementation of systems in different areas of the company to make sure we have the proper data to make decisions effectively. We have also implemented new systems to increase transparency with our artists and give them faster access to the royalties they are generating."
In her new role, Fernandez has played a key role in leading both the company's strategic acquisitions and the data analytics initiative, constantly striving to ensure that Sony remains ahead of the game. Other leaders in the industry have taken note of Fernandez's forward-thinking leadership style. "Maria is an exemplary leader, and it is a pleasure to work with someone with her vision and drive. It is a luxury for the music and entertainment industries to have women like her in front of them," says Diego Laviada, founder of Dubbing Hits.
Laviada's colleague and cofounder, Hernán Villarreal, underscores this sentiment. "I have so much respect and admiration for Maria's outstanding career in the music industry—may she have many more years of success to come. It's a great pleasure to work with her."
But Fernandez knows that there's more to being an effective leader than efficiently executing on the organization's goals. Serving as a leader is about setting and being an example, she emphasizes, and inspiring others to pay attention to what matters to them.
Since accepting the position as EVP and COO, Fernandez has gone on a "personal quest," in which she has realized the importance of prioritizing her physical and mental health. "My priorities will be different than someone else's. But research clearly shows that sleeping well, exercising regularly, and eating healthy will improve your professional performance," she says. "It's a good investment of your time to include this in your schedule, not as a 'nice to have' but as a priority to accomplish your goals."
Fernandez has also been focusing on her mental and emotional well-being, building a strong circle of influence, and making a point of prioritizing the people important to her. Some of the most important connections to the EVP are the relationships she has built as a mentor.
"Diversity enriches so much. It opens your mind and increases creativity."
"These conversations give me perspective and insights that I would not achieve otherwise," Fernandez remarks. "We are living in a very special moment in the workplace in which we have several generations working together, all with their sets of values and priorities." As a mentor, Fernandez shares what she has learned over the course of her career—and also questions and enriches her own way of thinking. Mentorship, she stresses, is a two-way street, and she gets as much out of her relationships with mentees as they do, if not more.
Fernandez's mentees include many young women working at Sony Music Entertainment. This next generation of women within the organization, the EVP says, is both empowered and knowledgeable. To Fernandez's mind, the advice she gives them as a mentor builds on that foundation, helping them "get to where they want to be but also to enjoy themselves and thrive in the process. It is very important to have someone with whom you can have conversations like this," she says. "In my career, I had great mentors who taught me a lot, so I wanted to give some of the advice and things that I have learned back."
Of course, Fernandez is not alone in prioritizing the company's next generation of diverse and empowered leaders. Diversity, she explains, is part of Sony's success.
"We still have work to do, but we have leadership who really wants to make improvements in this area and sees the benefits you get from it," Fernandez says. "Diversity enriches so much. It opens your mind and increases creativity, which is crucial, especially in a company like Sony. I am very proud of being part of an organization that is doing everything it can to make it more diverse and equal for all the people who are part of it."
---
The Sello/ Mariela Croci congratulates Maria for her successful career at Sony Music. Her passion and strength as a music executive woman is a great inspiration. She trusted us as a creative idea and empowered me to grow it. The Sello is a company specializing in creative strategy for artists.
---
Related Links