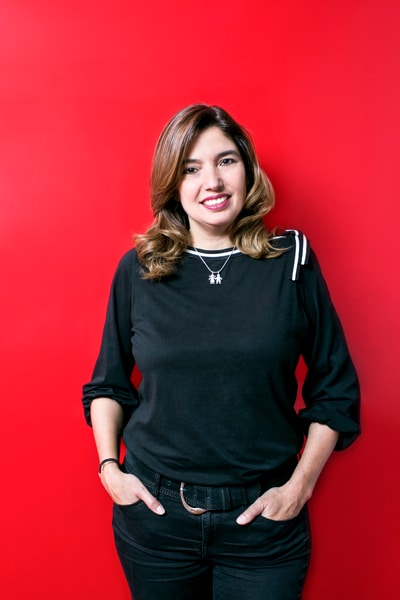 Maria Fernandez has always had a burning passion for music, but she never dreamed she'd be able to turn that fire into a career. The industry is notoriously male-dominated and can be difficult to join, especially from a country outside of the United States or the United Kingdom. So, after attending college in her native Venezuela, Fernandez leapt at the first international opportunity she could find, always eager to learn and grow.
After escalating leadership roles at major international organizations such as The Walt Disney Company and DIRECTV, she has finally been able to pair her love of music with her powerful work ethic at Sony Music Entertainment. More than that, though, she's now dedicated to ensuring others have opportunities to chase their dreams.
As is customary in Venezuela, she began looking for a place to work while finishing her bachelor's degree in business administration. A position in finance management at Disney was the first prospect that caught her eye. "I could have done a lot of different things, but that was the job that was available," she says. Although she might not have been training her whole life for a career in finance, Fernandez's work ethic led her and the company to further success. Five years later, she was transferred to Disney's Miami office and then to Argentina, where she continued to grow and diversify her skill set.
Around the turn of the century, the Argentinian economy faced a vast financial crisis, leading to a lot of massive changes. A former Disney regional CFO had just recently left for DIRECTV's Latin America region, and Fernandez followed, looking for a new challenge. But an economic downturn hit there as well. While DIRECTV's American revenues soared, the Latin American side wound up in Chapter 11.
Rather than bemoan the bad luck, Fernandez saw each struggle as an essential part of her résumé and a big part of her success once she joined Sony Music Entertainment in 2007. The international experience at Disney prepared her to take on leadership roles across the Latin American region, and her experience in subscriber acquisition at DIRECTV built a strength that would be essential for the new streaming models in music.
Despite those advantages, the music industry wasn't always the most welcoming. For one, it was—and still is—undergoing rapid and continuous change. "This is an industry where you cannot be complacent," Fernandez says. "It changes every day."
Although some of those changes relate to gender equality, the music world and the finance field in general still often lag behind. "Venezuela has historically been a very good territory in terms of equality in the workplace, but now, throughout my career, I haven't seen many females in top-level finance positions," Fernandez says.
Luckily, she and other leaders at Sony have helped the organization strive to do better in the diversity sphere. "The regional president, Afo Verde, is a big advocate for diversity and equality, and by now, we are near a fifty-fifty split in gender representation at higher-level roles," Fernandez says.
Although the industry might not be the most welcoming to every individual, Fernandez prides herself on tailoring her approach and priorities to the specific needs and strengths of every individual she works with. "We care about our artists, but we also care about our employees. Those are our two main core values," she says. "Whenever we face a challenge, we look to what's best for the artist and what's best for the employees, and from there, we have an answer."
By making constant improvements and finding new solutions for Sony, Fernandez continues to boldly prove herself. Her responsibilities cover the US Hispanic market, Latin America, Spain, and Portugal. "Anything that has to do with music in Spanish or Portuguese, that's us," she says. Her work ties together finance and operations, essentially helping manage change at a massive scale—whether by reviewing organizational structures, ensuring that systems are up to date, or keeping IT at the cutting edge of business support.
Leading such a complex undertaking in the music industry adds a wrinkle to the work as well. "We have to have the right mix of creative people, from the artists to the A&R part of the organization to optimizing the back-office functions," Fernandez says. "We have to evolve the business, to change from an album mind-set to a track-by-track environment in some cases. We have to manage the business models through all of that and make sure we are providing the right level of service at all times."
Having an understanding of what that level may be at any given time, of course, relies again on having a diverse team that can truly understand many different perspectives. Diversity in gender and race, she adds, is just the beginning. "Before, I had no idea what a hurricane was like, but to live through one, that experience totally changes your approach. Similarly, from a financial standpoint, I have experienced inflation and devaluation of currency," Fernandez explains. "The more you have people from different backgrounds, it will give you a perspective that otherwise it would be impossible for you to have."
The seemingly obvious case for diversity, though, has a major stumbling block: unconscious bias. Even those that may be theoretically in favor of inclusion may have harmful biases that they're not even aware of. "Unconscious bias is our reality, and the issue is that nobody accepts they have it," Fernandez says. But, she argues, that the fight needs to continue; people need to call out these biases and combat them whenever they arise. "We're all talking a lot about it, but we need action," she says. "If we want to make sure that we get rid of an unconscious bias, we have to call it by its name every time we see it."
As someone who has fought the odds and risen from her home in Venezuela to a corporate leadership role at one of the largest music companies in the world, Fernandez knows what can happen when women speak up and push back against biases—unconscious and otherwise. That's a lesson she'll proudly impart on her daughter. "If you believe you deserve something, you go and ask for it," she says. "The answer can be no, and that's perfectly fine. Then, you just have to ask why and work hard toward a solution. But first, you have to have the conversation."