Maria Chiclana may be the chief legal officer and global general counsel at Shiseido Company, Limited, the publicly traded global beauty company based in Tokyo, but she is also a girl from the South Bronx. She grew up with immigrant parents, from Puerto Rico and Spain, right next door to the Yankees stadium. But she has her own story to tell about growing up in one of New York City's most notorious boroughs and the lessons learned that remain true today.
"My parents really created a happy home and taught me the importance of community," she explains. "While we understood that the Bronx, and the south part of the Bronx specifically, was not very safe, our neighbors on our block took care of each other, and we watched over one another. We were happy. I really didn't know that I was poor."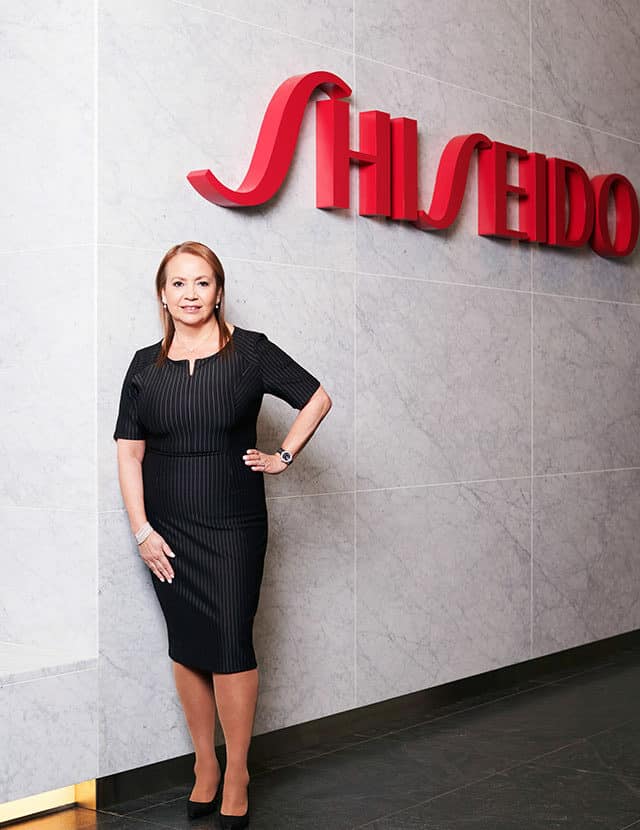 While Chiclana had a happy home, she was not a stranger to the uncertainty that transpired outside of her front door. Even as a child, she was street-smart. She began working at the age of twelve, and Chiclana's family encouraged her to work hard, study, and dream big; she never doubted herself. "My parents taught me that education was a true asset, worth more than gold, and that no one could take away from you," she remembers. "My confidence came from my knowledge: I loved to read, learn, and watch world news, and self-taught when school fell short. To this day, I am eternally curious about a variety of subjects."
One of Chiclana's earliest memories was between the ages of eight and ten. The landlord of the building that she and her family lived in had an eminent domain issue, and he needed to go to court. As a Spanish speaker tasked with the responsibility of representing himself, he decided to take young Chiclana along to translate for him.
"I remember a judge coming up to me and saying, 'Young lady, you should be a lawyer one day.' I guess that stuck with me and law became my ambition." she says. Her path to get there, however, wasn't so straightforward—at least not compared to most other Columbia and Harvard graduates.
While attending her vocational high school, Chiclana participated in a nursing program that allowed her to do clinical hours in New York City hospitals, take her licensing state boards, and become a licensed practical nurse after graduating. "Every difficulty can be an opportunity. Living in the Bronx and not attending a purely academic high school gave me an opportunity to learn a marketable trade like nursing and to finance my way through higher education," Chiclana says. "But the good nursing pay was the least of the reward. I learned valuable human lessons like the delicate balance between life and death, how not to waste time, humility, and respect for all individuals. As well, I learned about health and chemistry, which has come in handy at Shiseido."
Although Chiclana loved nursing, her childhood law ambition remained intact. She went on to study political science at Columbia and, later, received her law degree from Harvard Law School. Chiclana was the first student from her high school to apply and be accepted to an Ivy League. She graduated magna cum laude from Columbia, overcoming early doubts from some professors.
"I had just entered my freshman class at Columbia and the professor for the department saw my background and advised me not to take his course, as it had the reputation for being the toughest course in the department," she remembers. "He suggested I take some 'aggressive' reading and writing classes first. I told him, 'I actually think my reading and writing is very good,' and I took the class and was the only student who got an A," says Chiclana.
In the late nineties, after spending four years in New York City's premier corporate law firms, Chiclana joined the international cosmetics company Calvin Klein, then owned by Unilever, as senior vice president and general counsel. She was one of three executives who later formed Unilever Prestige and Unilever Cosmetics International, making the successful Calvin Klein business model into a multidesigner global prestige beauty business.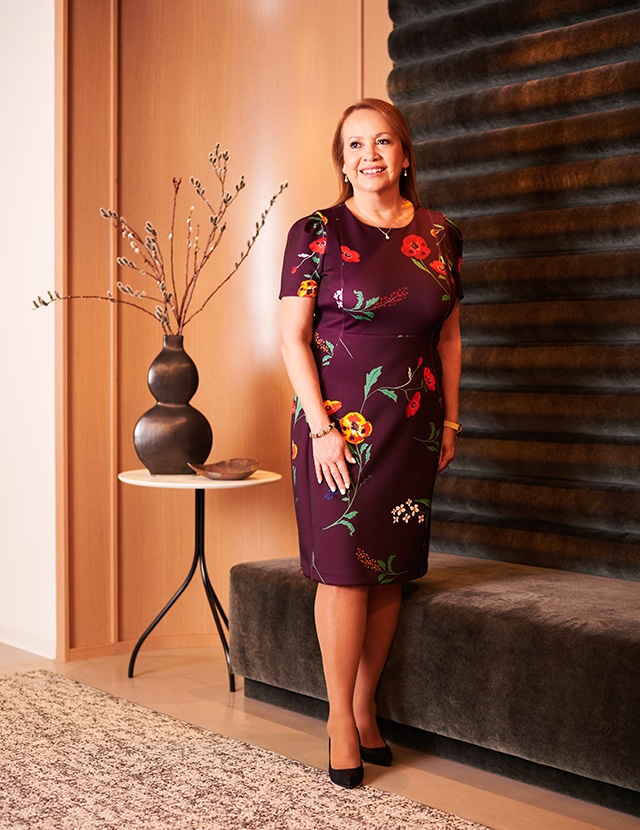 "It was a great company to join because Unilever was, at that time, a truly global company with great partnerships and consumer insights. But it also had this global operating company that was a niche, prestige beauty unit and which operated in an entrepreneurial fashion. It gave me the opportunity to learn and take on business roles, and that's when I really started to marry business and the law together," says Chiclana. "I wore many hats, including in the areas of global general counsel, licensing, consumer services, regulatory, IP, and corporate communications. I learned about growth and profit drivers, but I also learned a lot about consumers and employees, and the constant evolution of law and business."
Even today as a Shiseido executive, Chiclana considers herself a businessperson who just so happens to be a lawyer. Ron Gee, the president and CEO for Shiseido Americas, agrees. "As so many of us who have worked alongside her know, Maria is a great business partner, and her legal acumen, which is considerable, is by no means the extent of the contributions she makes to Shiseido Group," Gee says. He adds that Chiclana is "widely seen as a business leader driven in equal parts by her compassion, conviction, and integrity, deftly managing to prioritize our business needs, while always upholding our company's people-first philosophy."
That philosophy is reflected in Chiclana's career at Shiseido, where she's become not only the company's first Latina chief legal officer but also the first female one. She credits much of that to the company's values around diversity, in both culture and skill set, which have come to be more important as its consumer base extends around the globe.
At Shiseido, diversity and inclusion are seen as core strengths both within the company and outside of it. "We wanted to get away from being Japanese-centric, and not just geographically. Our consumers live all around the world; they have different cultures, ages, skin colors and textures, and diverse health, wellness, and beauty needs. By reflecting that diversity in our workforce, we're able to think as consumers, not for them," Chiclana says.
The chairman and CEO of Shiseido, Masahiko Uotani, who's also one of Chiclana's mentors, says that Chiclana plays a big role in how this mindset extends to all levels of the organization. "With Maria's wonderful leadership, warm personality, and diverse experience, I asked her to become our headquarter-based chief legal officer as I wanted her to extend her exceptional capabilities not only to our global legal team but to our worldwide organization," he says.
Chiclana also serves as "a strategist, catalyst, guardian, and legal advisor and operator," and says, "I can't look at legal myopically and stay just in a legal lane." Consumers evolve, business evolves, and so too must legal. "I thrive on being a true business partner, whether it's in leading M&A, supporting strategic alliances, protecting our brands, opining on regulatory/safety matters, ensuring governance, or in promoting our values and culture of respect and excellence," she notes. "Under my leadership, the legal role is transforming from a traditional legal operator to a strategic business partner, enabling Shiseido to execute its business strategies while thinking globally and charming locally."
Although Chiclana already mentors individuals entering the workforce within her family, friends, neighbors, alumni networks, and at Shiseido, she hopes to step into it more in the future via public forums benefitting Latinos. However, her willingness to share "lessons learned" can help all women and she is hoping to one day teach a course on women's career empowerment at Shiseido University, a new educational and training initiative launching later in 2023.
"Mentorship is really missing in the global workplace. Anyone who has ever had a mentor knows how valuable their wise advice and guidance can be to any personal or professional decision," says Chiclana. "In the future, I see myself doing lectures and perhaps even a book focusing on early-career women entering corporations. A sort of 'how to succeed in corporations' guidebook reminding women to always have confidence in themselves and not let others shake it, to be their own brand ambassador, to blow their own horns if they have to, and to not let someone who does not know them, or their worth, disempower or label them."
---
Epstein Becker Green is pleased to congratulate Maria Chiclana on her well-deserved recognition in Hispanic Executive. We are proud to continue serving as a trusted advisor to Shiseido as we enter our fifth decade of providing clients with complete workforce management client solutions.
---
Debevoise & Plimpton LLP is a premier law firm with market-leading practices, a global perspective and strong New York roots. Our clients look to us to bring a distinctively high degree of quality, intensity and creativity to resolve legal challenges effectively and cost efficiently. Deep partner commitment, industry experience and a strategic approach enable us to bring clear commercial judgment to every matter. We draw on the strength of our culture and structure to deliver the best of our firm to every client through true collaboration.
---
By putting clients at the center of everything we do, Hogan Lovells creates valuable solutions for clients around the world, including Shiseido. We congratulate Maria Chiclana on her recognition in Hispanic Executive as a team leader making an impact in everything she does. We are honored to be Shiseido's strategic partner.