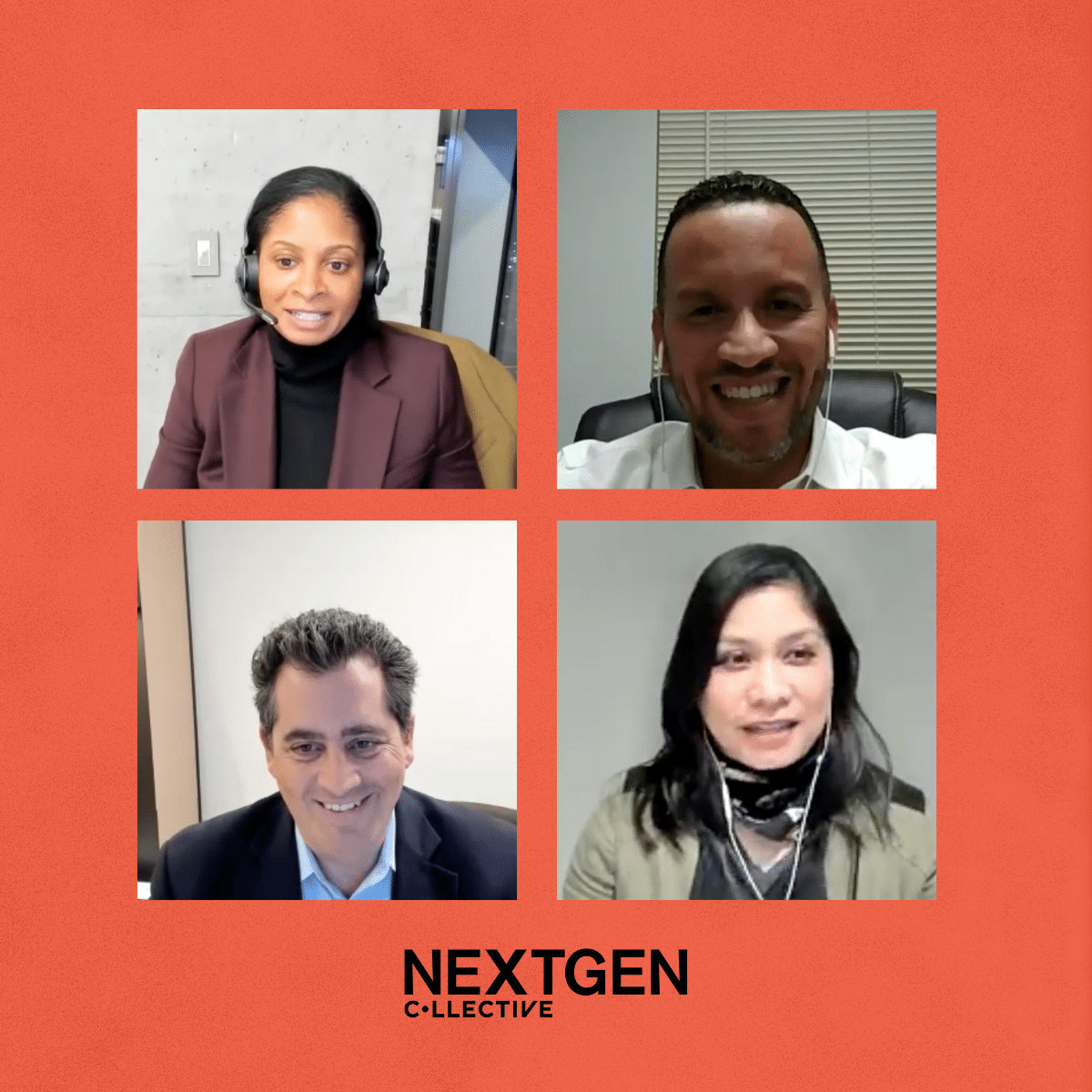 Five executives from KKR recently provided members of the NextGen Collective comunidad with plenty of professional insight and advice.  
From why they enjoy working at the global investment firm to the advice they would give to their younger selves, the following guest speakers provided attendees with plenty of food for thought: Managing Director, Chief Diversity Officer, and Head of Talent Development Kerryann Benjamin; Corporate Counsel Carla King; Principal for Finance, Tax, and Accounting Jose Rivera; Global Head of Technology, Private Markets Angelique Faustino; and Global Chief Compliance Officer and Partner Bruce Karpati.
Here are some of the key takeaways from their discussion:
Why KKR Is the Place to Be
Our guest speakers dished on the many reasons to join the global investing firm. King described KKR as a company where relationships matter and where teamwork, mutual respect, collaboration, and accountability are prioritized.
Others echoed that sentiment and also emphasized the ample advancement opportunities available at the company, especially for rising professionals. Faustino specifically cited the fact that KKR is undergoing a "dramatic digital transformation" and noted that she sees opportunities for change and embracing innovation.
"It's a very collaborative type of culture, [but] also a strong leadership culture, where the leadership is committed to helping the employee to progress," Rivera said. "There are opportunities for training and learning from leaders across the firm."
And, frankly, KKR is far from boring, according to the guest speakers. "I've never been bored here," King said. "Every day is different. Every day has different challenges. And it is sometimes very hectic, but it's always rewarding when Friday comes around and you've accomplished a lot that week."
Advice to Your Younger Self
This wouldn't have been a NextGen Collective event without our guest speakers sharing some professional insight and advice, and the KKR leaders were more than generous.
Rivera went back to the theme of relationships. "Relationships matter," he said. "Building relationships is so important. Over the years, I've worked with so many individuals. Some are still at the firm. Others are in other firms doing other things. You never know what door a relationship can open in your life.
"Recently," he continued, "I was asked, 'Who are your closest friends? Everyone has about three or four really, really close friends.' And I can honestly say that out of the three or four people that are really close to me in my life, two of them I work with at KKR."
Our guest speakers also encouraged up-and-coming professionals to find a mentor. The relationship doesn't even have to be a formal one; it could simply be an informal connection to someone within one's organization. But establish a relationship with that person and keep in touch with, King said.
"I think that's definitely a big component of developing and maintaining relationships, making sure you reach out not only when you need something but just to see how people are doing," King said. "I do that now. Maybe I could have done a better job when I was younger, but I encourage others to do that."
Faustino's advice centered on adaptability. "Make plans—but write them in pencil, because nothing ever goes as planned," she said. "There is no software project, at least, that goes as planned. So, if somebody tells you in their résumé, 'I deliver everything on time and on budget,' that's a red flag. Because, for sure, that's not true. And then, I think also acknowledging the process of learning and discovery."
Faustino added, "And even if you have a lot of experts on your team, there's still a lot of discovery to do. Nothing is the same every day, and you need to plan for it. So, make it an explicit stage in the project development and understand that you'll keep learning throughout the process because things are going to continue to change. Change is constant."