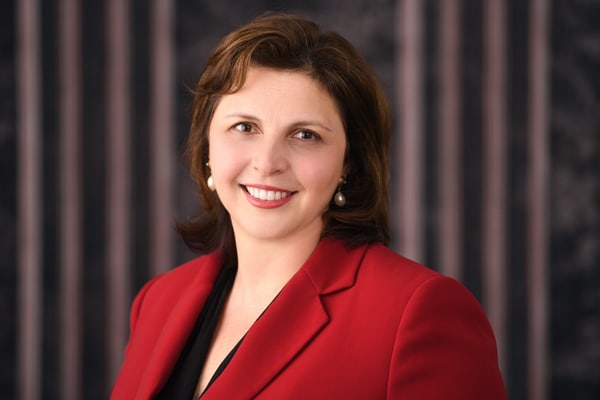 "My parents always told me that knowledge is power," says M. Carolina Rivas, the chief compliance officer at Bci Securities. "No one can take away your knowledge or education."
Rivas, in fact, has built her career on sharpening her skills through education. And now, after decades establishing herself as an expert in compliance, Rivas still credits the multiple mentors in her life, including her parents, with giving her the education and support she needed to develop her career in finance.
Education and training help people to solve problems, she says, because, ultimately, it's people who have to make good choices.
She says that although the financial industry has a bad reputation among many these days, her experience is that there are good people working day in and day out to help customers and do the right thing. Her role in compliance, however, helps people within the industry by educating them on rules and regulations and guiding them to make the decisions.
"We're there to protect the customers, employees, and the company," she says. Compliance officers, she says, work to make sure that their company is following governmental regulations and best industry practices. Her work helps protect the integrity of the system itself.
In fact, part of Rivas's field of expertise is anti-money laundering and terrorism financing prevention. Although she says that she's not an expert in anti-terrorism, she does work to ensure that people are transparent in their businesses, which can help prevent terrorism in its own way. Often bad actors use money laundering to legitimize the proceeds of drug trafficking, human trafficking, fraud, corruption, etc. By uncovering bad actors, compliance professionals help ordinary people.
Although her passion is helping others, Rivas never thought she would become a compliance officer. She started out on the business side of finance and took her first compliance role, thinking it would be temporary. However, she found her niche in compliance because she does get to help people. Many people, on the other hand, compare compliance leaders to police officers, Rivas says, but that image isn't really accurate. Instead, she sees her role as more of a cross between a bodyguard and a fancy bouncer.
Rivas was not always interested in compliance, though. She first became interested in finance as a teenager after watching the 1987 film Wall Street. "I saw the movie and felt fascinated by stock markets," she says. However, she is quick to point out that the excesses portrayed by the film were not her cup of tea. Rather, she enjoyed seeing how the movie described the interconnected world of finance. So, she went to study finance at the University of Florida and started her career at NationsBank.
During her time at NationsBank, which was eventually became Bank of America, she first began working in the business side and then transitioned into compliance, eventually becoming a member of the corporate global anti-money laundering compliance team. "I fell in love with it," she says. "It sounds geeky, but it's true."
After many different compliance roles over the years, Rivas took a break from the industry in 2005 to try to strike a better work/life balance. This was, she says, the right decision for herself and her family. The corporate world can be grueling and balancing family life with career is an arduous task for any parent. So, she took a break for about five years but kept up with her certifications.
When her children were a little older, she decided to go into business for herself and founded the consulting firm Engaged AML Solutions in September 2009. "I never thought I'd own my own company," she says. "I didn't set out to do it, but it happened." By becoming a consultant, she was able to have flexible hours and use her broad spectrum of experience for her clients. Being in charge of your own business, Rivas says, is challenging because it requires a different set of skills.
For more than five years, she worked as a consultant. At the same time, she went back to earn a master's from Nova Southeastern University in 2010. During that time, Rivas also worked with Bci Securities as a client for about a year-and-a-half. In 2015, however, she was presented with the opportunity to join the company full-time. Bci Securities represented the professional challenge and personal balance Rivas had strived to achieve along her career. Bci Securities's core principles matched Rivas belief in taking care of customers and employees as well as making a positive impact in people's lives.
Additionally, Bci Securities's reach and the fact that it was like working at a start-up within a corporation made the offer a good fit for Rivas. Bci Securities is a brokerage and investment advisor firm based in Miami. It's also the US-based investment arm of the Banco de Credito e Inversiones, which is the third largest private bank in Chile and the first Chilean bank to acquire a US banking institution, City National Bank of Florida. In fact, Bci Securities's growth strategy seeks to position the brokerage firm as an investment solution provider for its affiliates' wealth management platforms in the United States and Chile.
At Bci Securities, Rivas says she gets to learn new things every day as the company expands its business to reach customers in the United States and abroad. Her primary responsibility is to implement the firm's compliance program within the regulatory framework. However, her daily duties are constantly evolving; she handles everything from new account due diligence to surveillance. "A compliance officer sees all sides of the business," she explains.
Currently, one of her biggest responsibilities is training those in her team, which is also a passion of hers. Knowledge is what helps guide empowered decision making, Rivas says, and it is especially important in business where so much rides on professionals following best practices. After all, compliance is everybody's business. She says that mentors and role models are a big factor in getting things right, and they have played a big role in her own career development. Sometimes, she'll even picture her mentors and ask what they would do in a particular situation.
So, at the end of the day, she advocates for learning and educating others and finding mentors in the workplace. "Always educate yourself," she says. "Look at every change as an opportunity to learn."