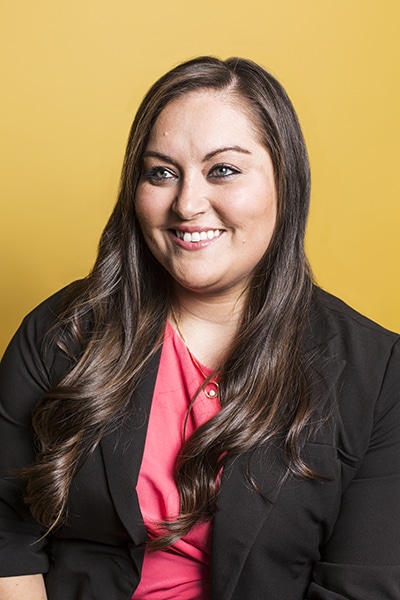 Five years ago, Gwen Ramirez was looking to advance her career. After working in several administrative roles at large corporations, she wanted to go someplace where she "wasn't just a box on an org chart" and where she could help market a product she could stand behind. Ramirez found an opportunity for growth as the director of administration and employee relations at the American Egg Board (AEB), the marketing arm of the US egg farmers, where she works closely with president and CEO Anne Alonzo  to increase the public's demand for eggs.
Not only was the shift an upward career move for Ramirez, but it was also a step toward a workplace that, she says, is now a home away from home. Since joining AEB, Ramirez has flourished, gaining new responsibilities and pursuing her interests in business administration and human resources. This has largely been made possible by the mentors at the AEB who believe in her.
One of the challenges Ramirez faced early on in her career was being overlooked—even though she was an exceptionally hard worker who demonstrated leadership potential. When Ramirez was just starting out, she worked a full-time job and went to night-classes to earn her bachelor's degree in business management. On top of that, she was the mother to a young child and a reserve in the Illinois Air National Guard. Her education was sometimes interrupted by her job, parenting, and even military deployment. Yet, she continued to show resilience and unrelenting determination.
After the terrorist attacks of September 11, Ramirez was sent to the Middle East, where she worked in the military police force. She had originally joined the military so that she could afford to go to college. "Serving my country gave me the opportunity to better myself and my future," she says. Military service helped Ramirez develop character traits that have since aided her in overcoming challenges: respect, hard work, resilience, and integrity.
Despite Ramirez's incredible commitment to service and career advancement, she often heard no when she asked for more responsibilities. "I would hear things like, 'You're too young,' or 'You don't have enough experience,'" Ramirez says. "But how are you supposed to gain experience in something new unless someone gives you shot?"
The American Egg Board entrusted Ramirez with an expanded list of duties. People in senior positions saw her promise and gave her the chance to develop new skill sets. Ramirez says she found mentors in the vice president of the AEB's board of directors and especially in her CEO, Anne Alonzo. "Anne fully trusts me and capabilities," Ramirez says. "She finds ways to challenge me and increase my value."
Alonzo counts on Ramirez for logistical support that keeps the office running smoothly, despite Alonzo's hectic schedule. And Ramirez counts on Alonzo for direction and opportunities for development. "She's honest with me, and usually it's exactly what I needed to hear," Ramirez says. "She reminds me to be confident." Having a CEO who believes in her has enabled Ramirez to contribute more fully to the organization.
Some of Ramirez's insights into organizational improvement include revising outdated policies, implementing standard operating procedures, and making AEB more adaptive to the needs of working mothers. She's currently working on enhancing AEB's HR policies to include more flexibility, and she is invested in helping mothers return to work after maternity leave. Ramirez was also instrumental in finding new offices for AEB last year. She says that they're in a great location with lots of amenities, including a private room for nursing moms.
Ramirez also directly works with one of the AEB's most important groups, the AEB Executive Committee, which she meets with three times a year. Aside from coordinating the meetings, she provides the committee with updates on administrative matters. As the CEO's main support, Ramirez oversees Alonzo's daily activities while working as a staff liaison. She fields policy questions from staff, helps employees when they face special circumstances, and directs the hiring process.
Helping to hire new staff has allowed Ramirez to find her own mentees within the organization. A year and a half ago, Ramirez interviewed an office manager who reminded her of her younger self. Even though there were other candidates with more experience, this particular person had fire and drive. She knew she'd be a great addition to the team. "It's important to have a person who's willing to take a chance on you," Ramirez says. "Mentoring keeps you humble. It's a reminder that someone helped you get to where you are, and now it's your turn to help the next one in line."
Ramirez feels very lucky to work with an organization with so many mentors who encourage her to professional development. "To have so many mentors in one place is very special," she observes. In addition to expanding Ramirez's responsibilities, Alonzo has invited Ramirez to conferences, like the US Hispanic Leadership Institute (USHLI) Conference, so that she can connect with other Latinas in business. "Conferences like these are great opportunities to hear from Latina role models and leaders who come from upbringings like mine," Ramirez says. She recalled one speaker talking about how her father was the janitor at her school to help pay for her Catholic school tuition; Ramirez's mother did the same thing. It felt like a light went off. "Seeing how far they've come helps you see how much further you can go," Ramirez says.
With the support of so many mentors at AEB who believe in her potential, Ramirez can go anywhere she wants.