When Lea Sandoval was in her early twenties with two young children, she joined real estate services firm JLL as a temporary, entry-level tenant services coordinator, working the front desk of an office building. She explains that the challenging aspect of this time in her life wasn't just supporting her children, it was also that, as a young Latina mom, she felt automatically judged in a negative light. This adversity fueled her to disprove that judgement ever since.
Today, she is the senior vice president and director of operations running property management in JLL's Los Angeles office. In this position, Sandoval remains dedicated to elevating the voices of other Latinas, reframing the narrative of being a woman and a minority in a male-dominated industry, and cultivating the leaders of tomorrow through her approach to corporate culture and teamwork.
Before her move to Los Angeles at the end of 2016, Sandoval spent the majority of her career at JLL in Denver. As she rose through the ranks and took on more leadership responsibilities, she built up the Denver property management team, emphasizing collaboration and continuous education. She is emphatic about the importance of leading through action, and notes that she never shies away from getting down in the trenches, rolling up her sleeves, and working alongside everyone else.
At its core, Sandoval says that a team is as strong as its members. "To have a successful team," she says, "you need trained, motivated, and nurtured individuals." Sandoval makes an effort to suss out the strengths of each team member, and encourages those she works with to take on promotions and new challenges. "They know I'll always be by their side if they hit a roadblock or if they have questions. I'm always accessible," she says. To keep people motivated, Sandoval wants her team to have a sense of camaraderie, that they are all approaching challenges together. Additionally, she encourages her team to learn from one another, and includes herself in this mandate, too. She says, "I never miss an opportunity to learn from my team. Everyone always has something to teach me as well as the other way around."
"I have a big passion for my team because the mid-manager level is primarily female. There are a lot of opportunities for them to grow, and if I can cultivate and build strong leaders today, they can be the next leaders at the executive level tomorrow."
Though she was successful in Denver, Sandoval knew she had outgrown her role. She began traveling to other markets whenever an issue came up that she could solve. Soon, her personal and professional circumstances aligned and she made the leap to Los Angeles. The team there had a lack of structure compared to Denver, and rebuilding the culture there would be one of her greatest contributions.
"Building a culture is more important than anything else. Without culture, you lack loyal and engaged employees with something that draws and keeps them coming to work," she says. "I wanted to take on the challenge of LA. I knew I had done it before [in Denver] and that it could be done again."
Paternal Inspiration
Growing up, Sandoval saw the many sacrifices her father made on behalf of their family as well as the country as a Vietnam war veteran. He lived his life for his kids, and watching him taught her to value hard work and strive to be someone that her own children would be proud of.
Due to the fact that the Los Angeles office oversees the entire Southwest region (Southern California, Arizona, Nevada, and Hawaii), one of Sandoval's biggest barriers to creating a cohesive team was that many employees worked remotely in other markets or other states. Her team back in Denver made the effort to get to know one another personally, and she was determined to foster the same rapport in Los Angeles. Sandoval initiated monthly meetings for her entire Los Angeles management staff, some of whom had never met each other before. She also focused on acknowledging her entire team's contributions. "I implemented an annual year-in-review and employee rewards recognition. We bring in all the employees to a big event and do some formal and some silly awards, like 'property team of the year' and 'most likely to survive a zombie apocalypse,'" she explains. The Los Angeles office also now showcases employees on a monthly basis via a regional newsletter. On a smaller scale, Sandoval notes that even a "thank you" via card, email, or text goes a long way.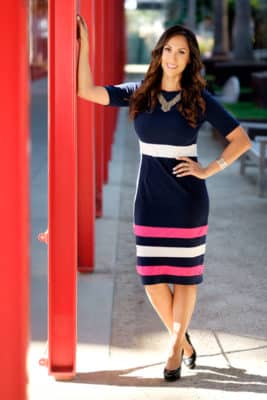 Although there had been a lot of staff turnover when Sandoval first arrived in Los Angeles, she is optimistic about her team's future. "We are finally at a place where the people here are those who want to be here, who share our vision, and want to continue to build the culture," she says.
What's more, Sandoval is in a position where she is priming the next generation of leaders at JLL. She wants to see more women step into higher-level positions and facilitating this is one of her major motivators. Emphasizing her own life experiences, Sandoval reiterates that hard work and dedication can open seemingly insurmountable doors. She says, "I have a big passion for my team because the mid-manager level is primarily female. There are a lot of opportunities for them to grow, and if I can cultivate and build strong leaders today, they can be the next leaders at the executive level tomorrow."
Shaping D&I Policy and Conversation
As a Hispanic woman, Sandoval never wants to be seen as someone who was hired to check a diversity box. Conscious of always making sure she has earned her place, she recognizes that it isn't fair that she should feel this way and works to disrupt negative stereotypes so that those who come after her won't face the same concerns. As a member of JLL's Diversity and Inclusion Council, Sandoval has a voice in shaping both policy and conversation around these issues. She appreciates JLL's commitment to moving forward, as well as the firm's acknowledgment and celebration of Latino culture.