Latino Fashion Week (LFW) is the only fashion show in the United States dedicated to Latino fashion. For my cofounder, Arabel Alva Rosales, and I, it is more than just a show. It's a movement. In 2007 I saw the need to create a support system for Latino designers and models here in Chicago. Now with a national tour that stops in Dallas, Miami, and Los Angeles, LFW celebrates its eighth year. This year's theme is "Beyond Exceptional," and its next show is Chicago, where it all began. LFW's signature fashion week will be held October 1-5 in Chicago, with the tour making its final stop in Miami in November. Some of the designers and brands featured this year include, Kelvin Giovanni of Puerto Rico, Ximena Valero of Mexico, Tinta Mar of Colombia, Timoteo of Los Angeles, and the incomparable Lazaro Perez.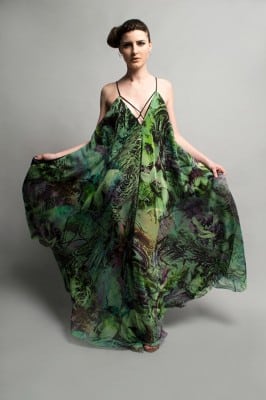 TINTA MAR
Just one of the latest swimwear lines directly from Colombia, Tinta Mar is taking the industry by storm. Their creative designs are elaborated using handcrafted, artisan materials such as sequins, crow beads, and coral thread.
XIMENA VALERO
Mexican-born and now living in Los Angeles, Valero has thrived on the fashion scene both in Latin America and the United States. She was the winner of the International Award for Designer of the Year for Excellence in Evening Wear at 2007's Miami Fashion Week. Valero undoubtedly creates "transformable" fashion—that is, women's apparel that can be worn in many different ways.
KELVIN GIOVANNIE
Positioned in Puerto Rico as one of the up-and-coming, top designers of his generation, Giovannie's inspiration is classic style, sophisticated, feminine, and romantic. His designs and collections are effortless and wearable, reflecting elegance and glamor. His work emphasizes femininity using luxurious fabrics, neutral colors, and finishes to give a touch of craft to enhance the artistry in each piece.
LAZARO PEREZ
Lazaro Perez, designer of the Lazaro and Tara Keely collections, is known for his impeccable fit and glamorous collections featuring exquisite beading and embroidery with dramatic silhouettes. With more than twenty years of design experience, Lazaro is regarded as one of the industry's premier bridal designers. Lazaro's work has frequently been recognized by the fashion industry and national news media and is definitely one of my favorites.
TIMOTEO
Timoteo Ocampo is an American designer based in Los Angeles. He launched his signature TIMOTEO fashion line, which consists of underwear, swimwear, sportswear, denim, and accessories. The TIMOTEO line has quickly grown into a worldwide brand and is sold at specialty stores and online in North America, Europe, Asia, Russia, Australia, South Africa, Mexico, and South America.