It's a daily routine for people in kitchens and diners across the world. Something sacred. Something automatic. We pour a cup of coffee, rip open a small paper packet, pour in some sugar, and stir. We don't ponder the process it went through on the way to our cup—we simply drink and enjoy. But Kelvin Llaverias knows that the harvesting, refining, and packaging of sugar is a 24/7 operation, and as the director of IT for Florida Crystals, he works around the clock to build and maintain the complex tech infrastructure that makes it all possible.
Florida Crystals Corporation, founded in 1960, is a fully integrated cane sugar company. In addition to farming 190,000 acres of land in Palm Beach County, Florida, they own two sugar mills, a sugar refinery, a packaging and distribution center, a rice mill, and the largest renewable power plant in North America. Its subsidiary ASR Group is also the largest sugar refiner globally.
One sugarcane stalk holds thirty teaspoons of sugar, six teaspoons of molasses, a quart of water, and six ounces of "bagasse" extract that Florida Crystals uses to power its mills and create biodegradable tableware through its joint venture Tellus. Getting to the sugar stored in the cane stalk is no easy task. Once the crop is grown and harvested, workers use tools and machines to grind the cane before boiling its juice to produce the crystals that are spun in a centrifuge that turns them into raw sugar that is dried and packaged.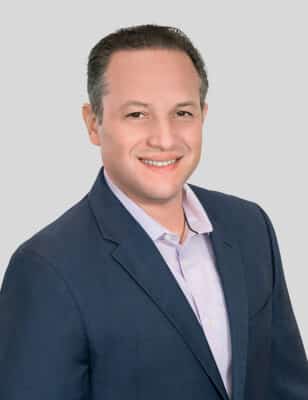 All sugar cane companies follow the same basic steps to produce the same product. That's why it's so important for Florida Crystals to compete on technology. "Sugar is a commodity that is the same price for everyone," Llaverias says. "One way we're able to be competitive is through IT."
He's a visionary IT leader with twenty-five years of experience helping businesses leverage the power of technology to find improvements and drive growth. Llaverias was born in New York City but raised mostly in the Dominican Republic, where he studied computer systems engineering and earned an MBA from a top university.
In 2001 he joined a small start-up, eventually returning to New York to become their application development manager; he spent there thirteen years pioneering cutting-edge software designs as the company grew. He joined Florida Crystals in 2014 to modernize systems and implement important technical projects.
As director of IT, Llaverias oversees IT services and projects for corporate offices in Florida and agricultural operations in Florida, Mexico, and Belize. He recently led the implementation of a farm management system in partnership with a Brazil firm. The cloud-based software allows them to plan, monitor, and track every detail regarding land preparation, planting, and harvesting.
"We've created a tech solution that gives us visibility into everything that's happening with our crop so we can get the maximum yield, make better decisions, and make the whole operation more efficient," Llaverias explains.
Farm managers in any location can access the data to monitor how many people and tractors were used in a given shift. They can spot crop disease and intervene to treat plants. Additionally, Llaverias provided the capability to pull data from this system, combine it with historical data, weather forecasts, and satellite imaging, and employ data scientists who can predict how much sugar Florida Crystals' crops will produce over time.
Back in the warehouse, another tech system enables every part of the packaging process. Workers place bags on packaging lines before machines fill, close, seal, sort, and wrap them. A robotic arm places and organizes the wrapped products on pallets, which are picked up by a laser-guided vehicle and delivered to empty bins, where they're stored for delivery. Other robotic vehicles tap into an ERP system and check production orders that need to be filled before retrieving pallets and driving them to a delivery bay where humans move products onto trucks.
As Llaverias monitors and builds upon the system, he's focused on helping Florida Crystals meet its business goals. "I work with our executives on the strategic roadmap because there are big ways good IT can add value in today's climate," he says. This year, the company's global IT teams are consolidating ERP systems to standardize business processes, accelerate innovation and agility, and reduce complexity, inefficiencies, and IT costs.
Tech teams are also hoping to apply lessons learned from their farm management system to the company's industrial operations. Llaverias will manage the project but delegate important tasks to those he's managing. "I trust my team because I've seen what they can do, and I believe we're at our best when smart people have meaningful work. I assign them tasks, give them resources, and let them loose," he says.
His adolescence and education in the Dominican Republic has given the tech leader a sense of the importance of inclusivity. Although diverse teams were once rare in corporate America, Llaverias sees that changing. The Florida Crystals tech team is nearing an equal distribution between men and women and includes professionals from many ethnic backgrounds.
Today, Florida Crystals is a diverse, multinational brand committed to quality products, sustainable crops, and renewable energy. The company has been growing for more than sixty years, and Llaverias knows his tech plan will enable that growth well into the future.