Superman was a newspaper reporter. Batman was a businessman. And Spider-Man was a photographer. If you ask José Padilla, however, the perfect industry for a superhero isn't journalism or business—it's law. "Lawyers in Latin America are very well respected," says Padilla, the son of two Honduran immigrants, who as a boy was an avid comic book reader. "My father has stories of being in Honduras and witnessing police brutality. In fact, he was attacked by the police one time and was saved by the lawyer in town. Lawyers, my father taught me, are protectors of rights."
Thanks in part to that notion of heroism, Padilla knew from a young age that he wanted to be a lawyer—specifically, a corporate lawyer. "I come from humble means," he says. "My father is a retired truck driver and my mother worked as a hotel maid. I didn't have the luxury of doing something that wasn't lucrative."
Padilla began working toward his goal in junior high. Step one, he decided, was going to the nation's number-one university. A self-described "skinny, awkward kid" with big ears and braces, he therefore built the perfect college résumé, complete with good grades, high SAT scores, and an abundance of extracurricular activities, including his favorite: marching band.
His efforts paid off when Harvard University sent him an acceptance letter in 1993, making him the first person in his family to graduate high school and go to college. "Even though they never went to school, my parents always told me, 'This is America; you can do whatever you want,'" says Padilla, who later went to law school at the University of Pennsylvania so he could take business classes at the famed Wharton School. "My résumé is really an example of being tenacious. What I always wanted to do was corporate law, and everything I did was [in service of that goal]."
Upon graduating from law school in 2000, Padilla's first job was with Brobeck, Phleger & Harrison, which did venture capital work for dot-com clients. Although he loved it, the dot-coms went bust two years into his tenure—and so did Brobeck, which laid him off in 2002 and declared bankruptcy in 2003.
Unemployed for six months, Padilla eventually took a position doing bankruptcy litigation for Dewey Ballantine. Because he didn't want to be pigeonholed as a litigator, however, he returned to the corporate track a year later when he joined Epstein Becker in Washington, DC. There, he spent two years specializing in transactional health-care law before moving to Proskauer Rose, where he stayed until 2009. That's when the recession caused his second brush with unemployment—this one lasting more than a year. "It was a difficult time," Padilla admits. "But, one thing I learned from the dot-com bust is: When you look at venture capitalists and entrepreneurs, almost all of them have a failure early on. It's not about falling off the horse; it's about getting back on."
While he was unemployed, Padilla worked part time and traveled extensively through Europe and Asia. In 2010, he achieved his lifelong goal of becoming an in-house counsel when he was hired as assistant general counsel at Golden Living, the nation's second-largest nursing home company. After handling a massive restructuring of its debt, he became the company's head of contracts before accepting his current position as assistant general counsel at Aristocrat Technologies, Inc., a Las Vegas-based gaming technology company. There, he concentrates on international corporate law, although his long-term goal is becoming a general counsel—and, ultimately, a CEO.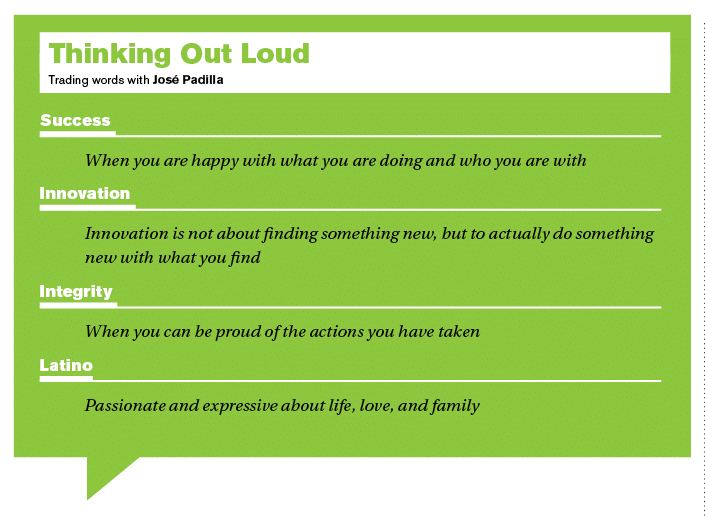 "I went to high school in the Dallas area where many corporate headquarters are located," Padilla says. "I read about general counsels that became CEOs. That always fascinated me. It's a career goal of mine, and to do that you have to be an attorney who is very well respected by the businesspeople in a company."
In pursuit of his goal, Padilla is laser-focused on developing his business acumen. His classroom isn't always the corner office, however; often, it's the dance floor. "I love to salsa dance," says Padilla, who has a tradition of visiting local salsa clubs wherever he travels in the world. "When a man does salsa, he leads the female. He has to think about what he's doing, and at the same time about what her next step is going to be. That's how you have to come across in business, as well. You have to juggle a lot of things, think ahead, and at the same time be really responsive."
It might not be the sexiest superpower in the world, but "responsiveness" is perhaps the most powerful, according to Padilla. "My biggest advice is to be reliable and responsive," he says. "That's my mantra. In every case, that's what helps you succeed."