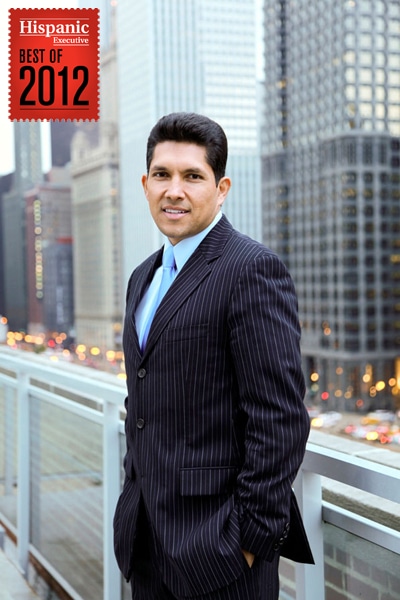 In the 1980s, before Pinkberry frozen yogurt was popping up in cities all over the country, Alejandro Quiroz was helping his father run a yogurt ice-cream shop in Puebla, Mexico, to great success. It was in that shop, where Quiroz, now the vice president of global advanced manufacturing for Whirlpool Corporation, learned the management skills he has carried with him throughout his career. "At 12 years old, I was already very interested in customer interaction, and learning to serve clientele," Quiroz says. "I saw that if your consumer is happy with the product and the service, they'll come back again." After his father's passing, Quiroz continued running the shop to help pay the remainder of his college tuition that wasn't covered by his sport's scholarship. During that time, he recalls truly developing a pas- sion for managing people. "When I had the opportunity to go to larger organizations and factories, the work came very naturally to me and my management skills gave me an advantage and helped me get noticed by my supervisors."
As a child, Quiroz always wanted to see the world, and after finishing school for engineering, he was able to take a position at an automotive company that sent him on his first international assignment to Buenos Aires, Argentina. "I developed a keen knowledge of the global footprint during my time working for automotive suppliers, and after starting in South America, I moved to Europe, and then worked with factories in China, Japan, and India," Quiroz explains. While in the States in 2005, he pursued an executive MBA at the University of Michigan, Ann Arbor, and later brought his automotive and busi- ness acumen to the home-appliance industry.
Before turning 40, Quiroz had made it to Whirlpool's Senior Leadership team. "My role at Whirlpool Corporation is to develop an advanced manufacturing function with a global team and to build the required capa- bilities," Quiroz says. "I was brought in to create strategies to better influence product development earlier in the value chain. That work ultimately prepares the manufacturing facilities for future production phases."
Globally, Quiroz makes sure factories have the right manufacturing processes for all products; this is true from the detailed designs to checking that products are being made at the lowest cost and highest quality. "My team looks at how we're developing future products to assess which manufacturing processes the factories will use and the type of equipment and tooling that will be needed to create our products."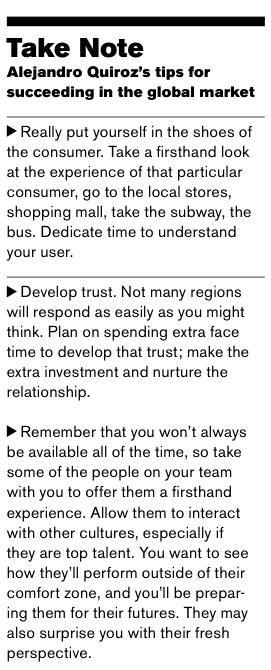 Whirlpool Corporation, which includes such brands as Maytag, KitchenAid, Amana, Gladiator, Jenn-Air, and Whirlpool as well as international brands like Brastemp, Consul, and Bauknecht, is the leader in the global home-appliance industry. The company has seen great growth in the last three decades thanks to innovative products, strategic global acquisitions, and an integrated manufacturing footprint. "The power of the brand is very important," says Quiroz, who conducts business in English, Spanish, and German and chats in Italian and Portuguese. "We introduced KitchenAid in South America as a super premium brand, while here in the US it is considered premium. Through regional market research we're able to see what does and doesn't work."
Quiroz and his global team look at the manufacturing processes to support all the Whirlpool brands connecting them to the operating platform; Whirlpool and KitchenAid are global brands, the remaining brands are regional. "Most homes in Brazil have a Consul brand product and we offer Brastemp if they want to have a higher-end model," Quiroz adds. "Brastemp is a highly recognized and desired brand in the Brazilian market; it is our flagship brand for our customers in Brazil."
Quiroz, as one of the top 60 Senior Executives within the company, spends on average 35 percent of the year traveling internationally and 15 percent traveling domestically, with most trips lasting between one to two weeks. "I travel and focus on a region per trip," he says. "I'll go to Europe and see four to six factories as well as visit the regional headquarters to spend face time with functional partners."
On any given day, Quiroz could be visiting process engineers in the field anywhere from India to Poland to Ohio—he must even visit a manufacturing plant in the Amazon, where parts are mainly moved by a series of sea and river boats. "This global position is indeed my dream job," Quiroz says. "On top of the travel, Whirlpool, which was recently named a top 10 Global Company for Leaders, has great people who truly live the company values, which include Whirlpool's commitment to diversity and inclusion. I can't imagine a place where I'd be more at home."
Get to know all of Hispanic Executive's "Best Of 2012" Recipients here.