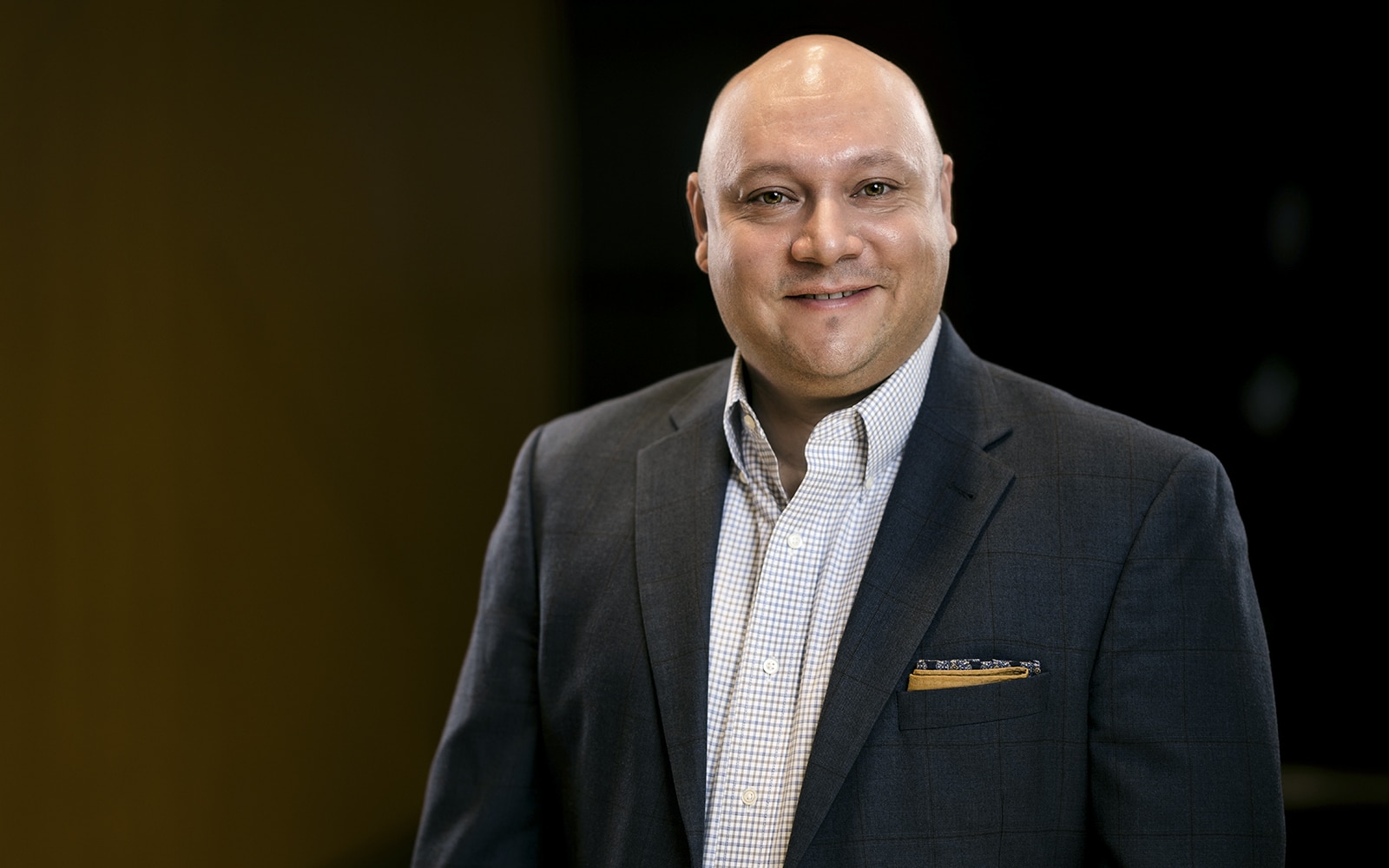 In his eighteen-plus years in healthcare consulting and HR, Jesse Cortez has consistently kept one foot in talent strategy and another in the realm of diversity, equity, and inclusion (DEI). "Throughout my career, there's been a gravitational pull toward highly complex and transformational organizations," Cortez says. "I've been committed to helping those companies further their missions through those two channels."
As McKesson's vice president of DEI, Cortez is playing a leading role in helping the company sustain a more inclusive environment across the business as well as its communities. Aligned with McKesson's purpose to advance health outcomes for all, Cortez is an empowering leader who adapts to new challenges, promotes transparency, and seeks feedback.
Cortez was born in Chicago to Mexican immigrants and moved to Dallas as a kid. There, he went to school and "cut his teeth in healthcare consulting" early on, which ultimately led him to McKesson, a diversified healthcare services leader dedicated to advancing health outcomes for patients everywhere. McKesson partners with biopharma companies, care providers, pharmacies, manufacturers, governments, and others to deliver insights, products, and services to help make quality care more accessible and affordable. Those efforts include a partnership with the US government as a centralized distributor of the COVID-19 vaccines. "When you're involved in this type of work, it's not a job—it's a lifestyle," Cortez says. "It's how you approach your own life and the circle of individuals around you."
When Cortez sat down for an interview with McKesson, it was his personal passion for DEI that set him apart. "McKesson was in a transformative stage, with a new CEO dedicated to company culture, new HR leadership, and the upcoming arrival of a chief impact officer," Cortez remembers. "The team was crafting a new vision, and it was an exciting time for the company as a whole."
Cortez initially came on board as senior director of executive talent and diversity to help McKesson develop an impactful talent strategy, and he used a wide lens to uncover talent: it didn't matter what candidates looked like, sounded like, or where they came from. "The company strives to advance health outcomes for all," he says. "That really resonated with the way I live my life: making sure we're creating opportunities for others and advancing the way they live and work."
As an impact-driven organization that touches virtually every aspect of health, McKesson's mission is to improve care in every setting—one product, one partner, one patient at a time. Cortez identifies with this himself; it's inspired the way he builds and leads a team. He strives "to make a difference," he says,
"to carry the work that others have done, and to leave a lasting impression on those who are yet to come."
Early in his career, Cortez didn't always feel like he could bring his whole self to work. "There was this expectation that you fit into the culture and hold back [parts of yourself] that may not necessarily be accepted at work; it's this whole notion of feeling like you belong," he remarks. "At some point, you embrace who you are, and it's easier at work when you do. But you also need an environment that welcomes you. That's where the magic flourishes."
Since being promoted to VP of DEI, Cortez's work has revolved around three pillars: culture, talent, and marketplace awareness. His team invests in employee resource groups, offers training to minimize biases, elevates DEI branding in the marketplace, and delivers dynamic diversity data insights captured through workforce analytics. Cortez especially enjoys connecting with people during Days of Understanding, intimate company sessions where employees are welcome to share success stories and offer feedback.
"When you think about belonging, it's a really hard thing to measure," Cortez explains, "so we've got to constantly look across the enterprise and at multiple [factors] to ensure we're continuing to drive the right outcomes."
And McKesson continues to show progress within the DEI space. Early this year, the company was recognized by the Human Rights Campaign as a Best Place to Work for LGBTQ+ equality. Last summer, it was also named a Best Place to Work by the Disability Equality Index. Additionally, McKesson continues to grow its employee resource groups. In 2021, McKesson introduced a new Native and Indigenous Tribes employee resource group that celebrates Native and Indigenous culture and embraces diversity by educating, connecting, and empowering McKesson employees.
Cortez's empowering leadership style is guided by the principle of legacy, authenticity, and investment in one another. He carries forward the legacies of those who have guided his career—family, mentors, sponsors—in the actions and decisions he makes daily. "I've always felt the sense of responsibility to leave a role, company, or community in a better place than how I found it," he says.
For the VP, being authentic is key. Though difficult at times, "being truly you" as a leader will inspire employees to do the same, he says, thereby fostering an unobstructed environment better prepared for collaboration and collectively driven by a winning mentality.
McKesson employees invest in one another, and divergent perspectives that enrich the whole team's experience on the job are brought to the table. In this way, employees unlock their greatest potential, connect with corporate values, and contribute to a purpose that transcends office walls.
Cortez views challenges as opportunities to adapt. In facing unconscious bias in the workplace early in his career, he pulled from his experiences. And most recently, in responding to the remote work model incited by COVID-19, he has found new ways to interact. Even when he doesn't have an answer, he considers the skills and perspectives of his carefully selected team. "Ensuring transparency and being able to seek feedback fuels your ability to adapt in this agile, nimble way," he says.
Internally, the work of DEI creates a "ripple effect" across the enterprise, serving as "connective tissue" between departments and among employees, Cortez notes. By externally connecting with the talent market in certain "pockets of diversity"—Latinos in technology, for example—McKesson elevates its influence and amplifies the conversation around representation.
---
Beyond the Nine-to-Five
Jesse Cortez serves on the boards of several nonprofits, including the Hispanic IT Executive Council (HITEC) and the HITEC Foundation, both of which are focused on "building a pipeline of Hispanic technology talent from the classroom to the boardroom." He was recognized in 2014, 2015, and 2016 as one of HITEC's executives for exceptional achievements and for his contributions within IT.