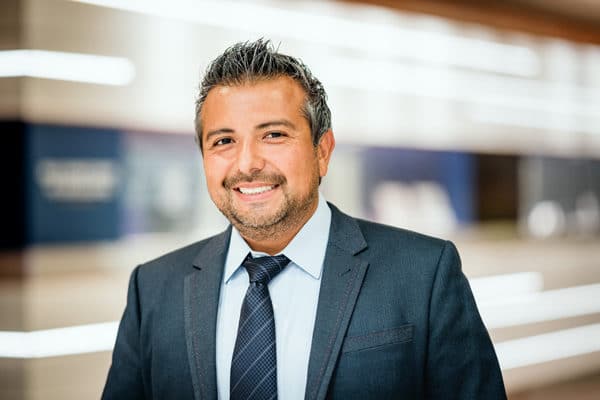 Jaime Guzman knows how to adapt to the world around him. He has worked in twenty-two different countries during a seventeen-year, global stint—which included six years working and living in Dubai, where he held executive roles in credit risk, operational risk, and business performance—at HSBC Holdings, an international banking company based in London.
In 2012, Guzman felt like it was time for him to return to the United States. After looking for a place to bring his unique financial skill set, he found his home as the vice president of credit risk at USAA in San Antonio, Texas. USAA's mission is to facilitate the financial security of its members, associates, and their families by providing of a full range of highly competitive financial products and services.
When Guzman was growing up, he wasn't quite sure what he wanted to be. Sometimes he wanted to be a baseball player; other times he wanted to be a police officer. He recalls a wise teacher telling him: "Don't worry about that question. Focus on getting into college, and you'll figure it out when you get there."
At Saint Xavier University in Chicago, Guzman found the world of banking and finance. During a summer internship with Household Finance Corporation, which was later acquired by HSBC, he learned about underwriting, collections, and other operational aspects of retail banking. He continued to work for the company as a part-time employee throughout his college years.
After graduating from Saint Xavier University and becoming the first person in his family to earn a bachelor's degree, he went on to earn an executive MBA from Northwestern University. In addition to his early academic achievements, Guzman earned a professional certification in advanced risk management from the Wharton School in 2014.
In his years at USAA, Guzman has always approached his role in a thoughtful and strategic manner. "You have to understand the DNA of the organization and how decisions are made, and there is no better way to do this than to listen," he says. "This is vital to figuring out not only how the company works but also what your role can be within the company to make it even better."
After working abroad for so long, Guzman quickly learned the importance of building relationships and taking the time to know what drives behavior.
As a leader, Guzman believes communications is one of the most important aspects of his role. He recognizes that it's not easy to make the difficult decisions leaders have to make so often, but he also knows the importance of transparency to his team. During his time as a leader at USAA, he has always prioritized building strong relationships with his team members.
In addition, focusing on achievable goals is what has made Guzman an effective leader at USAA. Since joining the company, he has improved upon the bank's credit loss forecasting model through increased evaluation of data that focuses on membership and the various stages of economy performance.
"At USAA, we focus on taking prudent risk, ensuring we understand it and how it impacts our members and the association," he says.
In 2015, Guzman took on additional leadership responsibilities by overseeing the Member Debt Solution team. This team plays an important role in helping USAA members through financial hardships.
Just as he knows building a strong relationship with his own team is crucial to success, he believes having a strong relationship with members lets them know USAA cares about their financial security. It also allows his team to provide the right tools to help educate those going through a hard time.
"It's important that we are there to help our members when they need us," he says. "At the end of the day, facilitating the financial security of our members is the most crucial part of what we do."