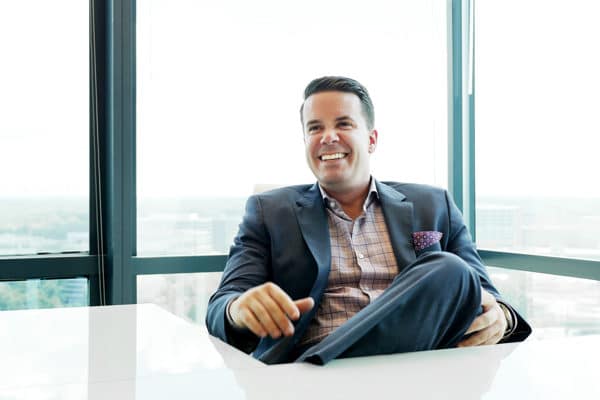 Eddy Perez isn't a gambler. In the event that his life's story is turned into a movie, however, he says there would be one moment where he would go all in.
That moment arrived after the global financial crisis in 2008. Perez and his business partner KP Patel knew they had to act swiftly. They didn't want their new company Equity Prime, only three years old at this point, to fail. After all, the young entrepreneurs started the mortgage lending company with only themselves and about a thousand dollars in capital.
"So, we went all in," Perez says. That means they invested their entire savings into the fledging company because they needed the capital to grow the business. "It was do or die," Perez says.
Today, Equity Prime has 270 employees and offices across the United States. From the company headquarters in Atlanta, Georgia, Perez serves as the president.
Perez and Patel first met in the early 2000s at Perez's first job in the mortgage industry. "His cube was two cubes down from me," Perez says. The two built a friendship and had ended up having a great deal in common. Patel immigrated to the United States with his family as a child. Perez's parents emigrated from Cuba, fleeing from communist rule. Both went into kindergarten without speaking English, Perez says.
Both Perez and Patel ended up leaving that job for better prospects but ran into each other several years later while still working in the mortgage industry.
Unfortunately, those brighter opportunities with other companies began to dim. In 2005, Perez found himself working with people he didn't trust. He sparred with the leadership at a company that wanted him to report to a manager he clashed with. Perez tried to circumvent the problem, but the company's leadership did not agree with his proposed solution.
"They told us, 'If you think you can do it better, go do it'. So, we did," Perez says about founding Equity Prime. "And they're not in business anymore."
Perez says that Equity Prime's mission is a simple one; it's to make other people successful. "If you take care of clients, the money will come," Perez says. He divides clients up into four categories: consumers, employees, referral partners, and vendors. All are important, but the key is to meet their needs within reason.
Perez jokes that he tells his own children the same thing. "'Dad, would do you anything for me?' 'Yes, within reason.' 'Can I have more allowance?' 'Now, see, that's not reasonable,'" he says with a laugh.
Sometimes "within reason" means being brutally honest, but never, he says, being coldhearted.
Although first-time home buyers don't always have to have perfect credit or put twenty percent down, Perez stresses that they have to be realistic about what is possible. But once they know what is possible, they can address the issues and make it happen. It's that type of approach that has helped Equity Prime succeed in helping first-time home buyers, especially those in the Hispanic community, achieve their piece of the American dream.
Perez attributes a lot of Equity Prime's success to the fact that he surrounds himself with capable team members. He meets with his sales force monthly to address issues and to strategize. In those meetings, Perez wants to make sure that Equity Prime delivers on its promises and mission.
Anyone can make predictions, Perez says, but he wants statistics and numbers to inform the company's strategy. These numbers, he stresses, give a financial portrait of a company. "Finance helps give a bigger picture," says Perez, who earned a degree in finance, himself, from Georgia State University in 1999.
Today, the future forecasting is a lot better than when the company was founded ten years ago. And as Perez reflects upon the company's roots, he says the Great Recession affects the company in a variety of ways.
On one hand, there are more thorny government regulations to deal with. Perez says some of the regulations can be difficult because there's a lack of clarity.
On the other hand, one of the positive effects of the crash is that the mortgage industry has a more harmonious spirit now. Before the crisis, there were a lot of bad actors, he says. "It's not a popular thing to say, but there were a lot of people involved with the crash, not just one group," he says. "In any situation, it's the environment that creates the problems."
In addition to bad actors, so to speak, Perez says there was a cutthroat attitude, that you had to step on people to get on top. The crash got rid of this attitude. This is a very good thing, Perez says, because there's less ego and established professionals are mentoring younger folks. There's more unity overall.
Mortgages and real estate are a huge part of the American economy, and Perez says that it's part of what gives the country its distinct character. To be part of that, means a lot of to Perez, especially as a first-generation Cuban American whose parents escaped communism to find their own piece of the American dream.
---
"Eddy Perez one of our industry's greatest advocates.  He has been a leading voice for the dream of homeownership and has driven a culture of political and community engagement down though his company.  Our industry needs more leaders like Eddy."– David H. Stevens, CMB, President & CEO, Mortgage Bankers Association