Procter & Gamble (P&G) has almost a hundred thousand employees and generates close to $80 billion in revenue. It provides consumer products through a wide variety of brands such as Tide, Pampers, Charmin, Olay, Always, Pantene, and numerous other leading brands in more than 160 countries around the world. It's a place where someone like Jacqueline Aguilar can really make a difference.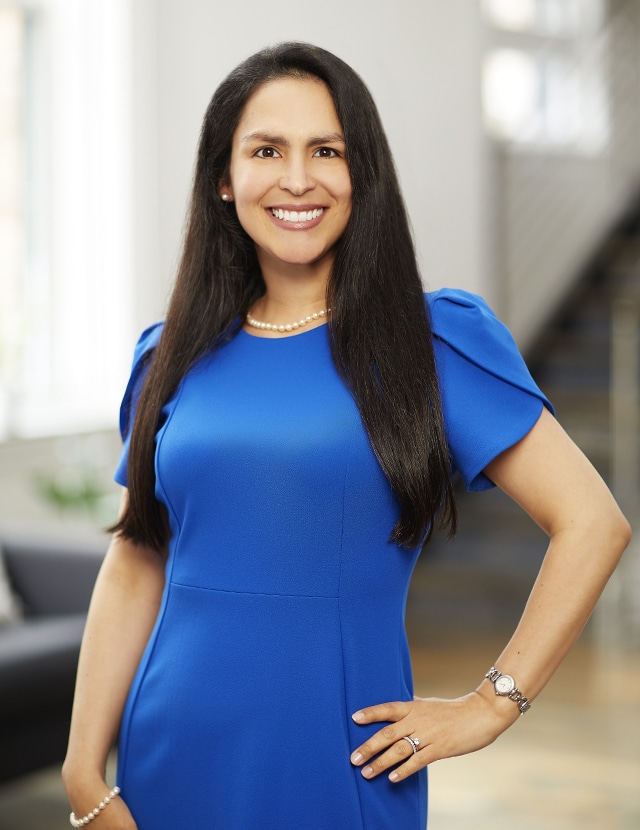 That's exactly what drew her to the organization ten years ago. "I chose a large corporation to make my mark because I could reach more people," she says. "I felt that I could have a greater impact at P&G, whose purpose, values, and principles mesh with my own and inspire me to make a positive contribution every day."
At P&G, Aguilar is director of global transactions, but she's more than an in-house attorney. She majored in business management, minored in information technology, kept a perfect 4.0 GPA, and graduated first in her class at Xavier University.
It's an impressive list of academic accomplishments for anyone, but for Aguilar, the achievement carries special significance. She is a first-generation Mexican-American, first-generation college graduate, and the first person in her family to obtain a law degree
Aguilar began her career in human resources at Convergys Corporation before accepting an offer from Toyota in 2007. That set her on a new path and showed her how effective policies and sound practices could change workplaces, business strategies, outcomes, and even society at large. Aguilar was on a team that handled Toyota's corporate compliance and ethics matters, including diversity and inclusion.
Her mentor, the highest-ranking Latina in the company, had gone to Berkeley Law and was leading Toyota's philanthropy work. "Our conversations ignited a spark in me," says Aguilar. "That spark soon grew into a flame, and that flame strengthened my hope that I could follow in her footsteps and create even more positive change." Aguilar enrolled at Berkeley Law in 2010.
Leaving a career at the world's largest auto manufacturer and moving across the country in the aftermath of a financial crisis was a bold move, but Aguilar credits her husband with providing the necessary support and encouragement. "Starting over in law school was a huge risk, but you have to take risks and work through your fear if you want to reach your potential and accomplish great things," she says.
Aguilar knew a law degree would give her more tools to make a positive impact. She bet on herself, and the bet paid off handsomely when she landed a summer legal internship at P&G as a first-year law student. The company asked her to return the following summer and then extended a job offer that Aguilar happily accepted.
Her previous experience at global corporations gave Aguilar the skills she needed to succeed. At P&G, she was entrusted with assignments in different legal practice groups. She was lead counsel for a billion-dollar brand franchise, led company-wide compliance and ethics programs, trained thousands of global employees, led numerous internal investigations, managed complex commercial transactions and M&A deals, and worked with business clients and suppliers all over the world.
Aguilar moved into P&G with an eye toward making immediate contributions. "I strive to add value wherever I can," she says. "This can include solving a problem, developing a strategy, helping business clients achieve the company's goals, providing practical solutions, improving business results, processes, and systems—all while promoting a culture of inclusion and integrity," she says. This approach, combined with her experience in business and technology, has made her an indispensable partner.
As director of global transactions, Aguilar must be prepared to address international issues that affect the sales of any P&G brands. That means she works with every function in the company and deals with people at all levels and from various backgrounds. Her fluency in Spanish helps her navigate the important Latin American region, which represents nearly 10 percent of total P&G sales.
Additionally, Aguilar remains involved in corporate DE&I initiatives and is a key driving force behind Latinovation, P&G's biannual conference designed to showcase the innovative brand-building, organizational, and community contributions of Latino employees. The 2021 conference featured record-setting attendance.
Each day, Aguilar is developing strategies, creatively solving problems, and helping business clients achieve their goals. She constantly looks to improve business processes, systems, and results through insight, counsel, and mediation. "The bottom line for me is that I love building meaningful relationships and adding value however and wherever I can," she says.
Sometimes that's for her business clients, her company, or her colleagues. Other times, it's for individuals and the community through her pro bono services and volunteer work. Aguilar sees these activities as both a privilege and an obligation. "I have earned a license to practice law, and I take that honor and privilege very seriously," she says. "We should use our law license for doing good, and representing economically disadvantaged clients pro bono is one of the best ways I can think of to do that."
Aguilar works with a variety of nonprofit organizations to help the community, such as the Volunteer Lawyers Project through the Legal Aid Society of Greater Cincinnati, where she represents children and families from low-income households primarily in matters related to public education and housing.
Jacqueline's efforts haven't gone unnoticed. She has received numerous internal company recognitions for her outstanding work and is supported by P&G's most senior leaders; in fact, "doing good" is part of the company's stated purpose. As part of a "Lead with Love" initiative, the company is striving to create positive change for individuals, communities, and the planet.
As the efforts move forward, Aguilar is working to develop a pipeline of skilled talent. She's mentoring both students and professionals, seeking out the next generation of business-minded, tech-savvy leaders whose aim is to make the world a better place through a leading global corporation.