It's nearing 7 p.m. on a Friday, and a line is forming outside of Irazú, Chicago's only Costa Rican restaurant. Underneath the green awning, beyond the glowing blue OPEN sign, every detail invites guests to allow themselves to be transported to some place akin to paradise, south of Nicaragua and north of Panama. Salsa music plays under the conversations of couples and lively parties of 10. The smell of caramelized sweet plantains hangs in the air. Textured walls tinted with tangerine, cerulean, and lime green hues reflect the country's vibrant palette and are adorned with multicolored lizards and smiling sunbursts. Globe lights strung across the ceiling give the patio a backyard barbecue feel. And waiting to greet you at the front door is a smiling face, the proud owner with your passport for the evening.
Henry Cerdas likes to run his restaurant from the host stand. There's a charm about dining at Irazú, and it starts with him. Some regulars remember when he was a dishwasher more than 20 years ago. These days, they might hear him shouting, "Atrás!" from the kitchen as he maneuvers his way through cooks, balancing plates of steaming casados (dishes piled with any combination of rice, beans, meat, and fried plantains). When his hands aren't full, you can pick him out of the bustle by the unhurried yet commanding purpose with which he leads guests to their tables. It only takes a smile, one arm around your shoulder, and the other extended in welcome to see that Henry was cut out for this business. He wasn't bred for it, though. The memory of the first time he tried to convince his father to let him take over the family business still brings a little lump to his throat.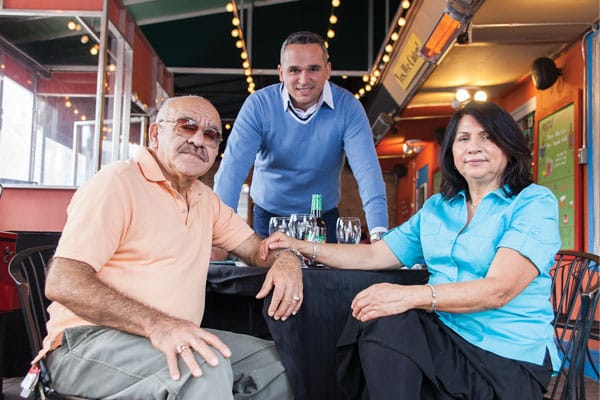 "Henry, I don't want this lifestyle for you," he recalls his father, Gerardo Cerdas, saying. "This is not what I came to the United States for. This is the work of an immigrant, not a professional who wears a tie. Not the dream I had for you." Henry did go on to get that tie-wearing job. He spent 10 years climbing the corporate ladder. But in 2007, he left his position at Prudential to keep alive the business his parents had nurtured for 17 years.
An American Dream Come True
Miriam Cerdas-Salazar caught the bus at the corner of Milwaukee and Oakley Streets every day she went to her low-wage job as a cafeteria manager. The day she saw a FOR SALE sign go up in the window of the pit stop across the intersection, she decided she was tired of working for someone else. When she returned home, she explained to Gerardo her vision of Irazú. "My father, not being a risk-taker, said, 'No way,' but my mother is very persistent," says Henry. "She ultimately convinced him to take his savings and knock on the realtor's door." Gerardo had good reason to be wary; the future location of Irazú held many sunken dreams of entrepreneurs past. He thought it was a cursed location.
Opening day began at six on a morning in August, 1990 and ended at midnight. One or two curious customers would stop in per hour (it would be three more years before Irazú had a sign reading "Irazú Restaurant, Cuisine from Costa Rica, Latin American food"). Few Americans at the time had an understanding of Costa Rican culinary staples. Miriam had to do as much educating of her Midwestern clientele as she did feeding them. The first night, she and Gerardo came home and counted out their $200 of earnings. The next day it was $88. "And that's the way it was for at least three years," says Henry.
The restaurant was a true family business with all hands on deck. Like most 17-year-olds, Henry was embarrassed to have his friends see him washing dishes, but if he wanted to eat Mom's cooking, he had to earn it. Miriam served "simple, flavorful, authentic peasant food that you'd find on the countryside in Costa Rica," says Henry. The family dynamic also meant that courtesy sometimes took a backseat. "Being Latino means being very vocal," says Henry. "Everyone wants to make the decision." On the occasions he and his mother would disagree, Henry would stay away for three days, but "by the third day, I'd really miss her cooking and go back to make peace."
Over the next 17 years, the clientele grew slowly but surely, and the restaurant expanded to accommodate its popularity, but the intensity of the operation never waned. "Irazú was their fourth child," says Henry. His parents' exhaustion was apparent when they considered putting the business up for sale. But with his business background and acumen and passion for his family's heritage, Henry was confident he could tame the restaurant's "teenage rebellion" and see it to maturity.
Henry's Irazú
Henry may have held the key to the restaurant when he assumed ownership in 2007, but he still had a reputation to earn in the eyes of his customers and his parents. Regulars recognized Henry but knew Irazú as Miriam's restaurant. He had to make sure everything was the same or better. Although he strove to meet their quality, Henry did not hope to match his parents' leadership style. Taking home and laundering the linens every night, prepping food in the mornings, answering the phone, and bussing the tables were all tasks he could delegate. "I'm not a cook," he admits. "I'm a leader. If I have to cook, I will, but that's not my role." He wanted to run Irazú with an eye for the big picture, which, at first, was a challenge.
"The first few years were never very diplomatic," Henry recalls of the power struggles with his parents that flared up in the transition. While he advocated new techniques and contracted food suppliers, his parents worried the quality would decline. "It was small-scale versus large-scale. Something was always imperfect, and I heard about it."
Henry's quality control comes not from micromanaging, but empowering his staff. They know that the customer's experience is paramount at Irazú. He sent his general manager on a trip to Costa Rica for cultural immersion. His kitchen captains know how Miriam's food should taste, and if it's not perfect, they correct it or throw it out. Each member of the Cerdas family plays his or her respective roles: Henry's brother, who lives in the neighborhood, is his official taste tester, his sister contributes new ideas from Ohio, and his parents are consultants. It took years to convince Miriam and Gerardo to entrust him completely with the restaurant, but it was an effort that allows them, as Henry says, to "enjoy each other's company and respect the serenity of [Miriam's] home cooking."
Pura Vida
For all the profitability that a bustling, bursting business proves, the quiet moments the Cerdas family can spend together now are just as indicative of their restaurant's success. Gerardo and Miriam spend several months each year in Costa Rica, but when they return to their home just a couple blocks from the restaurant, Henry isn't shy to ask his mom to make him some arroz con leche. These days, though, Miriam cooks at her own stove or for private parties at Irazú. "All children are proud of the way their mothers cook," says Henry. "Though I love to share her gift, I prefer to enjoy my Mom's incredible cooking at home, without interruptions. I don't want to lose that."
On every black tee shirt worn by the wait staff at Irazú, the phrase "pura vida" is printed in a rugged, white font. It's both a greeting and a parting note in Costa Rica. At Irazú it is a mantra: Live. Enjoy. Relax. "It's a state of being," says Henry, one that describes the balance Irazú's past and present owners have found as the restaurant has come into its own.