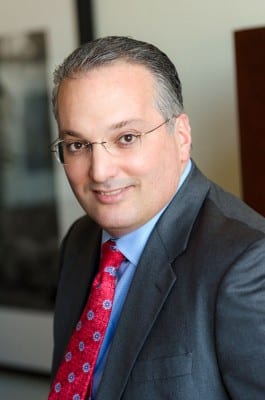 Even while acting as Wellmark's chief legal officer, I never limited myself. I don't believe in the approach of "this is your role and this is mine." As a lawyer, you're continuously learning because laws change and so does the industry and you have to adapt. Taking on new responsibilities can be truly rewarding, but before taking the leap you have to know it's something you're passionate about. I joined Wellmark as general counsel in July of 2007. In 2008, the CEO approached me and asked if I was interested in taking on a new role so, for about a year, I served as group vice president of sales and marketing. I integrated the two departments and we were able to create a high-performing team. It was truly rewarding to see the team develop and achieve success.
Having an open-minded, creative CEO makes all the difference in the world. The CEO is a great judge of character and he expects and helps his team adapt to change. Some people may stay in the same role for many years and they'll remain there until they retire—and that's what works for them and the company. But, if you're a lawyer who wants to move to the business side of things, you have to love challenges and be willing to transition to new roles. Many lawyers are risk averse, but they should take informed, calculated risks and take advantage of opportunities. In 2009, I went back to the chief legal role. I began having discussions with the CEO about an emerging legal trend of shifting from a regulatory model to a risk-based model. The challenge was determining how to align legal, audit, regulatory, and compliance into a risk continuum. Since the CEO and board believe in continuous improvement, we were able to successfully make this transition.
When I stepped into my current role as vice president of sales and marketing, there was anxiety, but that's not a bad thing. I believe the fear of not being able to deliver drives high performance and it ensures you don't get complacent. Learning different parts of the business makes you a better lawyer. As I shifted into this new role, I was worried that not practicing law each day would feel like a loss, but it didn't. Having a background in law makes the department and the company stronger and if you can get the right person in the right role—even if it's new to them—or if you get the right people working on a team, you'll have phenomenal results and that's one of Wellmark's strengths.
Growing up, I saw where hard work could get you. Six months after my family moved to Miami, I waited for my dad to come home from work so that I could talk to him about moving back to Jamaica. I heard my parents talking and for the first time in my life, I heard my father telling my mother that he felt as if he failed us and it was looking like his business wouldn't succeed. That was a turning point. I spent the next several weeks canvassing the neighborhood to find pools to clean and cars to wash to make pocket money because I didn't want to be a burden. A year later, I was going to school full time and working at my parents' store. My parents' business eventually grew to become one of the largest independent shoe retailers in the US and it was through hard work and determination. I had a great example growing up and I take this work ethic and the lessons I learned from my parents to work each day. I was once asked if this work ethic is specific to immigrants, but my answer is as we move into a global economy, we're all immigrants. Those open to continuous improvement and new challenges will succeed in the global marketplace.