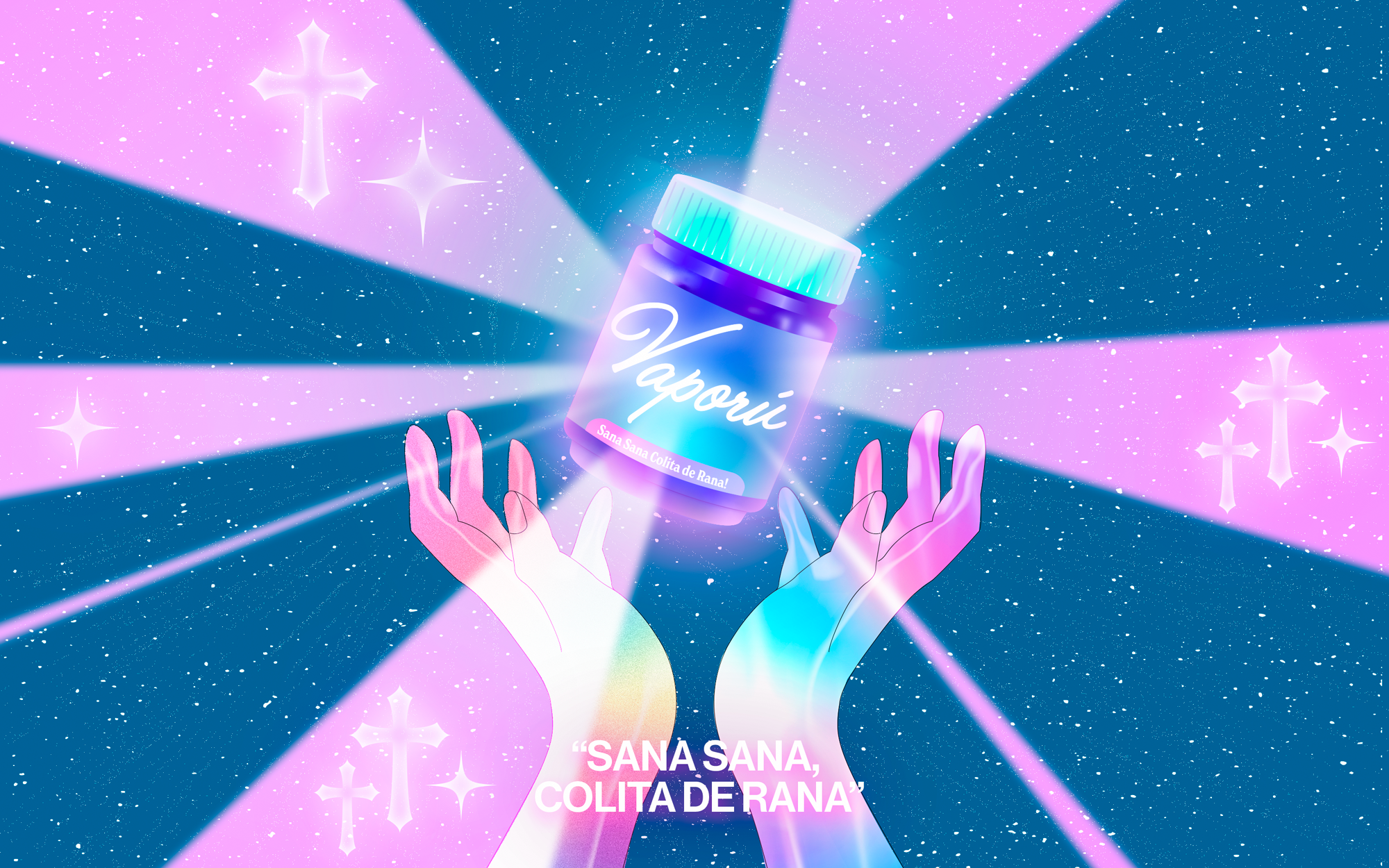 I'm currently in Mexico tending to a family medical emergency, so health is on my mind. I've been thinking a lot about how my people, both Mexicans and Latinos, heal their maladies.
Take Vicks VapoRub, for example. Better known as El Vaporú, El Bibaporrú,or El Vicks, the American-made menthol ointment is a miracle cure-all for Latinos healing everything from everyday issues like muscle pain, common colds, and sore throats, to more serious diseases such as arthritis and COVID-19.
If a member of your family never prescribed slabs of Vicks VapoRub as a cure for something (anything) you would be well advised to take a DNA test to make sure you're actually Latino.
WARNING: Before you throw a bottle of bibaporrú at this writer, please remember this column was conceived to be handled with a serious dose of humor.
Vaporú for the Soul
I had more than my fair share of childhood health scares including chilling colds, fevers, sore throat, swollen tonsils, etc. And, growing up in Mexico, surrounded by more aunties than any normal person would have, the solution always came down to one thing: rubbing on thick slabs of viscous, waxy Vicks VapoRub that left me smelling of menthol and eucalyptus.
The stuff was a staple in my mom's first aid kit. A miracle in a little blue jar waiting for us to get sick to unleash its power.
One time, my auntie, Esperanza, even went as far as having us eat some of the stuff in between two loaves of white bread. I complied not only because I was young and had no alternative, but because it was VapoRub and you didn't mess around with the stuff.
Much like Marcel Proust and his madeleines dipped in tea, the smell of "Vaporú" triggers memories of comfort and provides healing for me now.
Sana Sana, Colita de Rana
Latino devotion to Vicks VapoRub is just one aspect of a broader "magical thinking" we employ when we are dealing with illness.
If I ever got a scratch or bruise from a bad fall, my parents would say, "Sana sana, colita de rana. Si no sanas hoy, sanarás mañana." Loosely translated this means, "Heal heal, little frog's tail. If you don't heal today, you will heal tomorrow."
I never quite understood what a frog's tail had to do with the bloody knees and elbows left by a fall from the monkey bars, but I was not there to question the authority of the adults. And you know what? Things did get better!
For me, the colita de rana mantra sums up another hard Mexican truth: you might be suffering a lot today, but you'll get better tomorrow.
Always.
My niece is battling a bad case of hospital pneumonia, so she is all I can think about these days. As I do, I notice the mix of faith my family and I place on both her doctors and our magical remedies. The hospital taking care of her has the most sophisticated ICU equipment in the country, as well as a beautiful chapel complete with images of San Charbel and the Virgin of Guadalupe.
We bring miraculous baby Jesus figurines, calendula oils, and prints of saints into my niece's room, while keeping an eye on the machine's numbers and beeps displaying her oxygen levels and vital signs to make sure everything is, in fact, okay.
While we're not allowed to bring Vaporú inside the ICU, the nurses let us sneak in a few Mexican staples, including holy water and sacred cloaks. My sister even brought a print of the Infant Jesus of Prague to keep a close watch on our girl while we run after doctors and nurses and press them for medical data.
We want the facts and a miracle. And I'm pretty sure we can have both.
Mixing our faith in medicine with what my brother calls the "Celestial Kit" has given my family pause and hope. Call us crazy, but even if we're not able (yet) to sneak in a little bit of Bibaporrú into the ICU, we're convinced our girl is going to heal. If not today, tomorrow, because that's how things are supposed to work.
---
Stay tuned for Laura Martinez's next Hisplaining column, which will tackle other key biz terms and jargon and help leaders everywhere smoothly navigate the multicultural business world. In the meantime, send us tips and ideas for other terms and jargon that you'd like to see us feature.
And remember: Don't panic . . . it's just his-PANIC!