Blanca Acosta Barroso doesn't waste time. After all, she has been working in the waste-handling industry since she was 13 years old. "I have a passion for it," says Acosta Barroso, now owner and president of Equipco Manufacturing, Inc., of a business where she has never seen another woman. For her, it's a great fit because it's ultimately about relationships and working alongside her greatest mentor—her father.
Equipco manufactures containers, compactors, and other handling equipment for the waste-disposal industry. Acosta Barroso is following in her father's footsteps, but rather than inherit his business, she built her own company based on experience and lessons learned from a lifetime of working with her dad.
Evelio Acosta, a Cuban immigrant to South Florida whose formal education is equivalent to that of grade school, worked his way through the ranks at United Sanitation, which eventually was purchased by Waste Management, Inc. (WMI). He was a local supervisor at United Sanitation until 1969 when he founded HESCO Sales in the Miami suburb of Hialeah, Florida, to make containers for trash-hauling companies—including Industrial Waste Service, Browning Ferris Industries, and WMI. "He grew the business, sold it off for stock in the 1980s, and then started again," Acosta Barroso says.
Next, "Chico" (as he was known in the industry) bought a vacant lot in 1989 in the nearby community of Medley, Florida, built a state-of-the-art manufacturing facility, and relocated the business there.  He sold that venture in 1998 to High Rise Recycling Company, a publicly traded company, which manufactured equipment for high-rise offices and residences. High Rise got so highly leveraged from numerous acquisitions that it eventually declared bankruptcy. "Thankfully we never sold them the property," Acosta Barroso says, explaining that the empty building provided the impetus for her to incorporate Equipco Manufacturing. She made her first sale in 2003, and it's been steady growth ever since.
Acosta Barroso says the business has changed considerably over the years. With the construction industry in a lull, demand for trash roll-offs has declined, while compactors are on the rise as more building owners contract with third-party haulers. Concern about environmental hazards has brought demand for equipment and containers that won't leak, and businesses want compacting and processing machines that can be activated remotely from home or other locations.
What hasn't changed is the importance of relationships. "We focus on relationships and consistency with our customers," Acosta Barroso says. "When we receive an order for a machine, we go out to the site to make sure they are getting the right equipment for their building and the haul."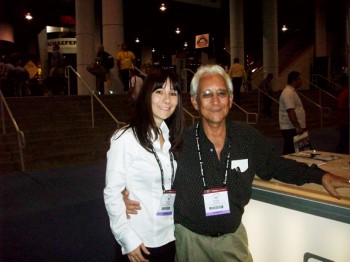 Acosta Barroso says that when she started marketing Equipco, people said, "Chico and his daughter are back in business." However, this time around she is the boss, and her father is concentrating on research and development. "Custom design is his forte," she says. That's important because many of Equipco's products are designed for unique situations. "When people design trash rooms, they often don't think about the equipment that has to be taken in and out," she explains.
In one location, the customer had to dispose of large amounts of cardboard and garbage but they didn't have enough room for multiple handlers. So Equipco built a "split compactor"—half for cardboard and half for garbage. In another case, Equipco designed and built equipment that is operated inside a refrigerated warehouse.
Relationships with employees are equally important to Acosta Barroso. "We have loyal people, many who have been with us for many years," she says. "We have the right people working in the right places, and they work very hard." Others in the family have spent time in the business but have ultimately moved on. "It wasn't their thing," Acosta Barroso says. "My father and I have a passion for this. I get to build equipment that people need, and I get to continue growing in something I have done since I was a child."
Acosta Barroso's passion has led her to expand Equipco regionally, but national business is more difficult because the cost of shipping equipment is so expensive. Undeterred, Acosta Barroso is working on a solution. "We're looking at establishing distributorships that will receive the machines unassembled and finish the assembly," she says. With plans for growth, Acosta Barroso and Equipco Manufacturing are in it for the long haul. "It's a good business," she says. "Regardless of how we process or recycle material, we will always have refuse and always have a need to dispose of it in some fashion."