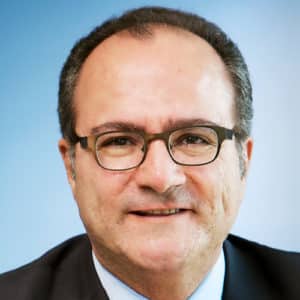 One of the world's most powerful and recognizable brands, Microsoft, does business in 170 countries and employs 114,000 people. With such a global reach, it still customizes strategies in each of its markets. For Microsoft Mexico, part of that responsibility falls to assistant general counsel Jorge Vega Iracelay. In addition to the legal department, he oversees the company's governmental affairs and philanthropic activities in the country.
Vega Iracelay came from a similar position in the South Cone Region in Microsoft Latin America when he assumed his current position in 2010. He took on several challenges, including plans for strengthening Microsoft's government and civic relationships and expanding efforts to help non-governmental organizations (NGOs) modernize their operations.
Such priorities took on even more significance because Vega Iracelay assumed his responsibilities just two years before a new federal administration took office. The company had also prioritized enhancing its diversity and inclusion efforts, highlighting opportunities for women. Finally, he had to build a cohesive, high-performing, collaborative team.
Ongoing changes within Microsoft's business added even greater complexity to Vega Iracelay's new position. The transition to cloud services not only required changes to meet customer demands but also presented complex legal issues related to cross-border data transfer and administration. The company also had to assume the role of a services provider on top of licensing software.
"The cloud introduced geopolitics in ways we hadn't anticipated," Vega Iracelay says. "Mexican companies with operations in Europe that rely on US data centers have to be concerned about Privacy Shield issues between the US and Europe as well as compliance with the Patriot Act, their own policies, and, in some cases, industry standards and regulations. Thus, the ways in which we advise clients and support customers have changed
very dramatically."
To be successful in such an evolving environment, Vega Iracelay pays close attention to managing "smart risk." This means accurately assessing Microsoft's position in any given market along with the context of the decision at hand. For example, when the company first began providing enterprise cloud services, the collections department needed advice on appropriate action to take regarding a public-sector customer that was disputing its bill. Legally, the account could have been closed, but Vega Iracelay took a longer-term view.
"By truly understanding the new line of business, I knew we had to cultivate a delighted customer that would view us positively," he says. "We resolved the dispute amicably, and now that company is one of our largest customers on the Azure platform. As markets evolve, you have to bring a great deal of insight and wisdom to decision making so that the potential of huge business opportunities offsets the risks."
With that in mind, Vega Iracelay points out that he never considers taking risks when it comes to integrity, compliance, or policy. With all other matters, however, he stresses the importance of fostering curiosity, collectively learning as a team from each experience, and comprehensively assessing and leveraging the outcome of each one.
He also strongly believes that plans for execution require as much—if not more—attention as plans for developing strategy. Vega Iracelay quotes Peter Drucker's famous phrase, "Culture eats strategy for breakfast." This influences how he manages his team: being sure to provide all the support they need, creating an open culture to foster innovation, trusting their expertise, empowering them to make their own decisions, enhancing their self-confidence, and being careful not to micromanage.
"Managing execution is a very delicate balance, especially in government affairs," Vega Iracelay says. "When we invite officials to attend an event, we sometimes need to revise presentations that may be related to legislation they're working on. That can require making minute-by-minute adjustments and staying acutely aware of every detail that can impact your success."
"Communication is key; we need to be effective, compelling," he adds. "Let's think you have a five-minute talk on an elevator with a policy maker whom you need to convince on a policy issue. I am always asking my team, how would you do that?"
As part of its philanthropic affairs efforts, Vega Iracelay has helped Microsoft drive a national initiative to make technology and IT skills more readily available to Mexican citizens and NGOs to help them achieve more and expand their opportunities, closing the digital gap. In that sense, he has orchestrated several programs to benefit more than 12 million vulnerable youth and nine thousand NGOs with software and services donation and training.
He is particularly proud of Microsoft' philanthropic work in the field of computer coding, which has helped more than eight hundred thousand people in Mexico get trained in basic programming. "We still need to work on the digital divide by focusing on the skills, competencies, and soft skills young people will need to seize new job opportunities created by the fourth Industrial Revolution," Vega Iracelay says.
During his time at Microsoft, technology has dramatically disrupted how legal work is done. Microsoft's own Office 365 has streamlined collaboration by enabling document coediting in the cloud and eliminating the need for exchanging various versions by e-mail. Other applications are capable of handling tasks such as reading, comparing, storing, and retrieving documents. In some instances, contractual language can be guided by artificial intelligence and machine learning that can predict a customer's likelihood of breach of contract. And analytics have become reliable at mapping reactions of decision makers and other influencers to everything from social media posts to product design features.
"Most of the technological changes to how we operate are positive, but we have to be careful about the impact they have on our principles and policies—for example, in the security and privacy of data," Vega Iracelay says.
In that respect, and in connection with effectively preventing and combating cybercrime, he advocated for the development of a "Geneva Digital Convention" to cover those issues, including state-nation attacks and the creation of an international agency. Because cybersecurity is a big threat in Mexico, Vega Iracelay has been vocal in designing a national cybersecurity agenda and has been invited to contribute to it as
an expert.
Vega Iracelay was also acknowledged as part of Legal 500's General Counsel Powerlist. Gaining this recognition, Vega Iracelay says, was only possible thanks to great team members with high integrity standards, impeccable work ethics, and, above all, passion about what they do and the impact they can have on clients, customers, and community.
Because Microsoft is a global company, diversity and inclusion (D&I) efforts have always been emphasized and tailored to local customs and cultures. As a lecturer and writer on D&I issues, Vega Iracelay has paid attention to gender equality in the workplace for Microsoft Mexico. He took a novel and very direct approach when he led the development of a request for proposal (RFP) for outside law firms that requires them to demonstrate their own gender equality, diversity, and inclusion policies, report the number of women in senior positions and how many women would be assigned to Microsoft business, and other details.
"An RFP with gender, diversity, and inclusive benchmarks acts as an incentive for firms who would like to do business with us," says Vega Iracelay, whose own staff of attorneys is currently 60 percent women. "That includes some we have worked with in the past that need to develop policies and adjust their internal cultures if they plan to work with us again in the future. We are very proud of having raised the bar."