Back in 1999, diversity and inclusion (D&I) was hardly the buzzword that it is today. But that didn't stop Hector Herrera from holding it as one of his core values when he started at BNY Mellon. After over twenty years with the bank, Herrera is now head of business development for issuer services at the global investments company, and his dedication to D&I remains paramount.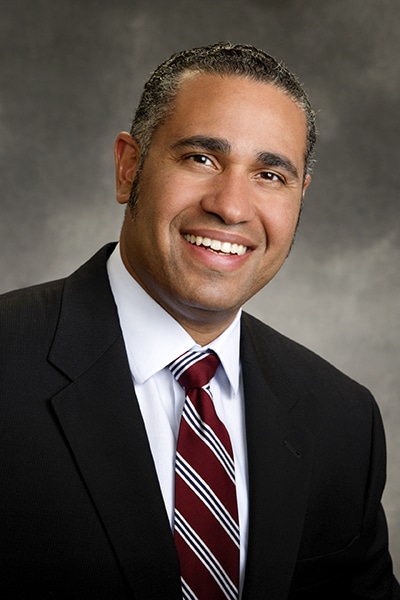 In his early career, Herrera was accustomed to being the only Latino, or even the only person of color, in the room. Having come from a background that did not provide him with an extensive corporate network, he relied on his academic efforts and hard work to break into the financial industry. And those efforts were noticed: he was accepted into a competitive management training program at Bankers Trust, where he worked on quantitative modeling for various product lines.
Herrera credits this success to his curious spirit and eagerness to learn how to navigate an unknown world, which no one in his family was able to help guide him through. "It was all new to me," Herrera recalls. "I was drastically different from everyone else. But I enjoyed learning from them, and I found it really interesting."
He was an economics major at Rutgers University-New Brunswick and completed a minor in math, so he enjoyed the analytical and numbers-based work he did at Bankers Trust. Still, he soon realized that he wanted a job that was more people-oriented. "I didn't want to be behind-the-scenes; I realized I was more of a people person," Herrera explains. This drove him to go back to school to pursue an MBA to build up his knowledge of finance.
In 1999, shortly after completing his MBA, Herrera was approached by BNY Mellon to help set up a global team for its corporate trust. The goal was to grow organically by acquiring books of business, Herrera explains. He helped solidify the global footprint that BNY Mellon has today by contributing to the growth of its physical presence through large acquisitions.
But Herrera also helped the company grow in other ways. When he joined BNY Mellon as global business group manager, he saw that the bank wasn't taking advantage of the power of diverse teams. "When I came into the team, there was limited diversity. D&I wasn't even a term being used back then," he says. Herrera immediately started to hire a highly qualified and diverse staff, and shortly thereafter, the majority of his team members were people of color. "I just did it," he says. "It wasn't planned, exactly—rather, it was intuitive for me."
Nowadays, diversity and inclusion efforts can sometimes appear as just a box to check in the hiring process. Herrera, however, sees diversity as a strategy that directly benefits the company. "The diversity that I established with my team was in direct correlation with our success," he emphasizes. "The ability to think differently and react differently to different products was a huge driver of our success as a team."
"Complexity is best handled when you have a group of diverse people. You need to consider the whole package."
According to Herrera, his greatest achievement in all his years of developing successful, diverse teams was his very first hire at BNY Mellon, a Latina named Jackie Seemo. Herrera was looking for an administrator that could handle complicated logistics in a fast-paced environment when Seemo's résumé landed on his desk. Though she didn't have the educational background or overall profile of a typical BNY Mellon hire, Herrera saw in her a quality that none of the other applicants possessed.
At the time, Seemo was handling the distribution logistics of a beverage company in New York, and Herrera recognized that she had the skills necessary to take on the role he needed. "She was one of my best hires," Herrera says of Seemo, who is still working at BNY Mellon today.
Seemo's success at the company is a perfect example, Herrera says, of how diversity goes beyond things like ethnicity and gender. It includes skill sets, too. "Complexity is best handled when you have a group of diverse people," he says. "You need to consider the whole package."
Of course, it isn't always as simple as just hiring the right people. "To tap into the power of diversity is difficult," Herrera acknowledges. But if a leader is willing to create an environment of collaboration, he notes, the advantages are endless. "You have to turn on that emotional IQ and tune into your team and see who is engaged and who is not, and then pivot to get people involved."
You can multiply your results, explains the self-described "math guy," once you get more people buying into the same goal.