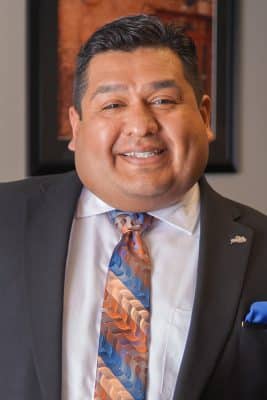 Five years ago, Karlos Ramirez was looking for a way to move back to the Midwest. He was living in San Antonio, Texas, at the time and wanted to move closer to his family in Illinois, so he picked up the phone and gave an old friend a call to see if he had any ideas. His friend mentioned an opening as executive director of the Hispanic Chamber of Commerce of Metropolitan St. Louis; Ramirez felt that he would be a great fit and that this was his opportunity.
"A couple of months later I was living in St. Louis and adjusting to a total career change," recalls Ramirez, who formerly worked in higher education.
Ramirez settled into St. Louis quickly and practically seamlessly. The family-friendly city boasts a low cost of living and moderate climate. He liked the small town feel of the metropolitan area, where neighbors are friendly, and also enjoyed the cultural draw of a larger city.
"I am comfortable talking to any  group of people," Ramirez says. He believes that these skills have helped him excel as executive director. "I can be very chameleon-like, but at the same time, stay true to myself."
Describing the greater St. Louis area as "very diverse," Ramirez points out that the region boasts a large African-American population, in addition to Asian and European populations.
Ramirez believes the city's diversity works well with the chamber's goals.  "Whether it's businesses or corporations looking to tap into the Hispanic workforce, Hispanic buying power, or to fulfill supplier diversity initiatives, we are very fortunate to be able to say we have a diverse chamber of commerce, without losing who we are—an organization dedicated to better serve the Hispanic business population."
With a large, entrepreneurial immigrant population, Ramirez says that small businesses are on the rise in St. Louis. He also notes that the city is increasingly able to accommodate mid-size and larger companies as well.
"St. Louis is a great place for all businesses," Ramirez says. "Everybody is talking about creating business opportunities in the region. This is a perfect time to be here. It is all hands on deck."
In recent years, the chamber has been "welcomed at many key tables in the St. Louis business community," he says. It has created a foundation whose flagship program is the Hispanic Leadership Institute, which works toward developing Hispanic leaders who are passionate about giving back to the community. Members are also granted access to a job board, to help them connect to potential employers.
"We are very fortunate to be able to say we have a diverse chamber of commerce, without losing who we are—an organization dedicated to better serve the Hispanic business population."
All of these initiatives help to boost membership, which, since Ramirez started, is up 82 percent. They've also grown non-Hispanic membership, working with professionals of all backgrounds.
"We are always looking to bring value to our members," he says. "I've realized that we will never be able to function within a silo of only dealing with Hispanics."
Recently, they hired a membership coordinator and a business counselor who  is available to help entrepreneurs with various matters, such as the minority business certification process or accounting certifications.
"Our Hispanic population works its butt off and is successful because of a culturally ingrained work ethic, but we want to empower our people to work smarter, not harder," Ramirez says.
The chamber hosts many networking and educational events. A recent initiative is the "Café With Business" series, which covers topics that can benefit members at all levels of their careers, from learning how to file taxes to securing funding from banks.
Ramirez recently hired a bilingual counselor who can coordinate with local business owners who feel more comfortable communicating in Spanish. He says the organization wants "to make sure we are getting more of those people to join the chamber and to feel comfortable."
As for larger corporations, the chamber works with them in a myriad of ways. The key, Ramirez says, is to always try and take a company's interest in the Hispanic community a step further. If a company approaches the chamber to market to Hispanics, the chamber will also see if they can assist with achieving a minority business goal at the same time. "We always try to bring them more value than they expected."
"There are so many positive trends pointing toward more entrepreneurs in St. Louis," Ramirez says. "It is a key trend for us to capitalize on and bring benefits to our members."
---
Hispanic Chamber of Commerce of St. Louis: Outstanding Successes
Berto Garcia, who has served on the board of the Hispanic Chamber of Commerce of St. Louis, is an established businessman in St. Louis. Working with his five siblings, he runs Garcia Properties, which Ramirez describes as "the epitome of hard-working Hispanics living the American dream."
Hispanic Chamber of Commerce member Angel Jimenez Gutierrez is the owner of popular St. Louis restaurant, Señor Pique. After the restaurant's success, Gutierrez opened a second business that details cars. He is focused on sustainability—using minimal water and environmentally friendly products.