I really have to go back to the beginning to tell my story. I grew up in a bilingual household in New York City, where my mother had emigrated from Santo Domingo, Dominican Republic. Her mother, Patria, ran the household and made sure I was speaking fluent Spanish. My multicultural upbringing developed my interest in the dynamics of different cultures.
I attended Syracuse University and majored in international relations. Even then, I knew I wanted to focus on meaningful engagements that could make a difference in the world. I know that capital altruism sounds like an oxymoron, but I was convinced that there was plenty of good to be done.
I graduated and went right to work on Wall Street with Merrill Lynch. At age 21, I chose to specialize my financial advisory practice on Hispanic and woman-owned business segments in New York City because I saw those areas as completely untouched with tremendous economic viability and sophisticated capital needs. They were totally underserved market segments. It felt right, even when other advisors told me those markets were a waste of time.
I was lucky, though, to speak with another portfolio manager in my division who encouraged me to proceed with just one piece of advice that always stayed with me. He told me how important the investment of time in building my relationships would be. For my target demographics, decisions are often made outside of the office or conference room, they are made across the kitchen or dining room table. I knew I'd be invited to birthday parties and quinceañera celebrations, and I would make sure to attend. It's about investing the time to create genuine connections.
This became a differentiator for me among my peers. From these relationships, I was able to launch my career with clients who are still some of my oldest and closest friends more than two decades later. I moved to Morgan Stanley Smith Barney, where I flourished and grew my portfolio to more than $100 million in assets. That portfolio was comprised almost entirely of minority business owners and households for whom I managed investment assets.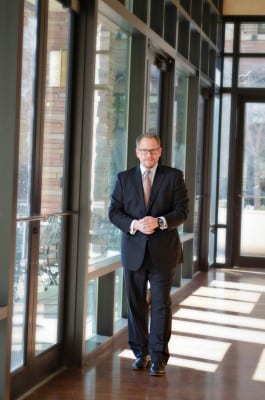 Ten years later, I decided to leave Wall Street. I knew I had the unique opportunity to take the skills I had learned at a large investment bank and apply them in the role of an operator. I became the chief operating officer of a marketing media company, and that's where I learned to lead and manage. I managed 30 employees and a fairly large budget. And then 9-11 happened.
In the aftermath, I felt a personal unmet drive to return my sights on my original business concept: building a financial services firm specialized towards the US Hispanic market.
I started writing a white paper that outlined my vision. I was thinking big. I wanted to create a national bank that focused on the fluid and dynamic financial needs of the US Hispanic market.
I researched various metropolitan markets and found that Denver was perfect. I moved my family there in 2003 with my white paper in hand. The city of Denver was experiencing unprecedented growth in its Hispanic population and purchasing power, and there were no banks addressing their banking needs. Nobody knew who I was, so the white paper I had developed ended up becoming a critical credibility asset for me in my new city.
I started talking about my white paper with industry leaders. It was hard at first because people knew I wasn't from Colorado. My Spanish had become a bit rusty, and, having blond hair and blue eyes, there was some teasing thrown my way. But once people saw my passion and understood the economic viability of the bank proposition, excitement started to build, and I was able to organize a team.
I held road shows and town hall meetings to generate interest by directly engaging my new community—and I made sure to integrate the community's feedback into every step of the bank building process. I hired an experienced comanager for the project, and together we authored a 2,700-page business plan and application to the federal banking regulators. Upon our approval, we would become one of the first Hispanic national banks in the country. After raising $25.5 million in a self-underwritten IPO, the bank became a reality. At 37 years old, I was founder and chairman of Solera National Bank.
In 2009, with the bank on course, I left to start my advisory practice, which only became what it is today when I met Ana Harvey. She was a presidentially appointed assistant administrator for the US Small Business Administration. When she read my 2012 article on cultural capital markets, she contacted me. I knew we would make great partners.
In September of 2013, we launched HarveyFoster Impact Capital Group. The premise is simple: our goal is to assist financial institutions in a rapidly changing regulatory environment. Banks need to change the way they cultivate and conduct business and invest in today's rapid-growth, emerging markets including women-, veteran-, and Hispanic-owned businesses.
In the wake of new and pending legislation from the Dodd-Frank Act and anticipated changes to the Community Reinvestment Act, our firm customizes strategies for banks to distinguish themselves from their competitors. Strategies include staying ahead of banking regulation and proactively meeting the capital needs of the changing demographic profiles of the business markets they serve. We're finding significant interest in our firm coming from overseas financial institutions that seek to build enhanced credibility and footprints in target US markets. Our first client was a large federal agency seeking a more robust understanding of the growing needs of underserved markets. In the age of social transparency, this is the difference between banks gaining or losing market share. Consumers and corporations alike want to align themselves with banks and institutions that are investing in local communities. We believe we are helping banks create real change with what they are doing. We're helping them create jobs and empower the next generation of business owners.