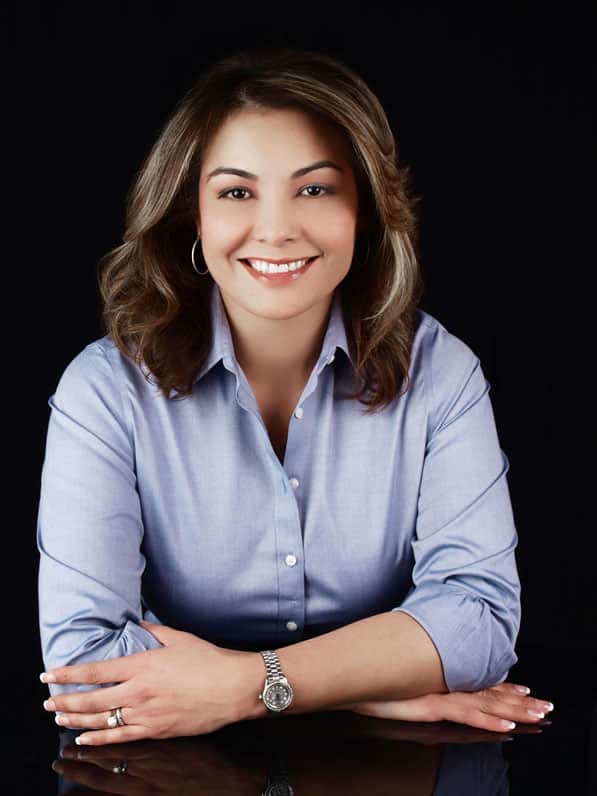 1989: As the daughter of day laborers, Lupe Fernandez's childhood was spent in many places before the family returned to El Paso, Texas, where  Fernandez was born and where she graduated from high school in 1989. Her parents instilled in all eight of their children the importance of education, and after high school, Fernandez attended Richland Community College, where she got her associate's degree in science. Soon after, she attended the National Education Center in Dallas and later the New Mexico State University at Las Cruces.
"My parents had a limited education and they wanted us to have what they couldn't," Fernandez says. "They put a high premium on the value of education and, as a result, all eight of us went to college. Now, I'm a big advocate of education as well. My husband and I contribute to an annual college scholarship for Stars on the Rise for the Hispanic Chamber of Commerce and to the scholarship funds of various schools."
1991: While in college, Fernandez started working part time at Entrust One Facility Services, Inc. in Dallas, which provides premium commercial-janitorial services focusing on green cleaning that extends beyond the traditional functions of an outsourced janitorial-service provider. The owner, Aaron Liverpool, who founded the company in 1983, was looking for a bilingual receptionist. "I wanted to do something glamorous in New York and was going to move out there and live in a high rise," she recalls. "I thought I would take this job for the experience and keep looking. I never left."
1995: When she first started working at Entrust One, the company outsourced most of its administrative, human resources, and payroll/accounting functions. Fernandez helped to put procedures in place to make things go smoother and faster, including paying payroll taxes, accounts payable, and accounts receivable. "We increased our cash flow to such a degree that, within the next several years, we experienced 15 to 25 percent growth each year." She was also instrumental in increasing employee retention by working with the executive team to develop and launch various training programs and promoting staff members from within.
1997: During her first six years at the company, Fernandez continued to work toward her bachelor's degree in business administration while working full time.
2000: Next, Fernandez helped develop and implement a strategic plan, including targeting specific markets Entrust One wanted to go after, such as private schools and hospitals and medical facilities. "Being choosy helped our growth, and I played a part in developing what that would be," she says.
2002:The company had a client in Dallas that was moving to Oklahoma and Entrust One was asked to take on the janitorial responsibility for that office. This fueled the company's launch into the Oklahoma market, where it now has more than 200 employees. A similar thing happened in Colorado in 2008, where a Dallas customer asked Entrust One to start handling the cleaning of its Denver office.
2007: Giving back to the community is in Fernandez's DNA. In her early 20s, she was a "big sister" with the Big Brothers Big Sisters organization. She is a member of the Hispanic Women's Network and the Greater Dallas Hispanic Chamber of Commerce, and is very active in her church. While on the Building Owners and Managers Association International's (BOMA) membership committee, Fernandez and another cochair helped launch BOMA's young professionals group, to help get younger professionals into the commercial real-estate industry and provide them with networking and educational opportunities.
TODAY: Entrust One has grown from 24 employees and one location to more than 500 employees and three locations since Fernandez started. Annual billings for the company also increased from $3 million in 1991 to close to $15 million in 2011. Despite the change and growth, Fernandez still looks forward to going to work. "Sometimes you find what you're looking for before you even know what you are looking for," she says. "Many people go though many jobs before they find 'the one;' I was lucky to find the one immediately. Or maybe the one found me." In five years, Fernandez  "would like to see myself running a national company that has 1,000 employees and $25 million in sales. We have a good group of people and everything we need to be successful. We just need to continue to grow."