Born in a pueblito southwest of Guadalajara, Mexico, Fabio Silva immigrated to the United States at the age of four. Despite a humble and challenging upbringing, Silva kept his sights set high, obtaining a law degree from Stanford Law School and beginning his career as a legal associate in Washington, DC, before moving to New York City. But his next move was something far more unusual for a young lawyer: he went back to school, to Parsons the New School for Design, to get a degree in fashion design. Thus began Silva's journey in establishing himself as what he is today—a fashion attorney.
It began with an internship at Burberry that grew into a full-time post as an intellectual property counsel. Silva worked his way up to becoming vice president of legal at Burberry, serving as the British company's lead attorney in North America. He went on to in-house positions at Tory Burch and Fab.com and is now VP of legal affairs for a major Italian fashion house. 
Last year, Silva won the National LGBT Bar Association's Out & Proud Corporate Counsel award. He feels that living in New York City and working in fashion houses has provided him a free environment to be "out."
"Without the ability to come out and take pride in who I am, I would not have been able to function with the level of confidence that is required in a corporate environment," Silva says. "I have to remind myself that it's not that easy in other industries and in other parts of America."   
Silva now feels comfortable, established, and at-home in New York City. Already a successful attorney, he has the luxury to focus some energy on developing his personal interests instead of worrying about climbing the corporate ladder.
In many ways, Silva is the quintessential single and successful New Yorker, owning a 1,400-square-foot loft-style apartment in Harlem. For the past seven years, he's converted it into a comfortable haven that allows his artistic side to run wild with design.
The space is full of colorful oversized pillows and cushions—hand-sewn by Silva himself—as well as his growing collection of self-customized Olivetti Lettera 351 typewriters. Silva describes himself as "one of those people that love to tinker." He'll often disassemble the vintage machines, sand them down, and spray-paint them in hues like fuschia or orange, finishing with a coat of shiny lacquer. "I bought a typewriter to get me past my writer's block, and ended up falling in love with them as design pieces," he says. "During the '60s and '70s, typewriter manufacturers started getting truly innovative with product design—but the home computer's arrival ended all that."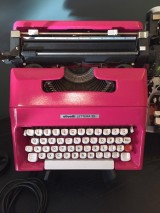 An admitted homebody, Silva most enjoys spending time in his own space. At the end of the day, he loves to unwind with a glass of wine in front of his fireplace, cook dinner, and lounge on one of his oversized leather chairs. "In 13 years living in New York City, I've ordered take-out once.  I believe that if you're going to eat at home, you should cook at home.  I take great pleasure in making a meal."
What might speak most to Silva's personality, though, is the fact that he enjoys doing everything himself. Whether it's installing a new sink, putting up a new light fixture, or simply cleaning his home, there is hardly a thing he won't do himself. "Aside from enjoying working with my hands and taking great pride in doing things myself, it's also about remaining independent. It would be easy to go broke in New York City if you don't pick up some serious DIY skills."
In the workplace, Silva has successfully remained anti-suit—an impressive feat for someone who has been an attorney for over 15 years. He wants to feel uninhibited, innovative, and most importantly, comfortable. A typical work outfit for Silva includes a sports coat and skinny jeans with dashes of color in the form of a belt, bag, hat, scarf, or eyewear. "I'm all about the accessories," he says. "Over the years I've managed to grow quite a collection."
Besides working long hours typical of a general counsel, Silva has one major summer project: to finish renovating his apartment. He will be working tirelessly on repainting, installing new light fixtures, hanging drapes, and refurnishing the study. Silva says the creative process can be time-consuming, and projects will often stall while he's waiting to be inspired. "I spend so much time at home and love to entertain, so it all has to make sense. The colors, the furniture, the art, the lighting, and the accent pieces all need to work together and flow," Silva says.
When it comes to his personal and professional life balance, Silva says something that any young, modern executive can understand: "Unfortunately, personal life or pursuing artistic endeavors have taken a back seat as my priorities have been on my career for the past 15 years," he articulates. "Striking a balance is something to always work towards. Not finding it only becomes acceptable when you're enjoying what you're doing."