Being an integral part of an innovative startup is never easy, and Veronica Juarez has arguably the toughest job at Lyft. As director of government relations for the ride-sharing company, Juarez is responsible for negotiating with city officials and regulatory agencies to convince them of the benefits of allowing the new service into their areas, potentially disrupting long-established transportation options. But Juarez, who forged her own major at Stanford University and spent a decade working in California and Texas politics, is not one to back down from challenges. "If you want to build something that pushes the limits, you can't give in to the idea that this is how it's been done before," she says. "You have to push your mode of thinking."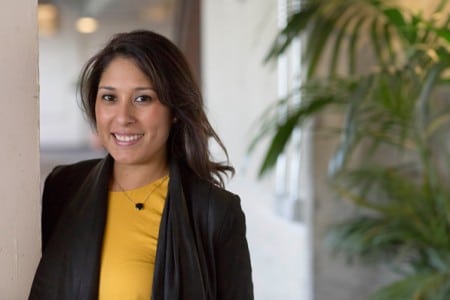 When Juarez joined Lyft in June 2013, the company was operating in just six cities. Today, it has expanded to more than sixty-five municipalities, from Albuquerque, New Mexico, to Washington, DC.
"The first 13 months were such an incredible wild ride," says Juarez, who worked closely with Lyft's executive team to green-light markets and start building coalitions to "walk with us and forge new paths in transportation," she says. "On Monday, we would talk about what cities we'd be evaluating, and then I'd be on a plane to those cities later in the week."
Juarez's central role is to educate. "Our mission at Lyft is to fill all the empty seats on the road," she says, "connecting people, creating community, and building the most efficient transportation system. Throughout the legislative process, we educate policy-makers on our mission and potential safety regulations so that we're on the same page when it comes time to vote. When I walk into a room to meet with local leaders," she continues, "typically, these people have never heard about Lyft. My goal by the time I walk out is for them to see the value that Lyft can bring to their community and broader transit system."
But Juarez admits it can be difficult. "Governments are looking for ways to regulate, and we're working for ways to innovate," she says. "Inevitably, there's going to be some natural tension between the two." However, by walking a line that is both "respectful and collaborative," they have been able to enter cities that were initially resistant to Lyft. "It's only going to be successful if we do it together," she says.
For example, Austin, TX, was initially not ready for Lyft when the company first approached the city, according to Juarez. But she insisted that the tech-savvy and traffic-heavy metropolis would be a natural fit. After a spate of drunk driving incidents, residents began to press government officials on expanding the city's safe transportation options.
"We built a team on the ground and began starting the conversation: 'You have a problem, we have a solution,'" Juarez says. There was some initial pushback, but now Lyft is widely accepted in the city. Because of the increased options, drunk driving in the city has been cut in half, according to Juarez.
However, in Juarez's nearby hometown of Houston, Lyft had to leave the area after driving there for several months. "That's a very good example of a city that doesn't immediately see the value that Lyft can offer residents," she says. "As my hometown, it was disappointing that we couldn't make it work."
Though she challenged the city government's new restrictive policies and argued the financial benefits of their enterprise—"What other company leaves 80 percent of its profits with the local economy?"—Lyft ceased operations in Houston as of last November. Still, Juarez hasn't given up. She continues to lobby Texas on new regulations that would cover the entire state.
"Our mission at Lyft is to fill all the empty seats on the road, connecting people, creating community, and building the most efficient transportation system."
As Juarez helps steer the company's expansion plans, she's also deeply involved in increasing their customer base in existing markets. In Los Angeles, for example, Lyft's second largest market, they're doing a lot of outreach into communities of color, both Hispanic and African American. "This is a passion project of mine. I believe this can work and be replicated across the country," she says.
Lyft also prides itself on the level of diversity that exists within its ranks. About half of the company's top 30 executives are female. According to Juarez, this happened organically, without outside pressures. "It's really simple," she says. "When you think about what you're trying to do—connect people in their cars and encourage them to share their seats—that's not an exclusive experience, and if you want to appeal to every group across the board, you have to build a team that represents that diversity."
Going forward, Juarez believes that immense opportunities still exist in the personal transit space. Noting that transportation is the second largest household expense for US citizens, she suggests that working families could do so much more with their earnings if they abandoned that first or second vehicle. "How liberating and empowering that would become," she says. "And for low-income families, who will spend up to one-third of their income on transportation, they could be spending that money on school, after-school programs, or college."
Simply put, "it can improve quality of life," Juarez says.