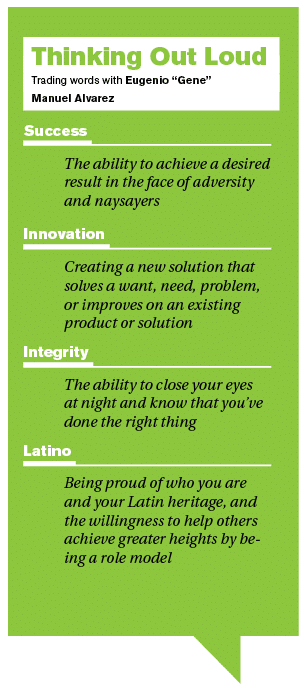 When Eugenio "Gene" Manuel Alvarez was growing up in the South Bronx in New York City, his father would talk about the importance of education, how with an education anybody could go places. To underscore the lesson, the elder Alvarez would drive by the cracker factory where, as a young immigrant from Puerto Rico, he held a day job while attending night classes at The City College of New York and point it out to his son. "I was always instilled with the idea of the American Dream, that if you put in the effort, you would get the rewards," says Alvarez, whose father went on to become a self-made businessman and New York state politician. "Most parents say they want their kids to grow up and be successful, be president or something like that. My father really meant it."
Even though Alvarez hasn't campaigned for commander in chief yet, he has enjoyed a stellar career in the ever-shifting world of information technology. As vice president of customer relationship management (CRM) and e-commerce research for Stamford, Connecticut-based Gartner, Inc., he works directly with clients to develop strategies, evaluates products, and leads his teams in cutting-edge e-commerce research. For the past two years, Alvarez has also chaired the firm's Customer 360 Summit, the country's premier CRM conference. "Where do we, as customers, begin our search for information about products and services? Online, of course," he says. "This is where e-commerce has become a key part of CRM because consumers will most likely start their relationship with your company online, via a website. It's where they will come before they even identify themselves as your customers."
Hearing Alvarez talk about his passion for technology, one would think he'd been born with a mouse in his hand. However, he went to college planning to study accounting, and thought he would minor in computer science. Instead, he discovered the wonders of technology and changed his major. His first job out of school was at AT&T Communications—working first in programming and then in database administration. A few years later, he took a position with the New York State Power Authority to help decentralize its IT organization and design systems for various power generation plants, including nuclear, fossil fuel, and hydro-electric facilities around the state.
It was during his stint with the Power Authority that Alvarez went to graduate school, further augmenting his knowledge of computers and business management. After a year at KPMG Peat Marwick, he was recruited by retailer Nine West Group. For five years, he worked on data administration, building large-scale data warehouses that captured and stored customer information. He became an expert on supply-chain issues and management reporting, and he spoke at conferences around the country.
At one of those conferences, he caught the ear and eye of META Group, a high-tech consulting and research company and accepted an offer to join their retail practice. In 2005, META Group was acquired by competitor Gartner, Inc., and Alvarez made a seamless transition to the CRM team. It has been 13 years since he first joined META Group, and he still finds the work ultimately satisfying. "I work with brilliant people every day, facing business challenges and solving them," he says. "There are projects I've been involved in that started out on the back of a napkin, and I see them in the field and say, 'Wow, I worked on that.' It's exciting."
In 2010 and 2011, he was ranked by the Hispanic IT Executive Council (HITEC) as one of the 100 Most Influential Hispanics in Information Technology, a designation he says offers young Hispanics different role models. Groups like HITEC, he says, can help them see the opportunity for advancement and innovation. "Like a pebble in a pond, new technology creates ripples in what you're already using," he says. "Look at the iPhone and the tablet. In the world of IT, there's tremendous opportunity. Who knows what we haven't thought of yet?"
Get to know all of Hispanic Executive's "Best Of 2012" Recipients here.